Re-bracing garage
11-17-09, 03:06 PM
Join Date: Nov 2009
Location: Michigan
Posts: 4
Re-bracing garage
---
Hello fellow DIY'ers. Let me start by saying that I am a cars and computers guy, but am trying to learn the art of home improvements.
Also, if this is in the wrong section, I apologize but please feel free to move it.
Last fall, my Father in Law and I added a second stall to my existing single stall garage. The time has come now to remove the inner (existing) wall to really open up the space and make it completely usable.
The Destruction, I can certainly handle
, however it is the Bracing that raises some questions. I'm going to post a few pictures below (I have more, and can take others if needed).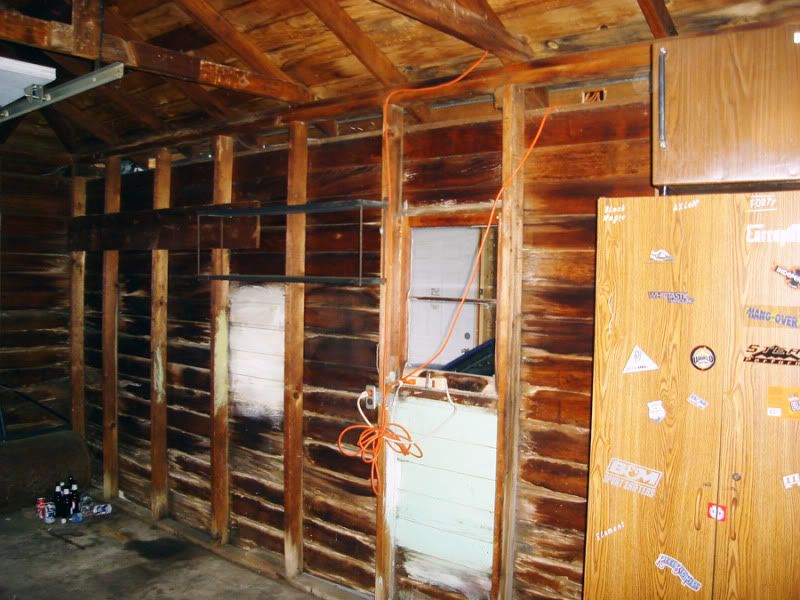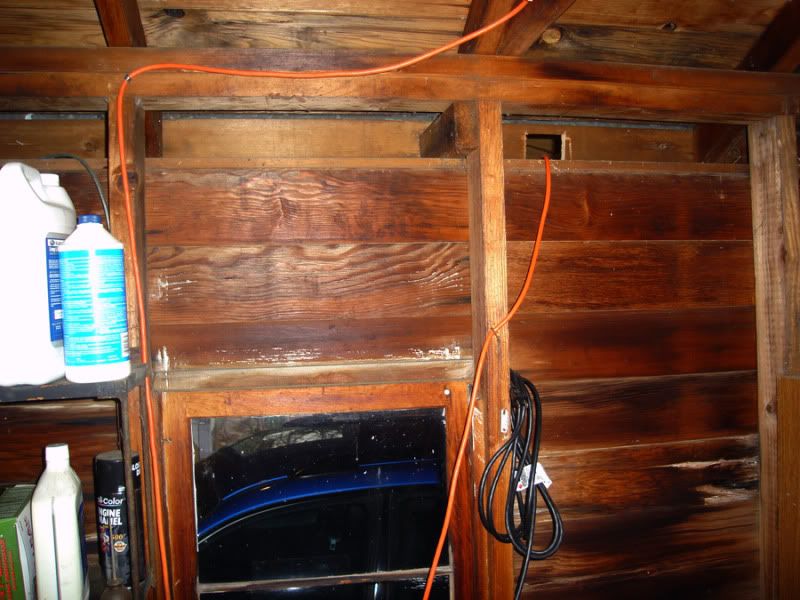 My question, simply, is how would you go about bracing that middle point so that the wall can be removed safely? Any tips, tricks, or links to threads I may have missed while searching would certainly be appreciated.
Thanks in advance,
Tony
Sponsored Links
11-17-09, 03:58 PM
From what I can see, if you remove the wall, the old hip roof will have nothing to stand on. I know you have restructured your roofline so the old hip is not necessary. Where are the bearing points of your roof? I would seek the help of a structural engineer to see if removing the wall and hip part of the roof would be feasible. We would be reluctant to give the go ahead without a full study of all the structure.
11-17-09, 04:07 PM
Join Date: Nov 2009
Location: Michigan
Posts: 4
I think I should have been a little more clear.
The plan is to keep everything as is, except for the vertical studs and the wood panels (siding).
I just need to know what I can add below the existing bearing point (I hope I'm using that term correctly) to keep everything else as is.
Everything above the yellow line in the pic below was hoped to remain right where it is.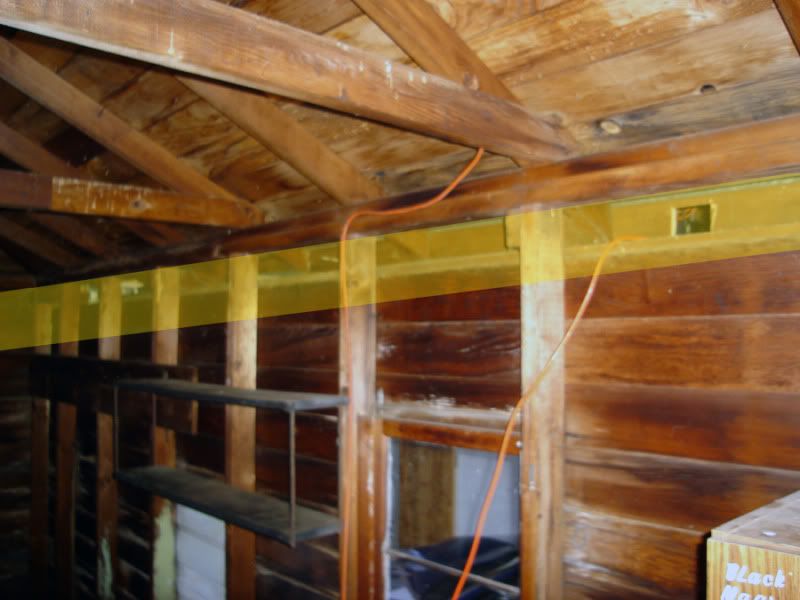 11-17-09, 05:44 PM
The only way I see you can accomplish this is to install a triple glu-lam beam supporting it on each end with sufficient timbers. What is the total span?
11-17-09, 05:56 PM
Join Date: Nov 2009
Location: Michigan
Posts: 4
Thats what I was looking for. You're saying I could have the entire middle section open, as long as it's properly supported on the ends, correct?

Total span is 22'.

I still plan on having a pro come out and take a look as well, hopefully they can confirm all of this.

Thanks so much for your help thus far!
11-17-09, 06:03 PM
Yeah, I believe you can get a triple LVL beam to handle the weight and keep it all open. Your pro will be on site and can see all the boogers, so rely on them.
11-17-09, 06:42 PM
Join Date: Mar 2009
Location: WA
Posts: 1,167
Hopefully, he will tell you the beam has to carry 1/2 the new garage roof and 1/2 the old garage roof. You need proper bearing from the two 2x10's (purlins) on both ends. Just resting your ridge beam and purlins on the old 1x8 board sheeting of the garage roof won't cut it. As well as valley rafters not bearing on a valley board which bears on the old roof rafters as a unit, not individual as you have. You really need professional help on this project. Hopefully you have a concrete foundation under the exterior walls, not just a slab or patio.
Be safe, Gary
11-20-09, 04:21 AM
Join Date: Nov 2009
Location: Michigan
Posts: 4
Alright, I've consulted a few people with the proper know-how and have come to the conclusion that we are "A-Okay" to proceed. Plan as follows (over-kill definitely included!
)
For the main beam, we will use (3) 2" x 8" x 20' boards glued, screwed, etc together. It will be held up on either end by 6"x6" Pressure treated timber.
The goal is to come in about 2' from the front and back walls for 6"x6" placement, leaving approximately 18' of "open" space in the middle.
Project kicks off tomorrow morning, and I am very excited. I will update with progress reports/pictures soon.
Thank you all for you help thus far.
11-20-09, 09:55 PM
Join Date: Mar 2009
Location: WA
Posts: 1,167
PLEASE give a quick call to the local lumberyard.

I may be wrong as I don't know your snow load which I didn't allow for. Your new purlins cary 1/2 the load from them to outside walls = 2.75'if they are 5' from wall. New roof, 22' - 5- = 17' x 5' of old and 5' of new = 10' x 18' x 35# (no snow)=6000#
6x12=5200# 6x10=3600# 4x12=3100# 4x10=2100# 6x8=2200# 3-2x8= 1700#
You will be 3-1/2 times Overloaded.
Be safe, Gary
11-21-09, 05:59 AM
Are we still talking dimension lumber as opposed to LVL? Don't understand why LVL wasn't considered. Good advice so far. Just wondering.
11-21-09, 08:24 AM
Join Date: Oct 2009
Location: Michigan
Posts: 30
Look I'm not a structual engineer, but I am a Michigan building inspector/contractor and you can NOT span 22' with 3-2x8s. You need to consult some that can spec this beam for you.

Looking at the pic of the new garage you built is also a concern. I didn't see any ridge beam, ceiling joist or collar ties. Not to mention you used 2x4 rafters. The valley rafters are not cut to the pitch- just left square. This does not meet code in Michigan with our snow loads. I really think it may also be unsafe.

Please, I'm not trying to belittle your construction. But you do need some help with getting this right. Someone can get hurt. Be careful.
11-21-09, 08:35 AM
Join Date: Oct 2009
Location: Michigan
Posts: 30
I take back the ridge beam statement. I do see one in the valley picture. However, it is being carried by the OLD roof system. You also have secondary 2x10's to help with the rafter load that are also resting on the old roof. MOST OF THE WEIGHT OF THE NEW GARAGE IS RESTING ON THE OLD ROOF AND WALL YOU ARE REMOVING!! YOU NEED TO HAVE A PROFESSIONAL LOOK AT THIS!
Posting Rules
You may not post new threads
You may not post replies
You may not post attachments
You may not edit your posts
---
HTML code is Off
---