Water damage only in front of shower door.. is it too late?
05-24-10, 03:30 PM
Water damage only in front of shower door.. is it too late?
---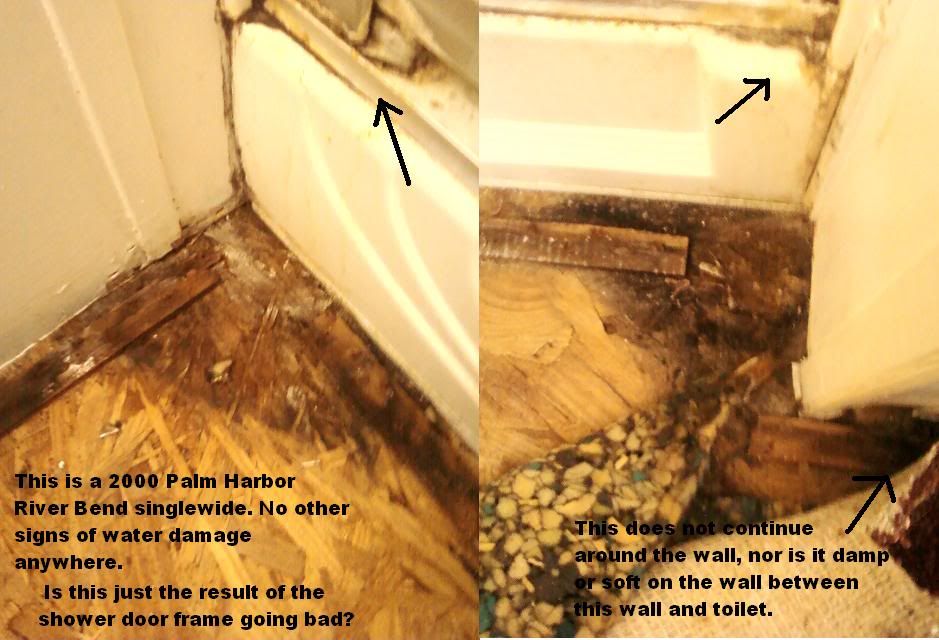 I am looking to buy this 2000 Palm Harbor RiverBend manufactured home. I went through it today looking for issues. The thing that concerned me the most was this water damage outside the shower door in the master bath. The wall on the right of the shower does not appear or feel like there is any damage to it. The only real damage I found is what I have pictured here. Of course its possible that its gone underneath the shower. My question... how bad is this to fix in either situation? Is this something that I could do with proper instruction? I'm new to doing repairs but am pretty handy in most cases! I just want to know if this is going to be too much for me to handle and should keep looking. Any info would be appreciated!! *I kept the pictures a little big so that it would be easier to view damage.*
Sponsored Links
05-24-10, 04:38 PM
Join Date: Jul 2008
Location: NY
Posts: 10,986
If you can't see underneath the floor, I'd look for something else.
05-24-10, 05:08 PM
Do you mean go underneath the trailer? Someone can go under there to check it I'm sure. I won't be crawling under there because I'm claustrophobic and yeah.. no bugs for this girl! (Not trying to sound smart or girlie but.. well.. you know!I can get dirty working with the best of them but not bugs in a crawlspace!)

If someone goes under there and it hasn't spread far.. or if its contained to underneath the shower... how big of a project is it to remove the shower, replace the floor, and reinstall the shower. Can the same one be used or would I have to purchase a new one? What kind of cost (average) would that involve? I can get the work done or get help doing the work.. I just don't know what to expect.

Please and thank you!
05-24-10, 07:18 PM
The first thing that has to go is the carpet......in a bathroom??? Poke the dark areas with a screw driver to see if the area is weakened. If so, it usually means the floor is rotted, not only away from the shower, but underneath as well. Not a lot of fun removing the shower, and it will probably tear up anyway. Let us know what the screwdriver test has to say. Sissy.
05-24-10, 07:39 PM
I poked and prodded with my finger and it didn't really give. Maybe a little but not where I could 'see' it moving. I can't go 'poke it with a screwdriver' because I have limited access to the trailer since I haven't purchased it yet.
The manager of the park it is in didn't even go in with me today when I was in there because he had a plumber and the city over there messing with the sewer or waterlines in another part of the park and he looked like he was about to blow his top. LOL I didnt' want to get in the middle of that mess so I left him a message letting him know what I found.
I know that if they want to sell it then they will let me in as many times as I want to go in but today was my fourth time. The first it was just me, then I took my fiance, then I got there and forgot the memory card in my camera so it was a wasted trip, then today when I got pictures. I have to wait at least a week or so before I can have someone in there that knows what their doing because my fiance's grandpa can do it but grandma is in the hospital so he's not available. Just wanting to know if I should scrap it now or keep working on getting it?!
If its too much for the parts to repair it then I just wont be able to do it. Any ideas on pricing for materials only? I can do the work myself with help from grandpa since he is a master carpenter and does repairs.. but is in his 70's... so...
Oh.. BTW... the carpet is disgusting and its SO gone as soon as I own that place! Whoever thought it would be a good idea to put carpet in a bathroom or kitchen needs to be shot!
05-25-10, 06:23 AM
Join Date: Jul 2008
Location: NY
Posts: 10,986
That damage is not new. It looks like that leak has been there for a long time. I would look for something else, unless the price is really low.
Posting Rules
You may not post new threads
You may not post replies
You may not post attachments
You may not edit your posts
---
HTML code is Off
---