How would you frame this?
01-07-11, 02:36 PM
Join Date: Feb 2009
Location: Denver, CO
Posts: 20
How would you frame this?
---
I'm working on planning out how the framing will work for one of the walls of my basement and I'm stuck with a tricky situation. First off, I live in Denver so framing is done slightly differently here - you essentially hang walls from the ceiling and pin them at the bottom. This allows the floor to heave without causing any damage.
My basement has 8ft ceilings, and right down the middle is a steel I-beam and a ton of ductwork that drops the ceiling to slightly below 7'. Of course, my plan has a wall directly below this section. The I-beam is supported by an 8" concrete stem well (it's not continuous the whole length of the proposed wall), and the wife wants the wall to be flat on both sides of the room. I've come up with an interesting solution that I'm trying to decide if it will work: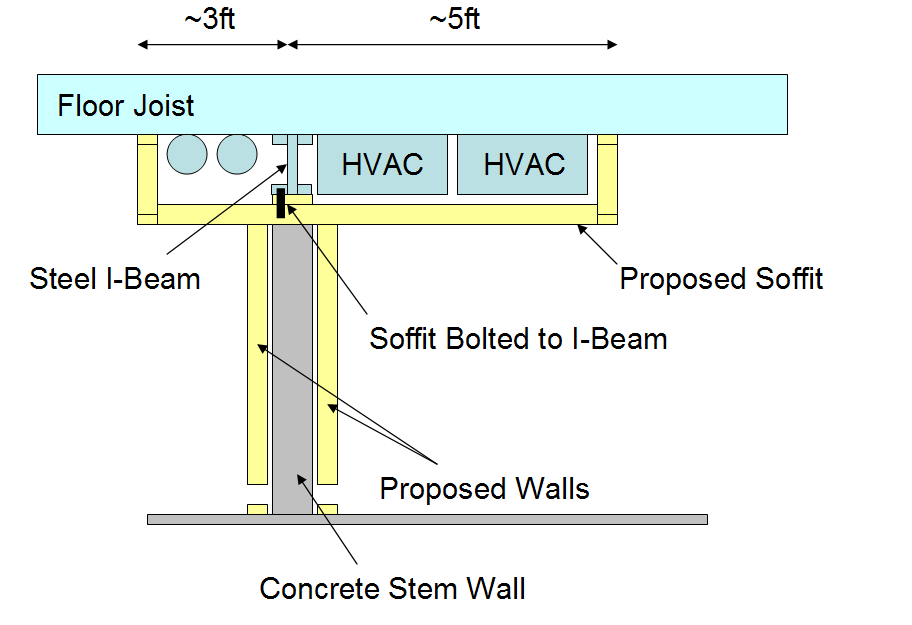 Here, I'm going to build a soffit with 2x4s and essentially hang the two walls from the soffit. The underside of the soffit will be bolted to the I-Beam and the walls will be hung very close to the bolts.
The I-Beam and HVAC can't be moved, and I can't figure out any better solutions. The idea of hanging walls from a soffit concerns me, but this is more of a structural soffit as its made from 2x4 and bolted to the I-Beam.
What do you think? Do you have any other suggestions? Thanks!
Sponsored Links
01-07-11, 04:18 PM
I see no problem with the plan to build the soffit. Too bad it comes in under 7'. That hurts. but we live with what we have. You will build a mini wall on the floor as you have pictured and drive 7" spikes from the top wall bottom plate into the bottom wall top plate. That will keep it in line and will allow for whatever you guys have out there. If the concrete slab heaves, what happens to your outside walls? I have never understood the construction method, but it is code, so you gotta do it.
01-07-11, 05:12 PM
Join Date: Aug 2009
Location: USA
Posts: 4,941
It does seem pretty strange to me as well. Maybe it's to allow the foundation walls to heave and to leave the floor slab behind. I don't see how the slab would heave unless the basement was below freezing. It would seem even less likely to freeze if it is finished off and supplied with heat. I would like to hear some stories as to what happens if those walls aren't floating.
01-07-11, 05:17 PM
Join Date: Aug 2009
Location: USA
Posts: 4,941
Posting Rules
You may not post new threads
You may not post replies
You may not post attachments
You may not edit your posts
---
HTML code is Off
---