Ceramic Tile Prep - Additional Subfloor Over Original 1x8's
03-27-11, 06:47 PM
Join Date: May 2006
Location: McHenry, IL
Posts: 46
Upvotes: 0
Received 0 Upvotes on 0 Posts
Ceramic Tile Prep - Additional Subfloor Over Original 1x8's
---
I'm in the process of gutting my kitchen for a full remodel, and I'm trying to prep myself for the best subfloor solution. The original structure is 2x8 joists on 16" center right around 9' span with 1x8 planking perpendicular to the joists. There
was
parquet on top of 1/2" MDF on top of this.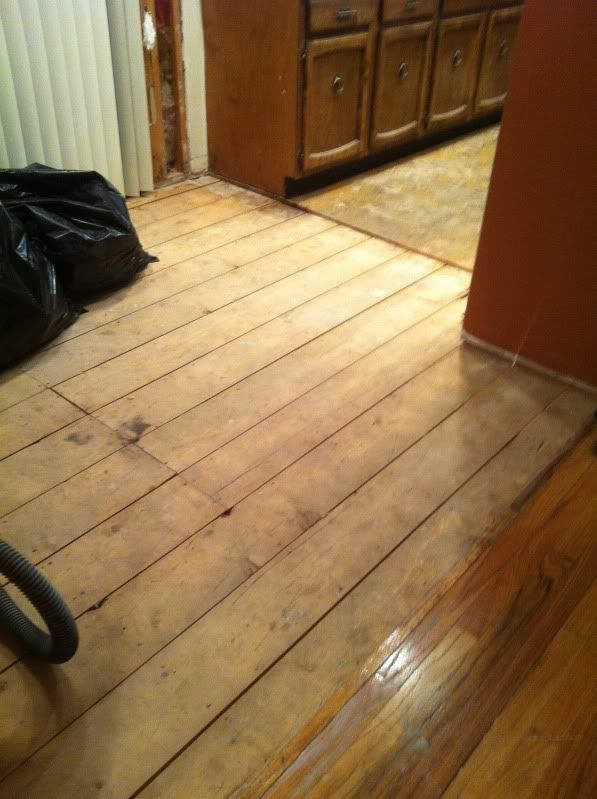 My plan is to screw the existing 1x8's down to the joists since there are alot of loose nails. From there I plan to put plywood on top of the 1x8's perpendicular to the joists, then Ditra, then the tile. I'm considering sistering plywood to the joists, along with adding blocking since there is none. My first question is what thickness ply should go down? I'm trying to stay as thin as possible, as I plan to level the floor as well. In the picture, the floor is sloping about 3/4" from the door (high) to the existing oak floor (low).
I'll be putting down 16"x24" porcelain.
Anyone have suggestions? Thanks in advance!
03-28-11, 03:22 AM
Join Date: Dec 2005
Location: USA
Posts: 36,608
Upvotes: 0
At least 1/2" AC or BC plywood, good side up to give 1 1/4" of subflooring. Plan is good to screw the 1x8 to the joisting. Avoid hitting your joists with the screws you use for the subflooring in order to create a shear between the two subfloors. Don't glue it down. Ditra will give you a lower profile than cbu. I have to ask, does the slope continue the full length of the room in question? How did they achieve that? You will need to level the floor, bottom line, so you may need to do some exploratory surgery where the hardwood meets your 1x8's
03-28-11, 06:51 AM
Join Date: May 2006
Location: McHenry, IL
Posts: 46
Upvotes: 0
Received 0 Upvotes on 0 Posts
The house is a small ranch and the planks in the picture run the length of the house. Underneath the oak is an I-beam in the basement that has settled a bit. I really wish I had explored this a bit more before I finished the basement, which happened in the last few months. I'd really like to avoid opening up everything down there that I just finished. My plan is to put ply on top of the 1x8's then use self-levelling on top of that to level the floor. Good idea? Bad idea? Alternatively, I'm considering pulling up the 1x8's and either gluing and screwing wedges on top of the existing joists to level it, or sistering 2x8's to the existing joists, then starting fresh with 3/4" T/G.
03-29-11, 03:32 PM
The floor doesnt need to be level for ceramic tile, but it needs to be flat, dead flat for tile that size. The important thing is that whatever caused the floor to sink on one side has been remedied and there will be no more future movement. Using slc to level a floor can be an expensive proposition, and if you have never used slc before, its not such an easy task. If you decide to go that route, read up on slc, as you'll need a lot of info before you get started.

If your joists are in good shape, they should support a ceramic/porcelain installation just fine. You'll need to add at least 1/2" of bc exterior glue plywood over the planks. Use deck screws a little longer than the total thickness of the underlayment and the subfloor. Use lots of screws, and no glue. Screws every 6" in the field and every 4" at the edges is good. Leave 1/8" gap's between plywood sheets. If there is any work needed to get the floor flat, you should do it on top of the plywood if you'll be using ditra.
03-30-11, 07:11 AM
Join Date: May 2006
Location: McHenry, IL
Posts: 46
Upvotes: 0
Received 0 Upvotes on 0 Posts
Well last night I opened up some areas in the basement and started jacking the main beam. It was 3/4" low, and I've got it to just over 1/4 now. I plan on moving it the rest of the way this evening. I'm shimming between the original post and beam with flat stock, so it should be solid.

As it sits right now I can get no rocking out of a 6' level in any direction, and I can see no gaps underneath so the floor seems pretty flat to me, but with the nature of the planking it's tough to tell how accurate it is because there is very slight cupping in the planks. I figure I'll get it level and put down the ply on top. I've got 10lbs of 1-5/8" deck screws waiting to go, and I'll be picking up the ply tonight to let it acclimate to the house for a few days.

As far as SLC goes, I have put down my share but it has been about 10 years. I used to use a product that Thoro made, but from what I can tell they don't make it any more. After thinking about it, I wasn't all that crazy about using SLC on top of the wood considering I need to compensate for up to 3/4" and feather it down to nothing.

I do have a couple of spots where I'm going to need to replace some of the planking. True measured thickness is 13/16". I had patched another area already, and the 3/4" ply is slightly lower than the existing planking. What's the best way to level that out so there's no gaps underneath the new plywood?
04-03-11, 05:53 AM
Join Date: Jan 2011
Location: USA
Posts: 4,459
If I was asked to do this job I would flat out refuse to do it unless I was allowed to get the floor level and flat first. And that would involve removing all that old planking. You need a Toe Kick saw to cut right up to the walls. Once that's out I'd use Advantec subflooring with constrution adhesive and 3" ceramic coated deck screws.
Depending on the spans and width of the floor joist I might even add sistered full length glued and through bolted floor joist.
Then a min. of 3/8 thick A/C subfloor rated underlayment, making sure to not have the seams line up with the seams below and never screw this to the floor joist.
Trying to go over loose cuped boards will lead to movement and squecks under that floor.
That big a tile will be pron to cracking if this is not done right the first time.