need help framing a ceiling
08-23-11, 06:42 PM
Join Date: Aug 2011
Location: USA
Posts: 1
Need help framing a ceiling
---
I have an existing room with a wooden ceiling, the rooms rafters are 4 x 4 timber beams and there is a vaulted wooded ceiling. The ceiling has very dark wood and I would like to tray the ceiling, by adding additional framing and sheetrock. First I would like to know if this will cause a problem with venting, the ceiling must have a foam insulation already, I wouldn't add any additional insulation to the top of the new ceiling. My next question is how to frame it, the existing 4 x 4 rafters are framed 36 inches on center. Here is a photo. I was wondering if I could just frame some collar ties (see green section in photo) and then run some strapping. The problems I see is the the collar ties will be 11 feet long and and only every 32 inches.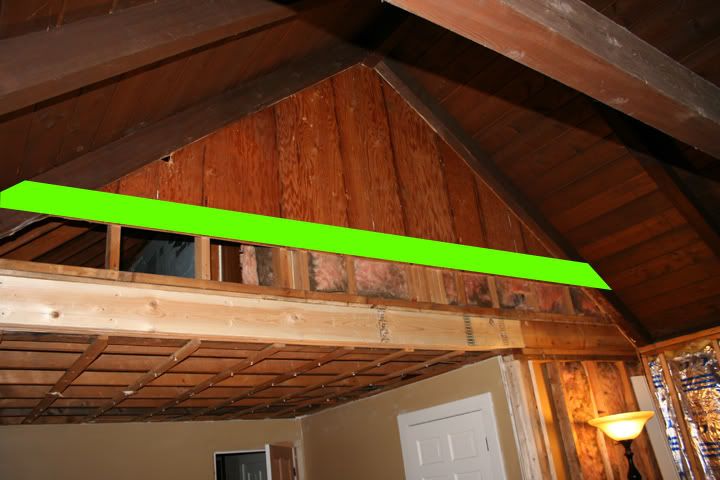 Sponsored Links
08-23-11, 08:25 PM
I think the greater problem might be that a building inspector might not like all that live load on the collar ties when the collar ties themselves are just held by nails. (no exterior wall below the tails).

It "appears" that your rafters are beefy enough to handle the extra load and the 32" span can be accommodated with larger dimension lumber, and perpendicular blocking between those joists that are on 32" centers would give you your 16" OC for drywall and trim.

But you'd certainly want to run this past your local building inspector if you have one. They don't usually want to tell you how to do it, but sometimes you get lucky if you ask the question correctly. Such as getting them to come out for a pre-inspection and say something like, now here is my plan... yadda yadda yadda... is that what you would like to see? Otherwise you're best bet is an architect who will run the figures and take responsibility for it structurally.

You might find out that he would approve it if, in addition to the nails, the collar ties were also supported underneath the tails by additional lumber that has been sistered to the existing rafters. Or an architect might require through bolts at specific places, and with a specific spacing. That's the sort of thing I would worry about.

Of course I could be overthinking it. I tend to worry about things that are out of the ordinary. I guess what it comes down to is: what's the allowable load on an unsupported framing member that is not being supported on each end by a load bearing wall? I'll be interested to read some of the other replies.
08-24-11, 03:38 AM
The only other comments I could add would be the addition of steel plates where the collar ties meet the rafters. It MAY suffice for the projected load, but nails alone won't cut it. 11' span is pushing it, especially with a framed load on top of it like a trey ceiling. You may find that a vertical support in the middle to the ridge beam, here again, fastened with metal plates on both sides would help hold the collar tie in place at the 32" mark. The additional framing between would be self supporting.
As Brant stated, get the inspector to come out for a "courtesy" call and just see what they say.
Posting Rules
You may not post new threads
You may not post replies
You may not post attachments
You may not edit your posts
---
HTML code is Off
---