Framing opening for A/C
12-06-11, 04:49 PM
Join Date: Dec 2011
Location: USA
Posts: 13
Framing opening for A/C
---
I am going to install a thru the wall air/heat in my den. At the top of the opening can I use (2) 2 x 4's or do I need to use a 4 x 4 . And I was going to attach everything with lag screws rather than nail. The wall is an outside wall so I assume it is load bearing. Thanks for advice.
Sponsored Links
12-06-11, 05:50 PM
You can use 2x4 lumber. No need to build a battleship. Figure the opening, allowing enough space at the bottom and sides and top for the cover and wiring to fit. You will cut the studs 1 1/2" shorter than the height of the bottom of the A/C. Do the same at the top. Your stud spacing will remain the same as the lateral boards you are installing will carry the load bearing to the jack studs and king studs you will be installing on the ends of the lateral 2x4's at the width of the A/C. I know it sounds confusing, but I can do it faster than I can tell you how to do it. Let us know any part that may be confusing. Lags are overkill. Use nails or 3" torx head screws. Screws are more forgiving.
12-07-11, 03:42 AM
Addendum: I re-read your post. You will need more support than a 2x4 on top since it is a load bearing wall. I would cut the top studs 3" shorter and double up on the 2x4. It probably only spans one stud, two at the most.
12-07-11, 05:52 AM
Join Date: Dec 2005
Location: USA
Posts: 3,188
Gator - An outside wall isn't necessarily a load bearing wall. That is determined by how the wall is oriented to the house's structure - rafters and joists. Look at your rafters/joists. If the wall is perpendicular to them it is load bearing.

If it is not load bearing a flat 2X4 is fine for framing the opening. If it is load bearing the size of the header will be determined by the size of the opening. Most likely a built up 4X4 (two 2X4s on edge with 1/2" plywood sandwiched between them) will be adequate.
12-07-11, 12:43 PM
Join Date: Dec 2011
Location: USA
Posts: 13
Guys,

Thanks for response. My trusses run perpendicular to the wall..so I guess it is a load bearing wall. The opening is only 26" wide x 16" high so I only have to cut one stud. If I understand correctly I can put a horizontal 2 x 4 at the bottom and (2) 2 x 4's vertical at the top with a 1/2" plywood in between..or I could just use a 4 x 4. I also will add a 2x 4 attached within the frame opening to the 2 existing studs. Do I need to add 2 x 4 as well below and above the opening to the existing studs? I wish I knew how to attach a pdf, I have it sketched up what I plan to do.
12-08-11, 02:53 AM
You can use the double 2x4 sandwiched at the top, or a 4x4 as mentioned. All stud spacing must be continuous. So if you cut a stud out, you need to install a jack or cripple to take it's place. This is mainly for things like exterior sheathing and sheetrock...giving it a place to land. If you need to attach something, save it on photobucket, hover over the picture, click on IMG code. It will self copy. Come back to the site and use the Image balloon above and paste the URL in it. It will copy to your post.
12-08-11, 05:06 PM
Join Date: Dec 2011
Location: USA
Posts: 13
Hope I did this right..this is my sketch ..tell me if I'm right, thanks.
[IMG]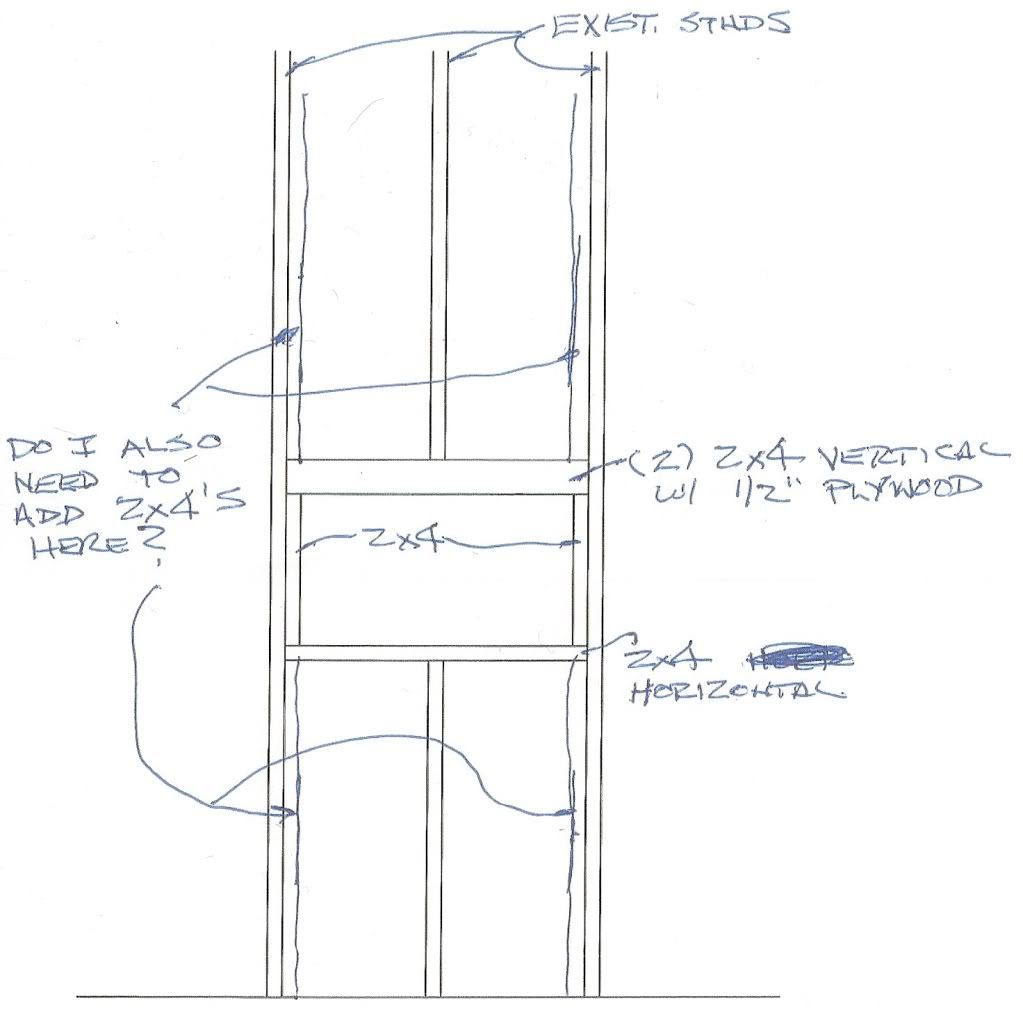 [/IMG]
12-08-11, 06:12 PM
You drew what I was thinking. Good job, and yes it is correct. You will need the jacks on the sides. Remember you have to carry the vertical weight all the way from plate to plate.
12-10-11, 06:09 PM
Join Date: Dec 2011
Location: USA
Posts: 13
Ok, I think I got it now...thanks much for advice!
Posting Rules
You may not post new threads
You may not post replies
You may not post attachments
You may not edit your posts
---
HTML code is Off
---