Repair damaged roof trusses
05-20-13, 10:30 PM
Repair damaged roof trusses
---
I have a roof truss (A Frame) on one end of it was damaged by previous water leak. Basically a portion of the 2x6 rafter was rotted.
Here is an illustration. The portion of the rafter that is tied to the concrete wall is rotted, and extends to part of the roof overhang.
From this picture you can see how badly the damage is.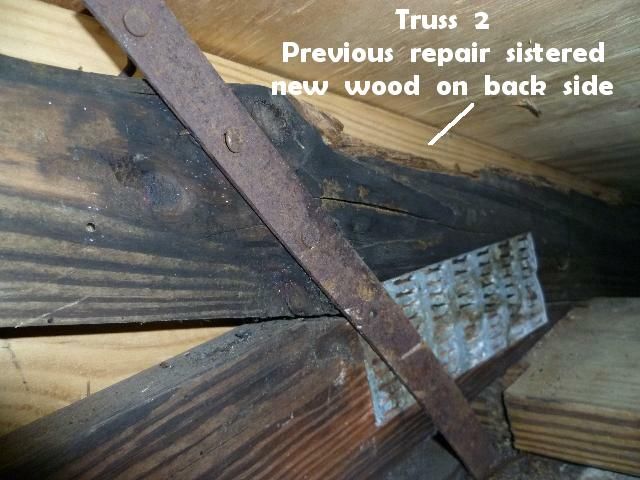 When the previous owner replaced the damaged portion of the roof, the roofing contractor put in a piece of 2x6 on one side of it (not the whole length of the rafter, just the damaged portion plus 2' on each end), here is a view of that 2x6 on the other side.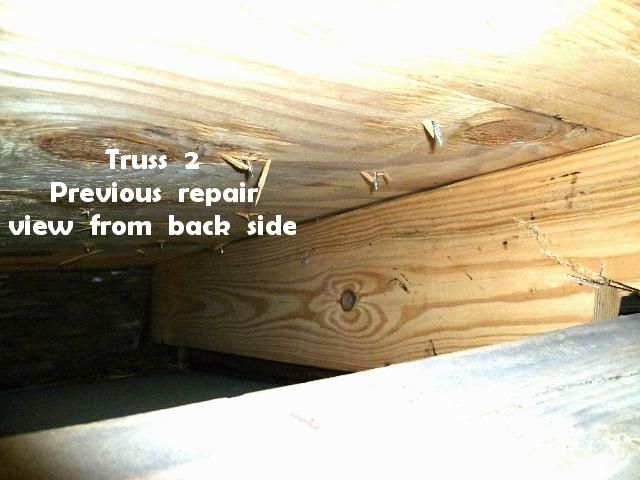 They drive a few nails from the 2x6 into the damaged wood.
Now, since I have the ceiling down, I decided to look closer and see how badly damaged the wood is. I was able to pull off fibers with my own bare hand, and basically this is why you see almost nothing on the top portion of that rafter.
The nails that was driven from the 2x6 into the rotted portion, so now those nails are attached to nothing but air.
So now, I am thinking while I cannot replace that whole member - not without taking off the roof and ripping the trusses joints apart. What I would like to do, is to apply some filler material on the top side of that damaged rafter. Then I would like to cut a piece of large triangular plywood and put that on the other side of the trusses. Then I will put 3/8" bolts through the 2x6, the damaged 2x4 in the middle, and the piece of plywood, and secure with nuts from both ends.
I think that would work. Better than just the 2x6 itself loosely attached to the damaged 2x4.
Question is what filler materials can I use. I have worked with epoxy filler before, and works pretty well if you can pour or inject into a close void and let it sit. In my situation the space is so tight and the member slopes down I don't think epoxies would work. I need something that would cure into something strong but can be applied such that it can be forced into cavities and voids with a putty knife, something with the consistency of tooth paste may be good.
Any suggestions?
Upvote
05-21-13, 04:13 AM
Join Date: Dec 2005
Location: USA
Posts: 39,965
I don't think any epoxy repair will work on this except cosmetically, which is not what you need. I would go one further and rather than plywood, use another dimension piece of 2x6 on the other side, extended well above and below the damage, then bolt through the two good boards and the bad as well, sandwiching it all together. Your support will transfer to the new lumber.
Upvote