finding floor joists through subfloor? and attaching platform to subfloor?
07-10-13, 01:59 PM
Join Date: Jan 2004
Location: Baltimore
Posts: 1,143
finding floor joists through subfloor? and attaching platform to subfloor?
---
I have a house built in 1900 with balloon framing. The floor joist spacing in not consistent by looking in basement. I have 2nd floor room that I am putting new carpet in. It has some squeaks and I would like to put some screws down through the subfloor into the joists since I know it was not done properly and is not tongue/groove. The original floor was pine hardwoods (may be tongue/groove?)then old owner put plywood over top of it but just nailed it down without attempting to hit the joists (by looking at the spacing of nails). Any way to find the joists through the flooring below? Is drilling test holes the only way?

There is a step down from hallway to get into this room. I widened the entrance and am putting double-French door entranceway. I am building a platform into room about 7" into room and will have the hardwoods from hallway extend into the room. How should I attach this platform to reduce chance of squeaks? Construction adhesive between the 2x8's used for platform framing and the existing plywood subfloor along with screwing the framing into the subfloor? Someone mentioned using roofing paper between and screwing down. I will use adhesive between framing and the subfloor that will go on top.
Sponsored Links
07-10-13, 02:14 PM
Banned. Rule And/Or Policy Violation
Join Date: Apr 2013
Location: USA
Posts: 4,297
Under layment should never be nailed to the joist so they did that right.
What was suppose to happen was using ring shanked 8D nails every 4" on the edges and 6 to 8" in the field. If they did not use the right nails or not enough of them your going to have squeaks.
Your lost me on that last part, can you post a picture?
07-10-13, 02:39 PM
Join Date: Jan 2004
Location: Baltimore
Posts: 1,143
well I don't know what type of nails? I guess could remove one to see. But they are nailed about every 8" field and perimeter. So what would be best thing to do now? I certainly could nail in between on perimeter. Wouldn't screws be better? Why shouldn't the underlayment (plywood) be nailed to joists? Maybe I forgot to mention that the pine hardwoods are laid directly on the joists without any subfloor. so if there were squeaks on that floor, putting the plywood on top and perimeter and field nailing wouldn't stop that would it? wouldn't screws through the plywood, the pine hardwood, and into the joists (along with the perimeter/field nailing that exists) create a stronger unit less likely to squeak?
As far as platform, here are some pics. subfloor will be put on top. After platform is done, carpet will be laid in room then I will use Oak to finish the front of the platform and then stair nosing will sit on top.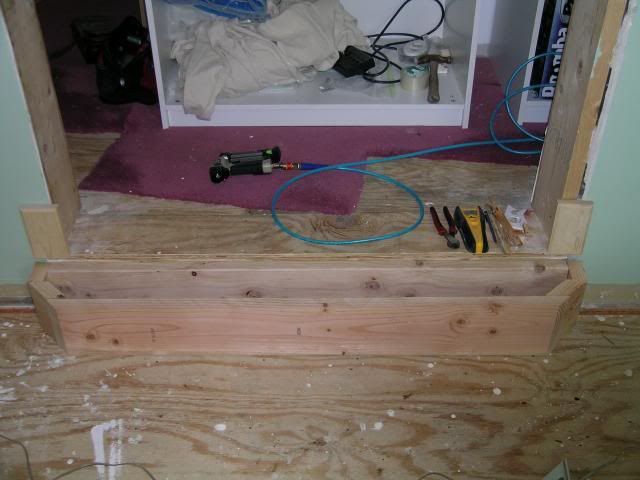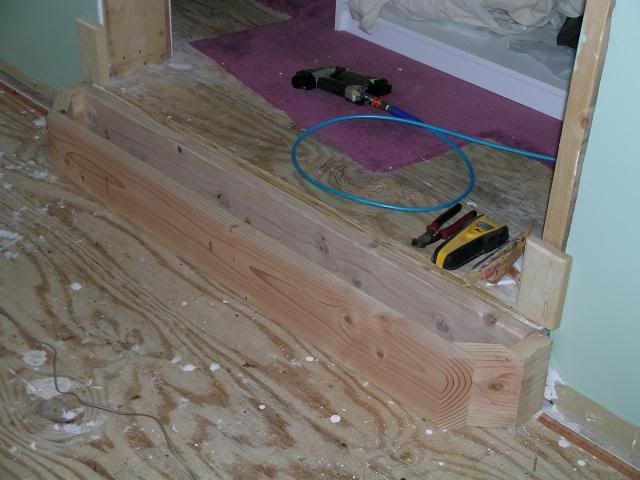 ---
Last edited by hammerash; 07-10-13 at

03:51 PM

.
Posting Rules
You may not post new threads
You may not post replies
You may not post attachments
You may not edit your posts
---
HTML code is Off
---