Remodel questions
11-06-13, 05:36 PM
Join Date: Nov 2013
Posts: 82
Remodel questions
---
My wife and I are working on remodeling a small family room off the garage. I'm currently in the demolition stage and uncovered a wall that looks to need perhaps some attention in tidying it up a bit.
This is a pic of the wall in question.
First question.
This wall sits up next to the upstairs (top half) and basement (bottom half) because the home is a split level built in the early 60s. There is an area in the wall that is open with no studs. Should I place studs in it to form a more complete wall and then pack it with insulation to help with sound transfer? What kind of insulation? Or should I place a sheet of plywood in the inset first, put studs in place, insulation, and then drywall?
Second question.
HVAC. The ducts you see in the pic are supplying heat/air. The two 7" ducts beside each other one supplies heat/air from the ceiling to the family room. From this pic do you think it's possible to supply it from the wall instead? I'm of the opinion the duct for this room is to big, because there's a same size duct that supplies a tiny bathroom with heat and air on the same level. Seems like overkill to me.
Image showing duct work and ceiling joists.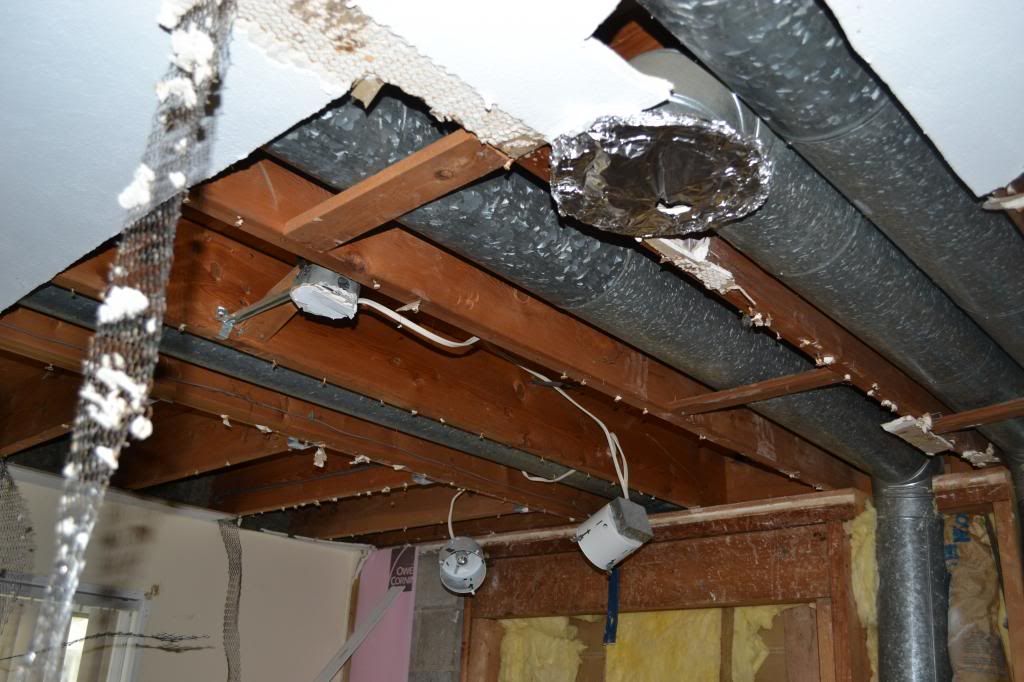 Third question.
The insulation around the ducts, is this right or should I tidy it up with something else? What kind of insulation should I put in the ceiling to help with sound? I know Roxul safe n sound would probably help. I'm thinking just r19 in the ceiling. r13 in the side wall that is uncovered. The other two walls (garage, house exterior) have fiberglass insulation on them.
Fourth question.
The cavities at the end of each wall which sits against the exterior wall have blown in insulation of some sort. Is this ok, or should I stuff it with something else? Thank you!
---
Last edited by blobula; 11-06-13 at

05:40 PM

. Reason: wrong text
Sponsored Links
11-06-13, 05:45 PM
Welcome to the forums! To the chase --

1. You may find it more comprehensive to move away from those studs one inch and build a new complete wall on 16" centers, and insulate it, running new electrical, etc as needed.

2. I would replace all the hard duct with insulated flex in 6" and leave the ceiling drop for equal air circulation. You can put in circular vents and regulate them from that point.

3. Roxul seems to get the nod for better efficiency, no moisture absorption, and fire retardant qualities. I would definitely consider it.

4. I would continue the Roxul into the bay, but you could also cut and insert rectangles of 2" foam insulation board and seal it around all the edges to keep it air tight.

Hang in there, as more knowledgeable people will be visiting and will send information your way. Remember, opinions are like bellybuttons.
11-06-13, 06:00 PM
Join Date: Nov 2013
Posts: 82
Thanks so much for the info. I'll keep checking back!
11-06-13, 06:04 PM
Join Date: Nov 2013
Posts: 82
Just so I can learn why do you recommend 6" insulated flex duct over what's there now?

If I decided to keep the duct work that is currently present, should I remove the insulation that is stuffed around it now, or replace it with something else? Thank you!
11-07-13, 02:42 AM
Your supply lines have no insulation around them, and you are experiencing a tremendous loss of heat/cool during its travel down the tubes. Replacing it with an insulated duct will provide more heat/cool at the destination with less possibility of sweating, etc. You could go 6" or 8", depending on the depth of your floor joists.
11-07-13, 05:40 AM
Join Date: Nov 2013
Posts: 82
Thank you Chandler.
Is this the appropriate duct to use for replacement?
Master Flow 6 in. x 25 ft. Insulated Flexible Duct R6 Silver Jacket-F6IFD6X300 at The Home Depot
Is their a max run length for flex duct? Replacing the supply to the family room isn't a long run. However there are two additional supply runs that go to a bedroom upstairs and to the adjoining garage which are longer runs, especially the supply to the garage. (the supply to the garage is currently closed, has been since I bought the house)
Also, what are your thoughts on the joist cavity being used as a cold air return? Pics below show the cold air return opening from the bedroom upstairs, running over and down the wall and out into the family room. The opening midway down returns it to the AC unit.
11-07-13, 04:40 PM
Join Date: Mar 2013
Location: USA
Posts: 457
Posting Rules
You may not post new threads
You may not post replies
You may not post attachments
You may not edit your posts
---
HTML code is Off
---