subfloor not level
05-29-14, 02:51 PM
Join Date: Jan 2004
Location: Baltimore
Posts: 1,143
subfloor not level
---
complicated flooring issue. I have 114 year old house and built addition that is attached to two sides of existing house. The original flooring was not framed correctly (the joists were notched over the sill plate and had started splitting horizontally along the notch). I fixed that by pouring footers in crawl space and LSL beams/posts so it should be stable from now on. But it is not level. When a contractor poured addition foundation for main part of addition (to the side) he poured too high which, after he went bankrupt and I settled my case!) required me to adjust the floor framing to get it as close to the height of original floor as possible. The new contractor ended up building the back of addition at the same height as the original floor in that location-but the original floor was lower by about 1/2" in that area than where it met the main part of addition. At one point I had most of the subfloor off the original floor, and I suggested that we sister in joists to the existing ones so that we could level everything with the main addition. This would be higher than the rear addition and then I could add subfloor to make it all same height. The guy said not necessary and he tried to make a smooth transition between original and main addition and smooth transition between original and rear addition. He added extra plywood as needed then used leveling compound. Problem is that after the transition between the original and main addition, the original floor falls about 3/8" in 3 foot to meet the height of rear addition! then it slopes back up to being 1/2" higher than the height of main addition. So in a 20 foot room the floor falls 1/2" in 3 foot, maintains that level for about 8 foot, then slopes gradually up to 1/2" higher than height of main addition over the next 9 feet. so options to fix this?
I was wondering if more floor leveler would work? I would add a dam near the rear addition and then pour leveler till total thickness about 1/2 at this dam. May have to do in steps as I don't think can do this thick at one time. This would still leave me 1/2" high at end of room but this is gradual slope and this is just walkway that is about 4 foot wide. There are cabinets along this run (a pantry) but the run is by itself so using EZ levers I think cabinets won't be issue. But I am putting 3/4" engineered hardwood here so nailing/stapling not possible with floor leveler that thick. I am pretty sure that it can be glued although not sure if want to do that.
Anther option is to remove the subfloor of original room, sister in new joists meeting level of main addition. This would be 1/2" higher than rear addition and would require addition of subfloor to that area. Forgot to mention that this would also be done in previous option as the flooring is to be continuous throughout all of this area.
drawing of plan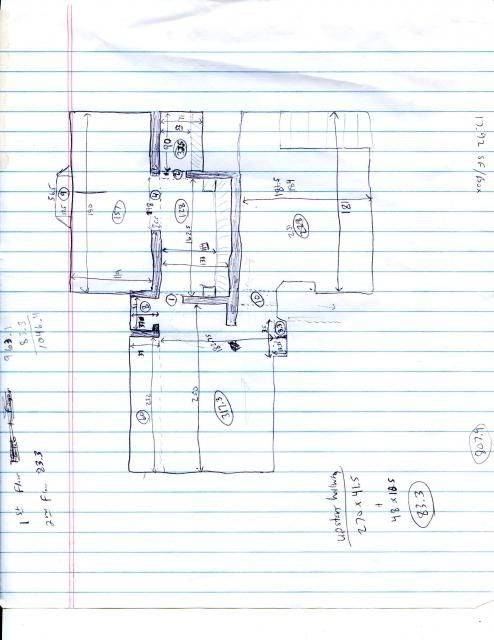 floor plan of cabinet in kitchen and pantry which are both in old part of house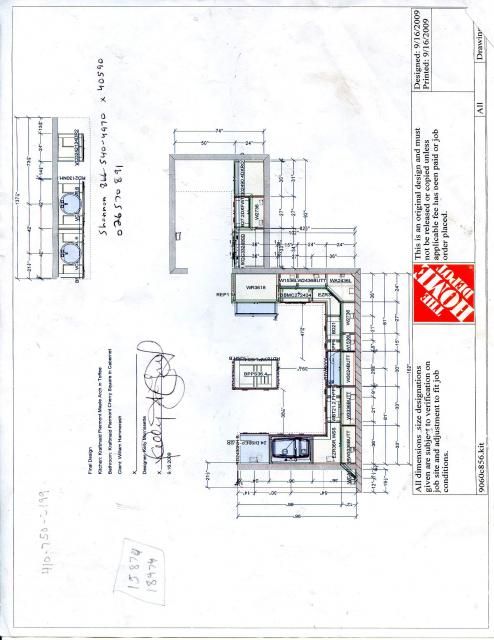 measurements of floor heights in reference to main addition (negative means lower than main addition and positive means higher than main addition)
I have two flooring contractors coming to look this over but appreciate input from some of you and deciding if want to tackle myself. should have clarified but on first drawing the shaded walls are the ones shown in other drawings. the room to left with bay window is NOT shown on other drawings. it would be to the left on others drawings. You can seen a little shading where the cabinets would be on the first drawing-look for the "U" shape.
Sponsored Links
05-29-14, 03:58 PM
In most cases, level is not even an issue... especially in a house that old... so unless you are going to completely reframe the floor I would throw that out of the equation completely. Straight is more important, especially parallel with the direction the flooring is running. I would probably take a plain old straightedge, as long as possible and first identify any high points where the straightedge wants to tip and/or rock. If it's possible to grind some of those highest areas down that will be a HUGE help. It reduces the amount you need to fill SIGNIFICANTLY when you can do that.

Many floor installers have a maximum amount of floor patch that they will install over... so that would be a good question to ask them when they come. Floor patches often crack because they aren't flexible enough to take any deflection... so for that reason you often want to limit how much floor patch you put on a floor.

Also you usually just want to make the floor better than it was since its not usually feasible or cost effective to make it perfect. That's my 2 cents.
05-29-14, 05:20 PM
Join Date: Jan 2004
Location: Baltimore
Posts: 1,143
Thanks for the advice. The problem is right where the old meets the main addition, it is such a large drop in such and short span that when I tried to lay a piece of the hardwood over this transition, it is sticking up about 1/2"! So that is where I really have the problem. See what they say tomorrow.
05-29-14, 08:44 PM
It's pretty common to have perpendicular solid wood transitions at places where there will be 2 floors of varying heights. Sometimes this may be at a doorway, other times its where one room turns into another (as when you have several new / old additions meeting and they aren't ALL the same height) So rather than thinking the flooring HAS to be continuous through the doorways and at the same height, that is an option you might consider. Flooring guys sometimes like them as starting and stopping points as well.
05-29-14, 09:22 PM
Join Date: Jan 2004
Location: Baltimore
Posts: 1,143
Yes we have thought about that. Problem is the lack of a clear transition point. The one side of the "U" In kitchen is a hip wall with a bar on other side in family room. That hip wall Would be ok transition but if you extend that wall until it hits the perpendicular wall, you end up in middle of closet-not nice to have floor change in the middle of a door! Wife and I have considered all kinds of options but none seem too great. If you transition right where old meets new, you would be at edge of closet, but you would be in center of the cabinets on the "U" on the other side. The closet wasn't in the original plans. Starting to regret adding it in!
Posting Rules
You may not post new threads
You may not post replies
You may not post attachments
You may not edit your posts
---
HTML code is Off
---