Need HELP for 20'x30' Garage Framing Plan
08-27-14, 01:19 AM
Need HELP for 20'x30' Garage Framing Plan
---
Hello Everyone,
I seek help for a garage I'm designing to be built but I'm unsure if my framing layout is correct. Attached is a Picture and PDF if you feel like marking it up with sticky notes.
Any advice and information is greatly appreciated.
Garages-Layout2.pdf
Sponsored Links
08-27-14, 05:58 AM
I agree with the points above. Plus I think you would be much happier with an 18' garage door. Hope you have a side door somewhere. The blocking is not mandatory, unless you're in some sort of seismic area or have some local code we aren't aware of. You don't exactly have your king studs drawn correctly. King goes on the ends of the header, with the trimmers (or jack studs) underneath. And I would never use a 4x4 as a trimmer. You can't nail through it with a framing gun. I'd use LVL for the header. In addition to anchor bolts within 12" of plate ends they must be a maximum of 6' on center. I usually place them every 4'.

As for the roof and wall sheathing nailing schedules, TABLE 2304.9.1, footnote p. "Fasteners spaced 4 inches on center at edges, 8 inches at intermediate supports." - not 6" and 12".

Plywood and t&g at eves is not necessary. No indication of the depth of the foundation and we don't know where you are located to know the frost depth. By the drawing, it looks like there is no footer, and it almost looks monolithic, which is not allowed on slabs of that size.
08-27-14, 01:04 PM
Thanks for all your input. The garage is to be built in SoCal so there won't be any snow. I based the design off a typical plan provided by the city (pictured below). I'm going with a 16' foot because it's standard and a little work area will be on the right. There will also be a side door. I'm using a 4x4 post because that's what the city template states.
What should the depth of the foundation be? & what does t&g mean?
I edited the plan (pictured below) but I don't know if the trusses are placed correctly.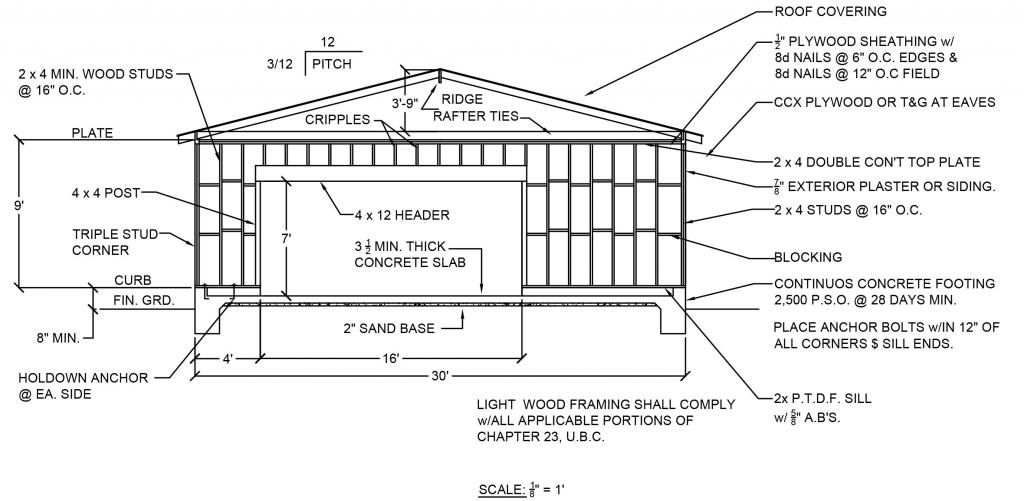 08-27-14, 02:05 PM
it almost looks monolithic, which is not allowed on slabs of that size.
I know codes vary by location and there is more I don't know about concrete slabs that what I do know but I've painted multiple homes in fla that were built on monolithic slabs because of the poor ground conditions. These were 1200-1500 sq ft homes plus garage. That was in the neighborhood of 25 yrs ago. The local permit office should have someone that knows for sure.
08-27-14, 03:28 PM
Welcome.
You based your plan on the City's example, but that plan is a guideline of what must be there, not building plans.

First, if you plan to make these drawings yourself, stand by for many trips to the building department. They don't cut any slack.

I'd like to just point out areas for you to look at, rather than explain every detail. Most of these details are pointed out on city drawing.

Footings: 24D x 12W, min. 6" above grade. #4 rebar top and bottom.
The hold downs and all facets of foundation will be checked. You will need detailed drawings for this.

Rafter Ties, and you will need trusses as said above. You will need detailed drawings for both trusses and rafter tie details.
Trusses will be furnished with engineered drawing and calculations.

Garage Door header goes end to end (of front wall) with 4 x 4 posts at R.O.

The most important, and you will need detail drawings, is the front.

Min 2' 8" shear panel on both sides of door.
Min Structural II Plywood nailed at 4" at all edges, 12" in field. 8d nails.

These shear panels will also tie into the 4x4 posts. CA likes to see edge of shear panel nailed to 4 x 4.

You have a lot of work ahead. There's many guys here that can help.
08-27-14, 04:28 PM
I also prefer trusses (you are spanning 30').
If you plan on any electrical or other wires coming into this garage, placing them in the ground and up through the slab is an option that would need to be planned.
When you locate the hold down anchors place them so they are positioned between studs and not under them.
Include some ventilation, soffit and ridge.
You will need more than 2" of sand under the slab to be sure it is stable. If the ground settles after construction the slab will follow.
I would opt for 18" to 24" of bottom chord overhang to form your soffits and wrap that overhang around the front to provide some rain protection for the garage door.
Windows?
Plan your framing so that the trusses will align with the studs. If you go with 24" oc for the trusses, every 4' will have a truss on a stud. You could frame the side walls with 2x6 at 24" oc to have them all under a truss.
Not sure what CA requires for a termite barrier under the sill plate?
Be sure all anchors that fasten into the pressure treated wood are approved for that material. Not sure if galvanized hold downs are sufficient. But studs and sheathing will need stainless or galvanized or whatever code requires.
Be sure to slope the edge of the slab at the door to prevent rater running in and slope the entire slab to send any water to the door.

There is more, but enough for now.

Bud
08-27-14, 05:11 PM
Bud has some very good advice.
The trusses are normally provided with predrilled blocking for ventilation.
I would concentrate on slab, which will be monolithic, and as Bud said, hold down placement is important.
That will get you started.
I just wanted to warn you about shear panels and sheathing. The inspector will bust out a micrometer, or at least let you know they want the nailing schedule to be as accurate as possible. It may be getting carried away, but whatever nailing the city specifies, I would snap chalk lines. They're that picky. When nailing, try to make a dimple without breaking the surface.
Posting Rules
You may not post new threads
You may not post replies
You may not post attachments
You may not edit your posts
---
HTML code is Off
---