why is there fiberglass and greenboard behind my drywall?
Join Date: Oct 2014
Posts: 5
VA
why is there fiberglass and greenboard behind my drywall?
I live in a townhouse, end unit. Currently in the middle of demoing my MBR for a remodel, bathroom is on "exterior" wall, in that it is the boundary of my house, but I have neighbors on the other side. While demoing, I ran into something thats got my head scratching, and I figure drywall repair is easier than royally screwing this up. On the wall that is shared, there is 1/2 drywall, but behind that, instead of finding studs like I had hoped, there is about 2" of fiberglass insulation and then what looks like greenboard. This run of drywall extends down the wall, to where my fiberglass shower surround was. They furred in front of the drywall where my shower was with 2x4s and attached shower, but because of the shallow fiberglass it leads me to believe that they also furred it in front of the greenboard as well. My question is can I rip all of this out down to bare studs? Or should I just patch it and leave it be? Last thing I want is plowing through my neighbors wall a la "The Shining", not to mention we aren't on the greatest terms anyway.
Sponsored Links
Join Date: Mar 2005
Posts: 42,800
TN
---
retired painter/contractor
avid DIYer
Join Date: Oct 2014
Posts: 5
VA
I believe it is furred the entire length, im at work so ill consult the measuring tape when I get home. My thoughts are the builders put it there to assist with stc rating when the place was built. Theres gotta be studs somewhere, right? I'll attach some pictures this evening.
Join Date: Oct 2014
Posts: 5
VA
Im thinking that too. Any harm in taking it down to the greenboard and then framing a 2x3 wall the span of the bathroom? Id probably thrown in some pink xps in the voids and double sheets of drywall. Any reasons why this is a bad idea?
Join Date: Dec 2004
Posts: 19,298
NE
Dunno... we can't see what you see. If you do decide to frame in a narrow wall, none of the new framing should be in contact with anything on the next wall. I'd set the sill plate (and maybe even the top plate) on a strip of foam board to help act as an acoustic break.
Join Date: Oct 2014
Posts: 5
VA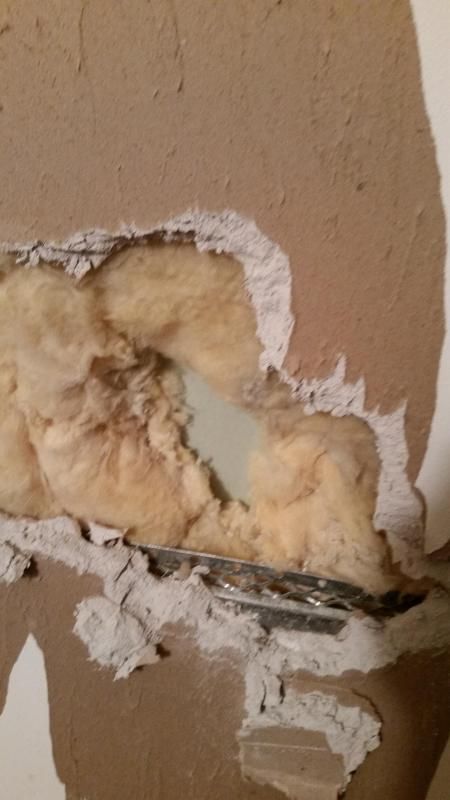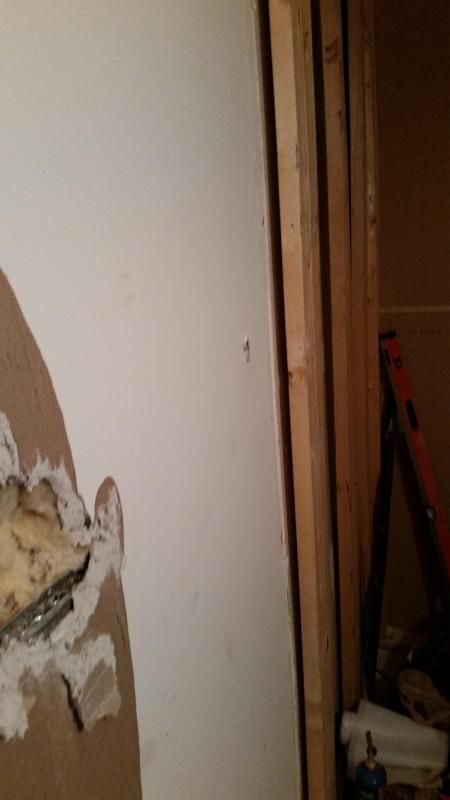 So first picture is of the drywall/fiberglass/greenboard, second is furring in front of the drywall for my old shower. Drywall/fiberglass/greenboard extends the length of the wall between my neighbor and I, so yes, most likely to reduce sound transmission. However, the void between drywall and greenboard is 1 3/4, so definitely furred with 2x4. I would think that the insulation that thin would have a negligible effect on sound transmission, hence my idea of 1x3 and xps followed by double sheets of drywall, nothing beats sound transmission like more mass!
Join Date: Dec 2004
Posts: 19,298
NE
That's not altogether correct. While 2 pc of drywall are better than one the methods used to construct the wall are just as important. Fiberglass has sound dampening qualities but the space available is certainly a limiting factor. Keep in mind that a drum is nothing more than a hollow space with a reverberating membrane. Fill that drum with fiberglass and it will certainly dampen the sound.
Join Date: Oct 2014
Posts: 5
VA
Duly noted. Im gonna rip it out, then I have to replace the subfloor. Will frame in new wall uncoupled from greenboard, insulate, be golden. Thanks for the input.
Join Date: Dec 2004
Posts: 19,298
NE
Join Date: Sep 2014
Posts: 7
CO
It's commonly called a "party wall" and it's a code required fire barrier between your unit and your neighbors. It also provides some sound insulation but that's not why it's there. I should also mention that you can be held legally responsible and accountable for any damage or non code modification to that space.