How to paint/finish interior of wood kitchen cabinets/drawers to make cleaner
08-18-11, 01:08 AM
Join Date: Aug 2011
Location: USA
Posts: 9
Upvotes: 0
Received 0 Upvotes on 0 Posts
How to paint/finish interior of wood kitchen cabinets/drawers to make cleaner
---
Hello,
I moved into an old house that I inherited a couple years ago. The house is a bit of a dump. In the future I may invest in seriously renovating the place, but there is a good chance I will be moving to a different state in a couple years for work, so for the time being I just want to make it clean and livable.
The kitchen cabinets and drawers interiors are unpainted and unfinished. They are very dirty. I have lined the bottoms of a lot of the drawers and shelves, but it still gets awfully dirty inside there. I feel like I have to wash off dishes again before using them, after I've retrieved them from the shelves.
What do you recommend I do? I was thinking of painting the insides to: A) conceal and cover over the permanent damage and dirt; B) to make the interiors nice and slick and easier to clean/wipe off in the future; and C) protect and seal off the wood to prevent more damage.
I'm really only concerned that it look and be cleaner, not so much the style or anything like that.
Anybody know a good process,
type of paint
, etc. for accomplishing this?
I posted some more pix of the cabinets in an album on Photobucket so
please click here to see the album
and take a look at what I'm referring to.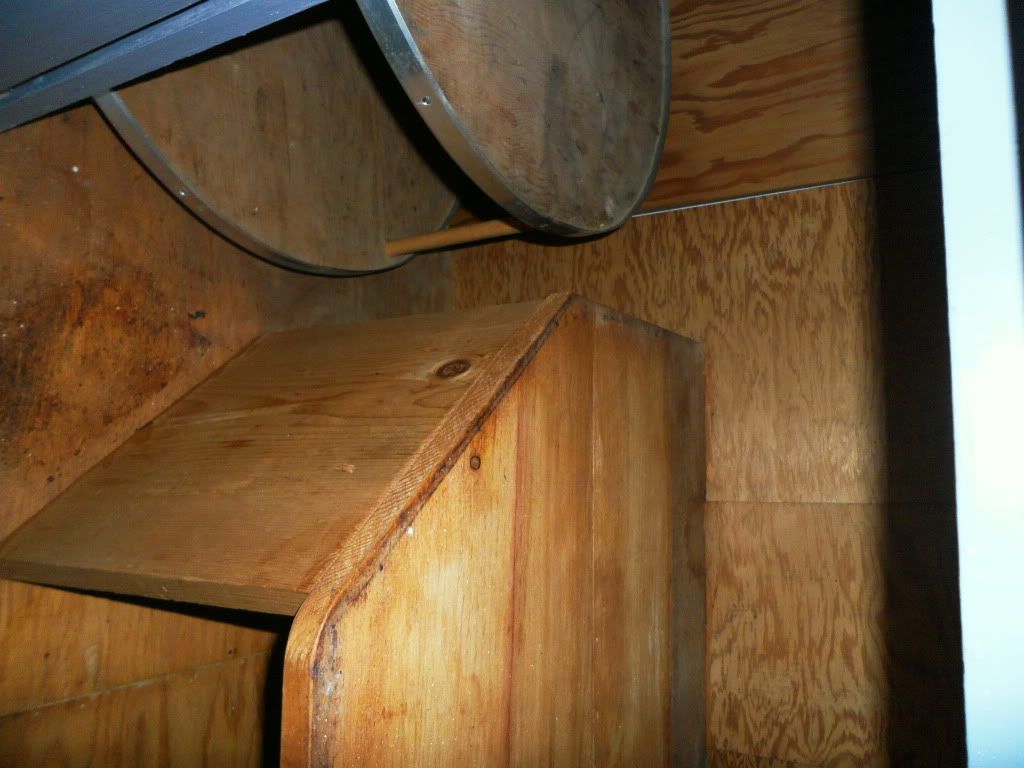 08-18-11, 05:51 AM
Join Date: Mar 2005
Location: USA - N.E.Tn
Posts: 49,395
Welcome to the forums!

You have 2 options; lightly sand the wood with 220 grit sandpaper, remove the dust and apply a fresh coat of oil base poly or sand with 120-180 grit, coat with a solvent based primer and top coat with an oil base enamel. I wouldn't recommend using latex paint as most won't dry to a hard enough film to prevent items from 'sticking' to the paint.

It looks to me like that wood has a finish on it. It would be unusual for the wood not to be finished. You do need to clean what you can [and remove cleaner residue] before applying any coating.
08-18-11, 08:49 AM
Join Date: Oct 2004
Location: WI/MN
Posts: 20,233
I'd clean them as best you can, sand and finish with oil based polyurethane.

Which is pretty much what Mark said.
08-18-11, 06:38 PM
Join Date: Aug 2011
Location: USA
Posts: 9
Upvotes: 0
Received 0 Upvotes on 0 Posts
Thanks guys this is good advice. I have tried cleaning but I think it is at the point that i will need to sand away the dirt and damage. It really doesnt "feel" finished -- gets really dusty in there, gets soggy when wet/seems non-water-proof...but i suppose maybe it was finished but it has worn off? Thanks again.
08-19-11, 05:18 AM
Join Date: Mar 2005
Location: USA - N.E.Tn
Posts: 49,395
I missed the photobucket album yesterday
It looks like your cabinets were site built so it's entirely possible that the inside was never finished. The painter may have been either lazy or underpaid
..... but the same advice still holds true
08-21-11, 06:09 PM
Join Date: Aug 2011
Location: USA
Posts: 9
Upvotes: 0
Received 0 Upvotes on 0 Posts
Oh ok, thank you! Yeah, I have no idea why they were not finished, but i do know they are the original cabinets from back when the house was built in the 1930's.
Any suggestions for
cleaning products
for cleaning off the wood before painting/finishing?
Also, I happen to have some
leftover 100% acrylic based interior semi-gloss enamel
in my basement, i think it's from when the cabinet FRONTS were painted a couple years ago. The oil based poly/enamel are better though, right? (I'm just throwing that out there for curiosity sake, but I don't want to skimp---I want the right stuff, as I dont want issues with dishes sticking or paint/finish wearing when cleaned, etc.)
Also, as you can see from the pix, there are some hard to reach areas. Do you think I can get away with using a
spray can
poly/enamel for some of these areas?
Thanks again for putting up with my novice questions!!
---
Last edited by baremin; 08-21-11 at

07:11 PM

.
08-22-11, 05:57 AM
Join Date: Mar 2005
Location: USA - N.E.Tn
Posts: 49,395
I would think most any heavy duty detergent would work well for cleaning the wood - just be sure ALL the cleaner residue is removed! Sanding may also help, just make sure you sand with the direction of the grain. Cross sanding can leave you with unsightly sanding scratches which are really noticeable when using poly. It's possible that reasonable prep won't remove all the stains or signs of wear.
I'm not overly fond of using aerosol cans - the coatings are drastically thinned in order for the propellant to be able to shoot the coating out the small tip.
I'd be leery of your left over latex enamel. Latex enamels are bad to stick when something with a little bit of weight is set on them and left for a period of time. The cheaper latex enamels are worse than the better the latex enamels'
Personally, I'd clean up the inside of the cabinet the best I could and apply 2 coats of oil base poly [sanding lightly between coats. Using poly you won't have to be overly concerned with how well it covers and the poly will seal the wood well making it easier to keep it clean in the future ...... and since cabinets are almost always filled with 'stuff' the areas that didn't clean up all that well probably won't even be noticed
09-21-11, 03:22 AM
Join Date: Aug 2011
Location: USA
Posts: 9
Upvotes: 0
Received 0 Upvotes on 0 Posts
Final Product + Next Project (RE-finishing table, how deep do I sand?)
---
I finally finished my initial project. One "discovery" was that I found it better and easier to use copper sponges (just for the really dirty and damaged parts before the first coat) and steel wool instead of sandpaper. I used semi-gloss oil-based polyurethane, so it's very shiny
with the camera flash.
Anyway, thanks for the help on this one. Now I'm moving on to my next project: re-finishing my breakfast room table. Unlike the other project, this wood HAS been finished before.
-How deeply do I need to sand? (do I need to completely remove the previous/original finish?)
-Is there a functional difference between semi-gloss, satin, matte, etc. finishes? (this will get even more day-to-day usage/wear-and-tear than the cabinets, so I want to make sure it's not sticky, it's very water resistant (currently it does get little water stain rings if you leave a drink sitting on it too long), and durable).
-There's a big scratch on one of the extender planks, any tips for how I fix that up a bit?
Below are pix of the finished cabinets/drawer project.
Below those are two pix of the worn/faded breakfast room table top (to the left) compared with the more preserved/protected extender plank (to the right --- which was stored and rarely used). The third pic is a close up of the scratch on the extender. I began scrubbing w/ steel wool at some of the damage/wear on the table top (to the left) so it looks a bit worse than it did. I might not even touch the extender planks as they will not be used much if at all, but I thought the comparison might be useful. FWIW, I'm not too aesthetically concerned with matching the extender planks with the rest of the table.
Thanks in advance for any additional advice!

09-21-11, 05:51 AM
Join Date: Mar 2005
Location: USA - N.E.Tn
Posts: 49,395
For the most part all you have to do is give the table a light sanding, remove the sanding dust and then apply your poly. While I've finished furniture and cabinets and have refinished cabinets - I've not done much furniture refinishing, so I'm not sure what is the best method for removing the water rings. Denatured alcohol might work but I don't know for sure
Oil base poly dries to a harder film and has better adhesion properties than the water based poly - so I'd stick with oil poly. The biggest difference between the 3 sheens, is the sheen although a satin won't show wear as quick as a gloss would.