Cabinet hindge screws popped out
04-19-16, 06:55 PM
Cabinet hindge screws popped out
---
I have a lower cabinet in the kitchen the hinge came off the side of the cabinet.
The two holes look fine, the plastic "sleeves" look fine. What is the best way to secure the hinges?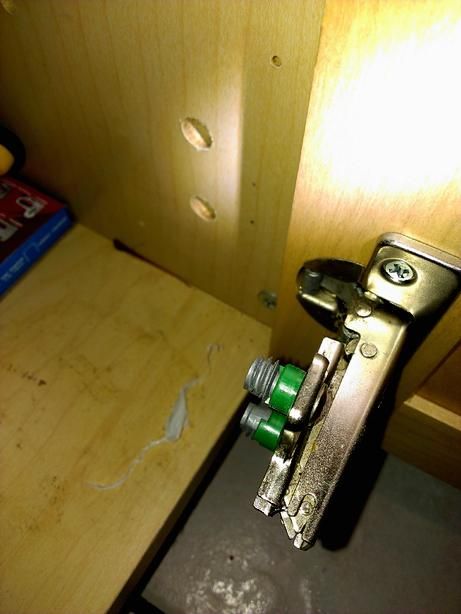 Apply some contact cement or 2 part epoxy into the hole and push them back in and let it set? Or change to bigger screws?
04-19-16, 07:41 PM
Those look like Euro confirmat screws, like these. If they pulled out, the melamine may be stripped.
http://www.tacomascrew.com/076-104-1.jpg
I would first of all, push the release button on the end of your hinge arm in order to remove the wing mounting plate. You will probably want to remove the door entirely by releasing the other hinge as well so that it's not just hanging by one hinge.
http://cdn1.bigcommerce.com/n-ww20x/...0.1280.jpg?c=2
Then you can try to screw the plate on again. If it doesn't hold, then you will know that you need to epoxy the holes, carefully redrill them once it's dry, and then drive the screws into the exact same location.
You could try epoxy in the hole then smash the screws into the epoxy and hold it with tape, but that may not be as good as actually machining new threads into a small amount of epoxy.
04-19-16, 09:20 PM
Sometimes you need to clamp the hinge mounting plate to the cabinet side before screwing the plate in.
It shouldn't be necessary, but it's like screwing cabinet face frames together, the screws will force the pieces apart rather than drawing them together and clamping cures that.