Stopping carport condensation - dripping on the cars
08-25-10, 09:46 PM
Join Date: Aug 2010
Location: USA
Posts: 4
Received 0 Votes on 0 Posts
Stopping carport condensation - dripping on the cars
---
I have a two car open carport that is made from galvanized steel supports and aluminum "roof" sheets. It is 8-10 years old and is fairly water tight - almost no leaks even in pouring rain.
Here is a carport SIMILAR to the one I have.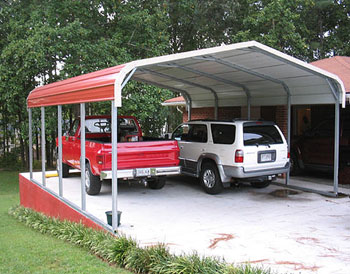 Since day one when the temps and dew points are "right" water has condensed on the underside of the carport (painted metal) and dripped on the cars. Even during the winter, frost or frozen fog can freeze underneath, then thaw and drip.
As the metal aged and oxidized the condensate turned gray / whitish and stains the cars. A good cleaning removes the stains, fortunately. A few years back I scrubbed the underside with TSP and pressure washed it to remove the oxidation. That cleared the condensate for a while, but now I am back to gray / whitish dripping. Rather than another scrubbing and repainting I would prefer to just stop the dripping completely (it is annoying even if the drops are clear).
My friend suggested 4'x8' sheets of foam insulation glued to the underside of the carport. The thinking is that the insulation would stop the condensation from forming. I am not sure if that would work or if the condensation would form under the foam boards on the under surface of the carport and run / drip out someplace anyway.
Looking through the forums here and googling on the web I see some folks suggesting using spray foam to coat the underside of the carport. Same idea as the foam sheets, but much better coverage.
What is the best bet to make the condensation go away and how much should it cost?
I just traded cars and now and a nice, new, BLACK car parked under the carport and the 2nd night under we had temps below the dew point and I now have a new, new, BLACK car with gray spots all over it...
Thanks
Sponsored Links
08-27-10, 08:45 PM
Join Date: Jul 2008
Location: NY
Posts: 10,986
Received 0 Votes on 0 Posts
08-28-10, 05:30 AM
Join Date: Aug 2009
Location: USA
Posts: 4,947
Received 0 Votes on 0 Posts
I don't know if the foam will work or not, but what about putting a fresh coat of paint on it so the water no longer stains?
08-28-10, 10:51 AM
Join Date: Aug 2010
Location: USA
Posts: 4
Received 0 Votes on 0 Posts
Cleaning and repainting is an option and I even found some special paint that is supposed to prevent the oxidation from coming back.
I would much rather spend the time and money making it NOT DRIP at all if I can
When the carport was new or after the last cleaning the water drops were clear, but still annoying and still cause slightly noticeable marks on a clean car. When the humidity and temps are right it is almost raining under the carport.
08-28-10, 03:50 PM
Join Date: May 2010
Location: South Florida
Posts: 376
Received 0 Votes on 0 Posts
In thinking about your problem, I've likened it to the same problem greenhouse growers encounter. You're situation is less severe, as your structure promotes some air circulation but not sufficient in all conditions. I suspect (but it's a guess) the radiant heat emanating from the house cooling off at night causes the half-side carport structure on the side closest to the house to drip more . . . if only one half-side is causing the main problem, that should be considered in response to a solution later discussed. I wonder how often this occurs as I would think it is mainly seasonal, and worse when there is little or no wind circulation . . .I realize happening infrequently would still be an annoyance.
As you correctly point out, certain days have the right combination of temperature and relative humidity (RH) to trigger a dew point. This link provides two 'prevention' concepts
GROWER 101: Drip, Drip, Drip. Greenhouse Condensation
. . . skip over the section 'Relative Humidity', and go to 'Prevention'.
While a greenhouse solution might center on the first of two prevention steps . . . namely, automated fans that come on when set temps & RH trigger activation . . . this doesn't seem like a practical or best solution.
The second prevention step centers on creating a dual sheathing w/ air space in between. The idea offered by Pulpo (#2) is using that concept. In terms of material cost, polycarbonate film or sheets are fairly inexpensive. I would be inclined to use a polycarbonate sheet product rather than a polycarbonate film . . . I think either would work, however. See Solexx XP twinwall plastic panels
Solexx Greenhouse Covering
as an example. The manufacturer has sent me samples in the past but I've not used the product as my former greenhouses were already covered in polycarbonate film. However, it seems very rugged and durable. Poly film roughly lasts 6 or so years in direct sun, and depending on local climate conditions . . . it would last considerably longer in your type application since not exposed to direct sun. The life span is shortened if directly in contact w/ hot metal. I think polycarbonate sheets would last considerably longer. Notice the following at bottom of link: "New polyethylene products have been developed with a special coating on the inside to reduce the surface tension and thus reduce dripping. Be sure to install this kind of polyethylene with the coated side toward the inside of the greenhouse." . . . I'm not aware of particular product he is referring to but talking w/ a greenhouse grower supply co. may help ID it.
One issue to consider . . . I'm wondering if the condensation dripping down on the polycarbonate sheets and rolling off the low side of your sloped roof will cause mildew to form on these sheets over time . . . they could get nasty looking if not cleaned. A call to mfg. might yield helpful info . . . I would be thinking how I could install it so it could be taken down fairly easily and hit w/ pressure washer spray every few yrs. to clean side facing roof sheathing.
Another idea . . . probably cost prohibitive but maybe someone else can work with it . . . my truck bed has a super tough coating applied to it called Bullhide
Bullhide 4x4 Spray on Truck Bed Liners
. For whatever reason, when my truck is dripping condensation on heavy dew days, the sides of my truck bed remain dry. I don't know if the rough surface is a factor or possible air circulation due to the way the sides of bed are designed. In talking w/ the business owner who applied this stuff many yrs. ago, I remember him showing me pictures of how this product is used in a variety of commercial applications. Since metal prep time is considerable, I'm thinking it may be too costly for a residential application, and not sure it adheres to aluminum.
A good cleaning removes the stains, fortunately. A few years back I scrubbed the underside with TSP and pressure washed it to remove the oxidation.
While too late at this juncture given the corrosion build-up, I would not be using TSP to clean aluminum. While it's a great cleaner on other surfaces, I wouldn't apply it to aluminum. Some people use it to etch aluminum before painting. If memory is correct, I believe it is boldly labeled not to use on aluminum or not to mix w/ aluminum foil. I suspect that warning came about as kids used pop bottles to make bottle bombs w/ aluminum foil and TSP or similar TSP cleaners, and using a fuse or propellant charge to ignite it.
09-23-10, 10:10 AM
Join Date: Aug 2010
Location: USA
Posts: 4
Received 0 Votes on 0 Posts
I thought I would check in with an update.
Some of the spray foam people never responded, but the ones that did said the foam should prevent the condensation and dripping. The local Icynene installer said it would work, but he charges a minimum of $1,500 to come out even though I don't need nearly that much product. He also said birds would peck and nest in the foam if I did not install some anti-bird netting to protect the foam.
A foam it myself dealer has a $710 (delivered) kit that would cover the underside of the carport with foam to spare. They mentioned nothing about a bird problem (different type of foam?).
Solexx looked promising, but very spendy to cover so much space.
The special polyethylene sheeting looks like it might work, but would be a pain to install.
I decided to try Anvil Paints STOP THE DRIP ACRYLIC SEALER before spending so much on the foam or other solution.
Anvil Paints & Coatings, Inc.
A few gallons and a HVLP sprayer were a lot less than the foam. I applied it this past Saturday. Some nasty stuff - it required a throw away set of coveralls, gloves, respirator, and mask and hood. Smells and goes on like airplane glue from when I was a kid
. Anyway, as a sealer it sure seems to have done the job. We have not had the right conditions since application to see how well or poorly it will work. It should at least prevent the oxidation and hopefully will work to limit / prevent the dripping. If not, it may be time to try polyethylene sheeting or something else...
Thanks
09-23-10, 05:38 PM
Banned. Rule And/Or Policy Violation
Join Date: May 2007
Location: Wisconsin
Posts: 8,629
Received 0 Votes on 0 Posts
Is the dripping worse, above where the vehicle engines are? (to the front of the carport?)
09-25-10, 12:07 PM
Join Date: Aug 2010
Location: USA
Posts: 4
Received 0 Votes on 0 Posts
Nope, it is all over. I park one in nose first and back the other one in (driver's doors in the middle). I does this even if both cars sit there all day.
09-25-10, 05:27 PM
Banned. Rule And/Or Policy Violation
Join Date: May 2007
Location: Wisconsin
Posts: 8,629
Received 0 Votes on 0 Posts
Sorry. Deleted post. I answered my own question. Can't think of EASY cures at this time. Have you thought about contacting the manufacturer? Maybe they have experimented with different coating types, different colors for different parts of the country, or ?
---
Last edited by ecman51; 09-25-10 at

05:43 PM

.
Posting Rules
You may not post new threads
You may not post replies
You may not post attachments
You may not edit your posts
---
HTML code is Off
---