Temporary Housewrap Options
01-08-16, 05:04 PM
Temporary Housewrap Options
---
I'm building a barn/garage/etc..., and have started to put OSB up. I will not be able to put exterior insulation, siding on until the spring. I want to put housewrap over the OSB for the winter, and tear it off at the end*. Therefore... I don't want to spend any more on housewrap than necessary.

I've looked around at the local stores, and these seem to be my options (all equivalently priced - 9' x 100' rolls):

Typar - $89
Kimberly-clark BLOCK-IT (75') - $79
Woven Menards - $49
Tyvek - $$$$

I need three rolls.

Any thoughts? I really like the price of woven, but am unsure if it will hold up for three months. I'll be using staples with caps, as well as strips of wood in strategic locations. I'm concerned about moisture being trapped between the house wrap and OSB, so the woven product could be a good thing... but being woven I suspect it will rip easily or let more water in.

A difference of $120 wouldn't seem to be that big a deal (ie, go with Typar), but at this point in the project it will mean a lot, and since I will be removing it in the spring it will be basically like burning money.

Thanks,

John
01-08-16, 08:42 PM
Woven housewrap are Imo pure garbage. I would not use them on a doghouse. Tyvek and Typar are rated to stand up to the elements for 6 months. I also don't quite understand why you say you will be "tearing it off in the end... and removing it in the spring". If you use a quality housewrap, why in the world would you need to remove it?
01-11-16, 05:57 AM
My plan is to wrap the structure in some form of grace ice+water shield, insulate, and side. See:
PA-1201: Foam Shrinks, and Other Lessons | Building Science Corporation
Right now it is going to be too cold for the next few months to apply, and I need to dry it in, so to speak. I know woven is junk - but will it hold for 3 months?
As for my moisture comment - my biggest concern with using woven would be water getting through, and not drying out. I'm assuming the higher quality wraps (Typar, for example) will hold up, but I don't know if I should risk the woven.
01-11-16, 07:49 AM
I know woven is junk - but will it hold for 3 months?
Absolutely.
I had my cottage wrap exposed for over a year in a windy harsh lakeside location and it survived. The woven poly wrap doesn't perform as well as Tyvek or Typar as a vapor barrier, but it is a tough product very much like a tarp.
I've also seen developments halted where the Tyvek homes sat for over a year and the film didn't rip or shred. Vapor permeability suffers from the UV exposure and movement
but if you intend to remove it anyways, get the cheapest
.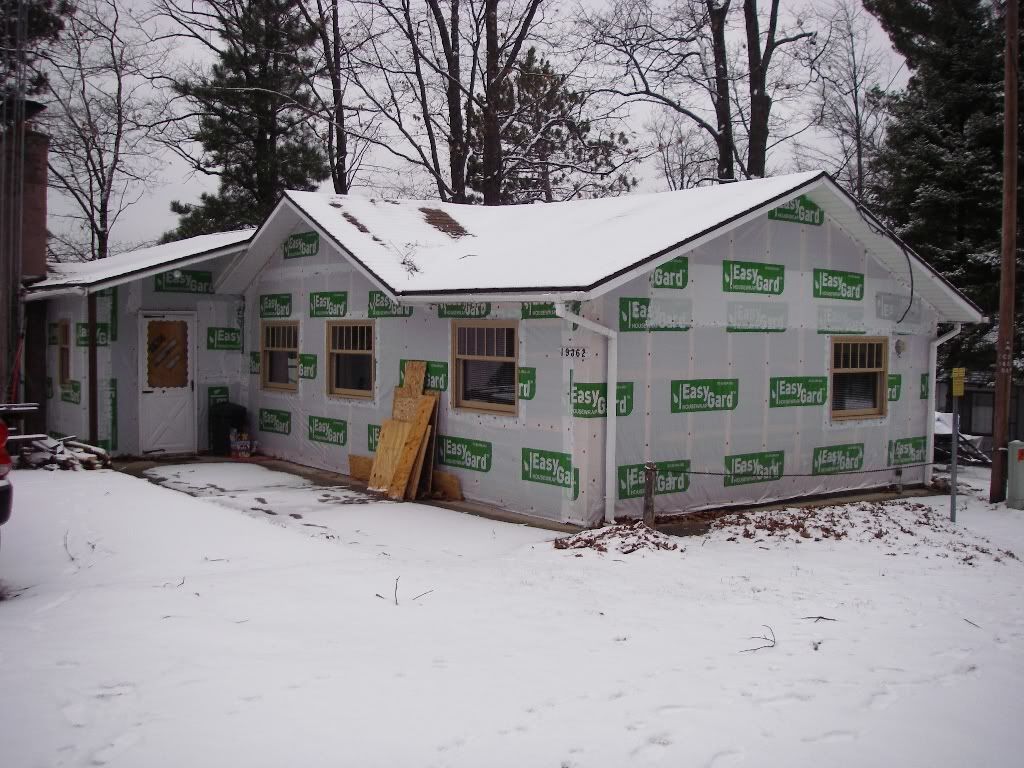 01-11-16, 10:53 AM
That's what I'm trying to weigh - cheap/save now - spend $ later. The OSB would cost a ton to replace - more in my labor time than the actual product cost. But, three months (four at the most) doesn't seem like too long for it to last. The specs on the woven say 180 days, I've just never worked with housewrap before.

I still have to call around to some local lumberyards.