New shed foundation
02-18-16, 05:14 AM
New shed foundation
---
I have bought a new shed. It's 93.5" x 178" foundation size. I have opted for a wooden foundation on 6 4x4 posts. I will be using 2x6 to frame and cross support the flooring which will be 3/4" plywood. There is a slope where I am putting it lengthwise of 2'. I already have it all staked out with string and squared. I am planning on 30" deep holes. I have been doing a lot of reading on this but have some questions. I was originally thinking put poles in and quickrete or sachrete making sure they are level and the exact measurements using the stakes or some 2x2 temporary nailed or screwed to hold it in place while the concrete cures for a few days, then put up the 2x6. But after some thinking if the poles shift by anything that would throw everything off and require me to dig up the poles and start over. So then I thought why not just put the 2x6s on and put the concrete in and brace it and let it set and cure, then put the floor on. But could that shift and throw the floor measurements off? If so why not just put the floor on too and let the concrete set and cure? But putting the floor on before it sets and cures seems like it could throw the concrete setting and curing off, maybe? Then I saw how some just use those premade concrete footers that the 4x4 slides into and fill the hole with pea gravel and don't concrete the hole at all? But that seems like it won't be strong enough?
02-18-16, 06:20 AM
What kind of shed is it? Assuming you intend to set/erect the shed over a wooden floor, there are several options. It is better to attach the 4x4s above the concrete than embed them in the concrete. You could also pour your footers and then erect block to put the floor joists on. I wouldn't use those deck blocks.
02-18-16, 07:38 AM
I'm with Mark - build your footers with concrete and extend them above the ground so you can put post attachments in them. Any wood buried in the ground and in concrete is going to rot at an accelerated rate.
02-18-16, 07:45 AM
It's a steel reinforced resin plastic shed from Lifetime. Its already ordered and being delivered in a few days. Yes I intend to erect the shed over a wooden floor. Attach the 4x4s above the concrete instead of embedding into the concrete? Why is this way better? How would they be attached? A neighbor had suggested just resting it on blocks but what with the slope where I am putting it, seems it would be a pain to get level and then it wouldn't be attached to the ground either. I definately want it attached to the ground so during a storm it doesnt fall over from a strong wind. So you are saying pour the 30" concrete footings, let set and cure, then attach the 4x4s upright to the footers? May I assume that this way would make it easier to set plum and get square than with putting the 4x4 in the concrete? Would it be just as secure?
02-18-16, 07:51 AM
There are brackets you buy that get placed into the concrete of the footer before it cures hard. Then you attach the wood to those brackets. You're increasing the lifespan of the wood by keeping it away from ground moisture.
02-18-16, 07:56 AM
You will need to do a little work to insure that your concrete footers are reasonably level. Add deck to concrete ties when you pour the footers and you will have a solid foundation which should last many years.
02-18-16, 08:03 AM
Join Date: Mar 2003
Location: NC, USA
Posts: 27,609
Having the post not in concrete allows the post to dry out. When it's embedded in concrete it will spend most of it's life damp which will greatly increase the decay rate even with pressure treated lumber. The anchoring of the bracket can be done several ways. One is to embed the threaded rod anchor in the still wet concrete. It's quick and easy but doesn't allow room for adjustment. I would use sonotubes as forms and to bring your concrete above grade. Then you can mark out your locations accurately and use a hammer drill to set anchor bolts to hold your brackets.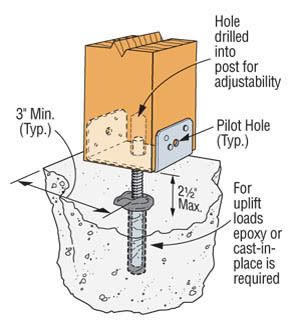 02-18-16, 08:05 AM
So embed say this :
Simpson Strong-Tie 4 in. x 4 in. 12-Gauge Elevated Post Base-EPB44 - The Home Depot
Into the concrete? Then nail the 4x4s upright as planned before? Would I still need pressure treated 4x4 since it is above ground instead of in ground or is it still close enough to ground that it's still best to go with pressure treated? Also keeping these square while the concrete sets so that the posts when attached will be square and plum so no slightly leaning posts?
02-18-16, 09:52 AM
If you use blocks, you mortar them over the footer making sure that the all the block on the top course are level with each other. You would then use a tie down cemented into the core of the block or add a cap block and tap con brackets or bolts to fasten the floor joists too.

Any wood that contacts concrete or earth needs to be pressure treated.
02-18-16, 10:20 AM
Join Date: Mar 2003
Location: NC, USA
Posts: 27,609
The bracket you linked could work. The problem it requires you to accurately place all of them in the wet concrete. If you get them off by a bit you've got a problem. If you pour the footers first and let them harden then you can pop chalk lines, make marks, sight down your brackets to make sure they are all straight. Then drill and anchor them. And since you have much of the top area of your footers to work with there's some wiggle room to correct any error in the placement & pouring of the footers.
02-18-16, 12:54 PM
Ok sounds relatively easy enough. But to get the drill hole spot correct. I have a slight grade in the yard. About a 2' drop from on end to the other. And so the footing cement piers will have that same height differential. The length is 178". But because of the grade I can't just measure a straight 178" or rather minus the inches for the end pieces and inset of center of 4x4. The grade will throw that straight measurement off. How do I know by how much to adjust for? Use clamps and clamp the 4x4s to one of the 2x6s, square and level each to height, then mark the 2x4 outlines on the cement footings? Or is there a better way?
02-18-16, 02:02 PM
A low tech solution would be to erect the exterior portion of the floor framing [make sure it's square] and then level it in the air using lumber screwed into it for legs. A plumb bob can then be used to figure exactly where your post bracket will go when you pour the footer.
02-19-16, 08:31 AM
Ok. Low tech solution without spending extra on tools I probably will never use again. 6 12"x3' sonotubes to pour the footings. I'll use the steel attachment type I linked that sets into the concrete when poured. So since this doesn't allow error, I will put a 1'x1 square piece of 1/4" plywood on top of the sonotubes before pouring the concrete. Build the exterior rectangle with the 4x4 posts. Square and level it. Screw in some extra temp support pieces so there is no weight bearing down on the 4x4s. Then slide it over a small bit. Pour the concrete in the sonotubes. Put the steel attachments in the concrete. Slide the exterior back over to proper place and make sure the steel attachments are properly in place and everything is square and level. Then let it set and cure. Once it sets and cures. Remove the screwed in supports and let the full weight go on the steel attachments in the concrete, nail them in and build rest of flooring, build shed. Easy enough?