How can I repair this broken pin lock mechanism?
01-05-21, 05:58 AM
How can I repair this broken pin lock mechanism?
---
Do you have an idea how to repair this (garage door was manufactured by LM PERFIS SA, Portugal) garage door lock myself? The pin lock does not hold in place thus I am supporting it in its place using a wooden board. The manufacturer LM PERFIS SA (Portugal) says they do not supply replacement parts or repairs. The local installer is not responding to requests to repair under warranty. I am left to repair it myself, but i don't even know where to buy this part or how to repair it. I hope someone can help?
01-05-21, 07:18 AM
Do mean the pin will not stay in the locked position, but will pop out leaving the door to lift open by an intruder? Or that the round handle knob will fall down?
You mention that warranty will not be covered. Does that mean the door is new? Usually those pin locks are spring loaded. Maybe the spring broke or it was installed wrong. Can that black box be taken off? I can't see any screws holding on.
01-05-21, 08:53 AM
Yes, exactly, the pin will not stay in the locked position and the spring will push it out to the left and the door will open upwards. The black handle is in place. I use wood board to keep the pin without sliding out to the left opening the door. My guess is that the pin has it's "nipple" worn that holds it in place. Unfortunately neither the manufacturer nor the installer do not offer replacement parts and do not respond to request to repair it. This is how things are in Portugal. So I hope that these kind of doors are common in the USA (where I lived for 18 years) and that someone can sell me the replacemet pin or several ojns or refer to a website where they sell exactly same pins, because the portuguese businesses are USELESS, unhelpful and ignorant. I am tired of asking them to come out and repair it or to provide me with replacement parts. They usually order the parts which never arrive. This behaviour is so common in Portugal. The door cost me €900, so I can't just dump it and get a new one because of the worn out pin. Does anyone know how to open the thing and take it apart and DIY in a way so that a replacement part is not needed? These days even if I buy a replacement part it may arrive after 6 months.... or never arrive.

Yes, the spring is intact, but the pin will not stay in its place. It was installed correctly since I have 3 such doors/gates and the other two doors each having only one pin locking it are still operational. Do you guys have two pins for each such door in North America?

That black box is cracked a bit and I don't see how to take it off without breaking it. Therefore I posted here hoping someone familiar with these will respond. Thanks.
01-05-21, 10:24 AM
1. I would remove the latch and take it apart to see what's wrong. It appears to be clipped onto the door from the side. Pushing or hammering from left to right should pop it free. You might be able to fix it or you can remove the spring mechanism so the plunger simply stay where you put it.

2. Install a new door latch. There are many types available and most should work. You could even use a sliding rod type latch used on sheds and garden gates.

3. Don't use any latch. Drill a hole in the door track above one of the rollers. Then insert a screw driver or bolt in the hole. With a screwdriver sticking through the track the door can not open.
01-05-21, 10:43 AM
look at this similar US product. It is extremely simple and I am guessing, similar to what yours looks like under that cover.
spring latch
Try prying off the cover to see if this is what yours looks like. If this is what yours looks like under that block cover, I suggest just ordering a new one.
- Peter
01-05-21, 11:09 AM
Thanks. The (insulated) gate is 2.75mx2.70m (about 10x10 ft.) so it is quite large and the latch is much larger than this one as well as its hole is much larger (wider). Also the problem might be that the holes in the door won't match since one can't just make new holes anywhere as they may be reinforced (prefab) with support metal cylinders. So I will have to find an exactly matching replacement latch mechanism, which I have not found online yet and the manufacturer (LMPERFIS SA) refuses to supply a new replacement one. Of course if none other works I will have to take it apart and use it without a spring, which probably won't work since the pin will become too lose and wobbly with the spring removed. I still hope that the installer will return at me.

I have 3 such gates, so am afraid the other two latches may fail some time in the future. If I can get my hands on I will buy 3 to 6 such extra latches, if they are made not shabby or made to fail like many goods are made today. Planned obsolescence.

Talking about such gates, what is usual warranty term offered by US companies? Is it 1 year 2 years or more like 5 to 10 years?
01-05-21, 12:23 PM
Mechanical hardware is usually 90 days to year. The door itself is most likely 5 year warranty.
That latch is simple. I think you're over thinking it. If it's security that your concerned about all you need to do is secure a "u" bolt type latch attached to the door and shove metal rod through the rail holes. Such as PD's #3 suggestion.

01-05-21, 12:30 PM
I believe you are over thinking things. It is just a door. Don't expect there to be exotic construction or a internal support framework. What you see is largely what you have. Thin interior and exterior skin with foam in between. Latches can be installed almost anywhere. Just drill new mounting holes and a new hole in the side track if needed. You want to install your new latch at the door's edge where you can see the reinforcing strip. Very similar to how the hinges are mounted.

If you want to confirm the door's inner construction, with the door closed, remove one of the hinges. Then with a flashlight you can look inside the screw holes and see what's inside your door. Make sure to re-install the hinge before opening the door and do NOT over tighten the screws.
01-06-21, 04:27 AM
01-06-21, 08:35 AM
The installer contacted me and replaced it with the new one. They were on vacation. For fun's sake I am posting photos of this failed invention. All it takes to wear only 1/2 mm and it's done. All this material goes to waste. Unless I drill a hole in it and enter a (headless?) screw in the hole, which may work or buy a specific tool that makes such pinchings in metal, yet it will wear out pretty quickly again. I bought 2 extra new pin latches for €6 each, so now I am loaded and safe for a while. I thought there must be a better, smarter way to make such latch pins, that would last longer.
The way it is worn out: the pin with the "pinching" only on one side of the pin must be positioned in the proper way or side in order to enter through a larger cut made in the casing of the latch. If the pinching enters or exits through a narrow space it wears out faster, yet there is no safe way preserve it longer, only by being careful (or even anal) while operating this latch.All it takes is a tiny bit of wear on the "pinching" and the entire latch is rendered useless.
The plastic cover removes outward, albeit takes some effort to remove it. Then four 6-angled flat headed screws hold the latch in place.
PHOTOS FOR FUN:
Click on the links if you want to view LARGE photos:
https://i.postimg.cc/0QhXw9Rn/DSC06649.jpg
https://i.postimg.cc/mD4t2Hhy/DSC06650.jpg
https://i.postimg.cc/1Xjm6nRT/DSC06651.jpg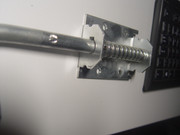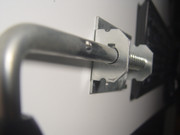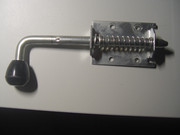 01-06-21, 09:08 AM
01-06-21, 09:31 AM
You might want to take the worn out latch and drill a hole through the area where the "pinch" is located and install a hardened roll pin in it's place. It may require modifying the opening in the latch where the "pinch" opening is at the top and making a small opening on the bottom for the pin to clear but might be a better solution to the poor design. Don't have anything to lose in trying on the old part and might be the permanent repair your looking for.