Leland Cypress Dead Spot
07-24-08, 05:37 AM
Leland Cypress Dead Spot
---
Should have known the drought we have had in the SE the last few years would affect our Leland Cypresses.
We have 2 rows of about 12 Leland Cypresses that were planted in 1999.
One of them has a HUGE dead area on 1 side. We have shook off a lot of the dead pieces, and now there is a bare spot on 1/4 of the tree.
Will this side come back ever?
Will the deadness spread?
We have had a wetter summer.
Should we do anything else?
07-24-08, 09:32 AM
Join Date: May 2002
Location: Maryland zone 7
Posts: 1,654
Upvotes: 0
Received 0 Upvotes on 0 Posts
08-01-08, 02:30 PM
It's an insect! I want to scream!
---
Started looking deeper. BTW, the tree is getting barer. I noticed pine coney looking things randomly falling off, then I realized the ones still on the trees were moving
And it appears to be a cattapillar looking thing made to LOOK like a pine cone, which btw these lelands dont have.... we have 13 trees and this IS the ONLY one being attacked.
Picture attached...
What do I do to kill them?????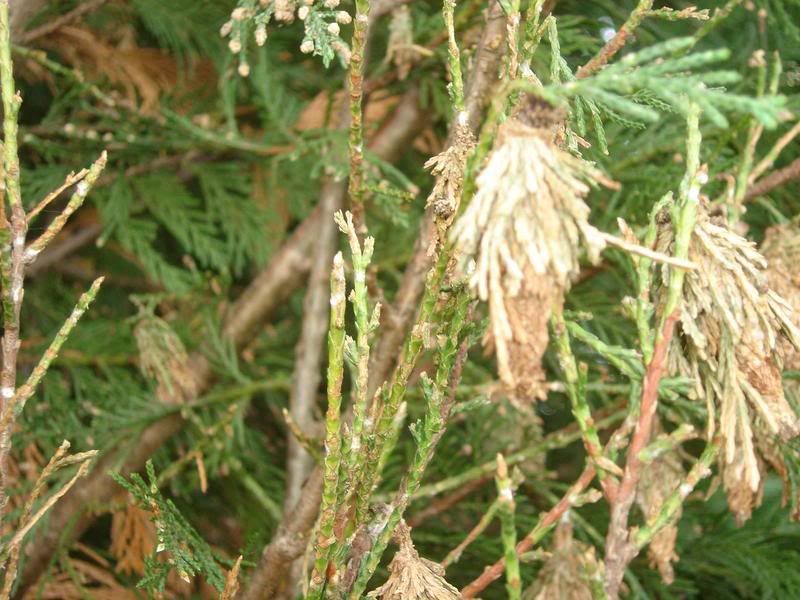 "]http://IMG]http://i65.photobucket.com/albums/h221/lmccutcheon/treekiller.jpg[/IMG]
08-01-08, 04:58 PM
Yeah, there is a bug it that "pine cone". I can't remember the name but someone will. My SIL had the same animal in her tree here in Indiana. They had progressed a lot before she noticed it.

I used Sevin with a hose end sprayer. It takes several treatments and you really have to soak the tree well. The "pods" tend to be back along the branches sometimes.
Go out a few days after treatment and see if any of the "pods" are moving. If they are moving it means the insect is still alive so continue treatment.

If you don't like to use chemicals I guess you could go out with a ladder and bucket and pick them by hand.

BTW the needles never came back on the denuded branches. But other branches grew into tho open space and filled it in. Two years later you could not tell it had been attacked.
08-01-08, 05:28 PM
That is SO encouraging! Thanks!
We did get out for several hours tonight, ladder and clippers, rake etc.
1/2 the trees had at least one pine cone.
We will use sevin and stuff and get em all gone.
I put a LOT in a bucket and am going to take the nasty critters to the lake as bait.
08-01-08, 10:03 PM
Join Date: May 2002
Location: Maryland zone 7
Posts: 1,654
Upvotes: 0
Received 0 Upvotes on 0 Posts
08-05-08, 07:17 AM
jtn1234, is this what your SIL's tree looked like that recovered in 2 years?
Do y'all think the tree will be OK in a few years? We are plucking the trees.
They made for good bait this weekend at the lake! Caught really big channel cats!
08-09-08, 04:02 PM
My SILs tree was some type of spruce I think. It is about 15 to 20 ft tall with those kind of down swept branches. We caught the bugs before too mugh damage was done. Most of the needle loss was inside the tree. Those branches that had the most visable loss were kind of overgrown after a couple of years.

On the other hand I have a 7 ft tall Arbovida (sp) that a stray cat kept spraying. It lost it's needles in that area and has not recovered at all. I guess it depends on the type of tree and perhaps the individual tree's ability to withstand abuse.