Need help identifying a plant
08-31-08, 09:07 PM
Join Date: Jun 2008
Location: Costa Mesa, CA
Posts: 15
Need help identifying a plant
---
Hello,
I need some help identifying this plant. Any advice about how/when to trim it would help as well.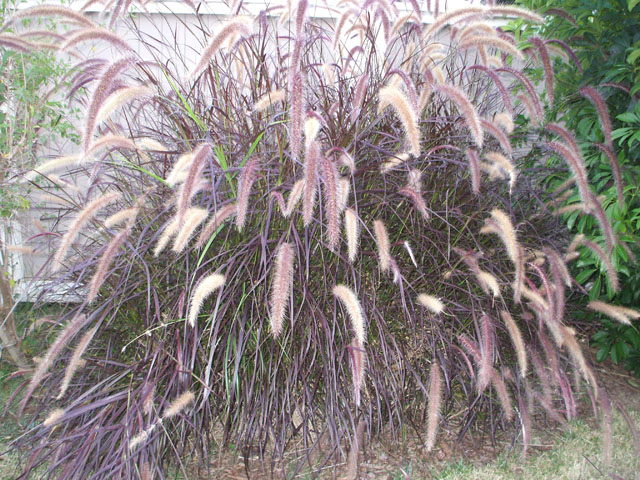 The plant is just over six feet tall, and located in Costa Mesa, CA if that helps.
Thanks
Sponsored Links
08-31-08, 09:38 PM
Join Date: Aug 2000
Location: USA
Posts: 15,834
You have one of the many varieties of ornamental grasses that are available. Ornamental grasses have become increasingly popular, require full sun and good drainage. Without digging out the gardening books, I can not provide you with a proper ID of variety.
09-01-08, 12:21 AM
Join Date: Jun 2008
Location: Costa Mesa, CA
Posts: 15
Thanks. It looks like it may be Pennisetum setaceum. I guess the only pruning I need to do is to remove the fuzzy bits and possibly cut it down before winter. Considering we don't really have a winter here, i may just let it go and see what happens.
09-03-08, 10:46 PM
Join Date: Aug 2008
Location: Central Arkansas Zone 7b
Posts: 10
Fountain Grass
---
Hi~ I don't remember the botanical name but on the other side of the tag, it said 'Fountain Grass'!
I've seen it at Home Depot, Lowes, & local nurseries for the last 2 or 3 years and I often considered buying and planting some of it rather than the standard 'pampass grass' because it doesn't get as thick & massive as the pampass grass.
I was told to prune the little fuzzy things after they dry up but nobody ever said anything about pruning the plant itself.
And, I'd like to say, what a beautiful plant you have! Great photos!
Grow on, dude!
Posting Rules
You may not post new threads
You may not post replies
You may not post attachments
You may not edit your posts
---
HTML code is Off
---