Help! Sick Peach Tree.
08-31-09, 01:45 PM
Join Date: Jan 2006
Location: California
Posts: 62
Upvotes: 0
Received 0 Upvotes on 0 Posts
Help! Sick Peach Tree.
---
I have a peach tree which has orange, sticky globules oozing out of the bark.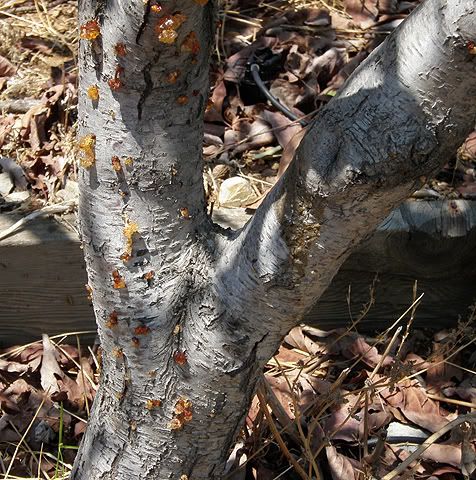 Yielded almost no peaches this year and has few leaves. What is the disease and how do you treat it? Thanks.
08-31-09, 08:03 PM
Join Date: Dec 2006
Location: south carolina usa
Posts: 165
Upvotes: 0
Received 0 Upvotes on 0 Posts
As a home gardener, I have been growing peaches for many years.
From your photo, I do not think this is a disease, but rather an infested case of peach tree borers.
I live in upstate South Carolina. My trees have suffered and been weakened a lot by two years of drought.
These borers attack my trees as well. Beginning early in the spring, I keep the trunks sprayed from the ground level for a height of about 42" up the trunk with Malthion 50.
In spite of the drought and the loss of a few of the major limbs, I did manage to have a fairly successful crop this year.
I suggest that you contact your county agriculture agent. Tom