Check My Design For Problems!
08-27-10, 01:30 PM
Join Date: Oct 2008
Location: Washington DC Metro Area
Posts: 55
Upvotes: 0
Received 0 Upvotes on 0 Posts
Check My Design For Problems!
---
Hi, I bought a house with no landscaping at all and I want to ad some class and curb appeal. I used photoshop to design an idea for my space and I wanted you all to critique it for any possible errors or make suggestions for improvements (root issues too close to the house, too hard to grow without certain conditions, takes forever to grow, etc.). I will be using small-ish shrubs as opposed to mature/full size to save money. I want something low maintenance, economical, and won't take forever to mature and enjoy. Below is what my house looks like now with no landscaping: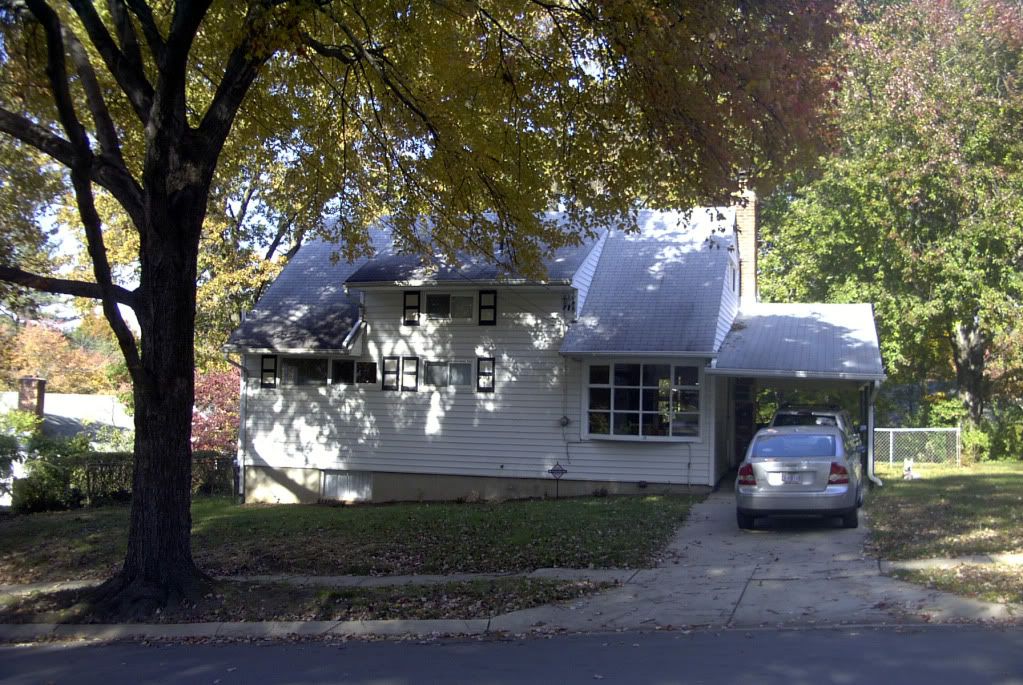 Below is an idea I had to add an Emerald Green Arborvitae on the side of the carport, an sky pencil holly on each side of the carport, and some holly trees and hydrangeas. I am not married to most of these ideas so I can make changes if need be. The house gets more sun then what is shown in this picture... especially since a two large branches came down from the tree in front this year. The shade is just from the time of day/year. I am in MD near DC if you are curious what zone I'm in. See below: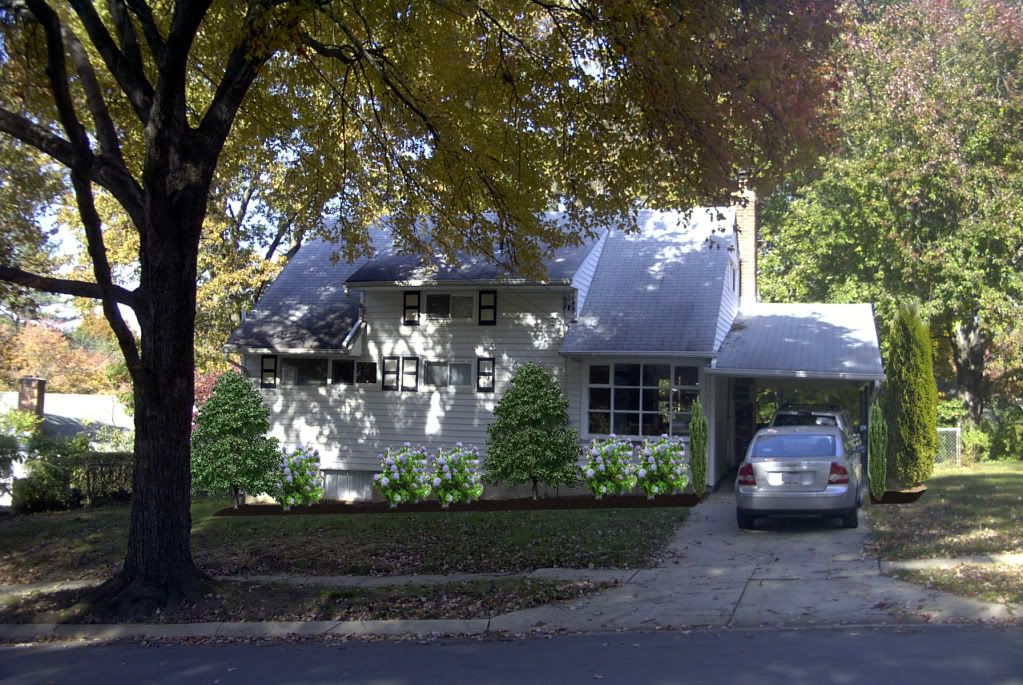 Below is a diagram listing what my ideas above are: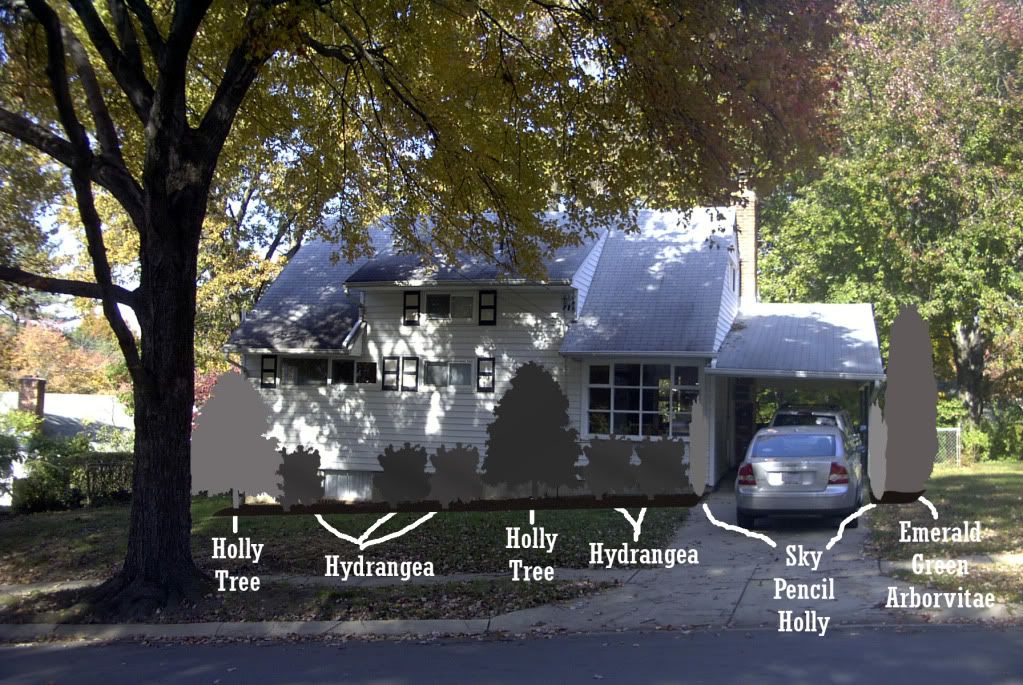 08-27-10, 02:06 PM
Join Date: Jan 2005
Location: PA - USA
Posts: 4,749
Not a pro at this, so this is just personal observations and experiences. I like how this looks, but I'd rethink the Holly that's near the middle of the house. They get pretty big, wide and tall and overtake the space. I'd just put one at the end.
The Hydrangeas get pretty full and bushy, too, so I'd just plant four and spread them out evenly and away from the Holly.
The Emerald Green looks good, but I'd plant it out a little farther. The side close to the house may not get enough light and that side will look awful. Ask me how I know.
Also, plant them away from the house a bit too, so they have room to grow. When you plant them small, it's hard to tell and then when they get big, they start squashing everywhere if you don't leave enough room around them.
Eta, I'm not sure if I like the Pencil Holly's. I'd probably leave them out. That's just my opinion tho.
08-27-10, 02:23 PM
Join Date: Oct 2004
Location: WI/MN
Posts: 18,870
I think I'd leave out the pencil hollys because they're so close to the garage entrance, strikes me as a place where they'll take a bit of a beating
08-29-10, 03:21 PM
Join Date: May 2010
Location: South Florida
Posts: 338
Upvotes: 0
Received 0 Upvotes on 0 Posts
. . . I wanted you all to critique it for any possible errors or make suggestions for improvements (root issues too close to the house, too hard to grow without certain conditions, takes forever to grow, etc.). I will be using small-ish shrubs as opposed to mature/full size to save money. I want something low maintenance, economical, and won't take forever to mature and enjoy.
First, I commend you for doing a landscape plan. Far easier, and less costly to correct mistakes on paper. Landscaping, unlike other endeavors, can be trickier because colossal mistakes may not become evident until many years in future as plants begin to fill out and reach mature height, or enlarging roots begin damaging building foundations or driveways/sidewalks.
IMO, the 2nd smart thing you're doing is planting 'small-ish shrubs'. A well landscaped property creates value although impossible to precisely measure. It certainly can make a property sell quicker if comparables are not as well landscaped. I think some people will pay slightly more for a well landscaped property. Putting in mature plants (especially trees and palms) can dramatically increase costs, and I don't think people will get their money back out, at least in terms of inflation adjusted dollars. In other words, it's not a great investment if aim is to try to create an instant look of a mature landscape. However, small plants are fairly inexpensive, and represents good long term value if owner of property has patience to give them time to grow out.
In some ways, you may have conflicting objectives . . . "want something low maintenance, economical, and won't take forever to mature and enjoy". The reason many common plants are repetitiously planted at new building sites is that they're cheap. For a grower, fast growing plants allow inventory turnover at a quicker pace that most often yields higher profitability rather than tying-up growing space with slow growth plants (and he has to charge more for these plants as he'll have a larger investment of time and money growing them). The problem is that those fast growing plants exhibit that growth characteristic until reaching mature height. Your objective is to identify plants having a mature height and width suitable for where you plan to install them . . . this will yield longer term savings by freeing your time not to be frequently pruning back shrubbery. When working w/ smaller container grown material, the price difference is usually not that great as the growing time between say a 3-gal. slow growth vs. fast growth plant may only be a difference in time of 4-6 weeks . . . as you move into larger container grown material, the extra time is magnified and may be more than 1-yr. that the grower had to spend fertilizing, pruning, weeding, and spraying that slow growth plant.
With respect to the Sky pencil holly and Emerald green arborvita, you seem to have pinpointed the precise genus and species you want to use. You should re-check the mature height and width of the Sky pencil holly . . . like Mitch, I'm concerned these could grow wider that your drawing suggests, and if so, they could brush against the car pulling in under the carport. Understand I'm not saying it's a problem as we too have a small exotic 'holly' that grows thin and tall. With respect to the 'Hydrangea' and 'Holly Tree', you need to take your plan to the next level by specifically identifying the species within the genus (plant family). Where I reside, 'hollies' can grow anywhere from a couple feet tall (bush) to fairly tall, 35' trees. Not all hollies are from the same genus . . . while I didn't look it up, I suspect your Sky pencil holly is from a genus different from many native hollies . . . had you written 'holly bush' where you have them located, I think you can see the problem of not specifically identifying the plant. Same issue w/ 'Hydrangea' . . . some are bush form while others grow as small to mid-size trees.
Overall, your plan looks good! I don't think you have sufficient spacing for the 'holly trees'. Ideally, I like about 3' between branch tips (i.e., mature width) and exterior wall so there is a walk space for pressure washing and painting the house. Landscaping involves personal preferences to a reasonable degree . . . my own personal preference would not be to create a straight row of plants, especially given varying widths. Working from the driveway, looking left, I would conceptually do what you did until reaching your first 'holly' tree. At that point, I would create a half round bed to the other 'holly' tree on far left. This would allow layering of plants with short plants such as ornamental grasses, or small 2'-3' tall shrubs at the front of the bed with larger shrubs/trees in the background. Since space is a limiting factor, this would allow you to move your 'holly' trees away from the wall. Moreover, while I'm not sure what that feature is at bottom of wall (I'm assuming it opens into a under house crawl space or maybe it's a wine cellar . . . lol), this type of design would allow you to install small plants away from this feature so they block it from view from the road.
I lived in metro DC many yrs. ago . . . a beautiful area, and many great flowering shrubs and trees to choose from, and many that are native to the area. While snow is infrequent, ice can be an occasional problem. You have a beautiful large tree at front of property although not in full view in pics . . . bear in mind that ice build-up can break large tree branches, and selective pruning by an arborist every 5-7 yrs. can help save these from loss by thinning techniques.
Good luck.
09-13-10, 06:44 PM
Join Date: Oct 2008
Location: Washington DC Metro Area
Posts: 55
Upvotes: 0
Received 0 Upvotes on 0 Posts
Thank you all so much! Some very good tips I hadn't thought of. I have started planting and I'm taking everybody's tips to heart. I would LOVE more suggestions, critiques, ideas!
I started by planted the Arborvitae along side the carport. It looks GREAT!!!!
I took the advice not to plant too close to the carport so hopefully they will stay good and healthy looking on all sides. They are 5.5 ft apart and 4.5 ft from carport. Here is a progress picture: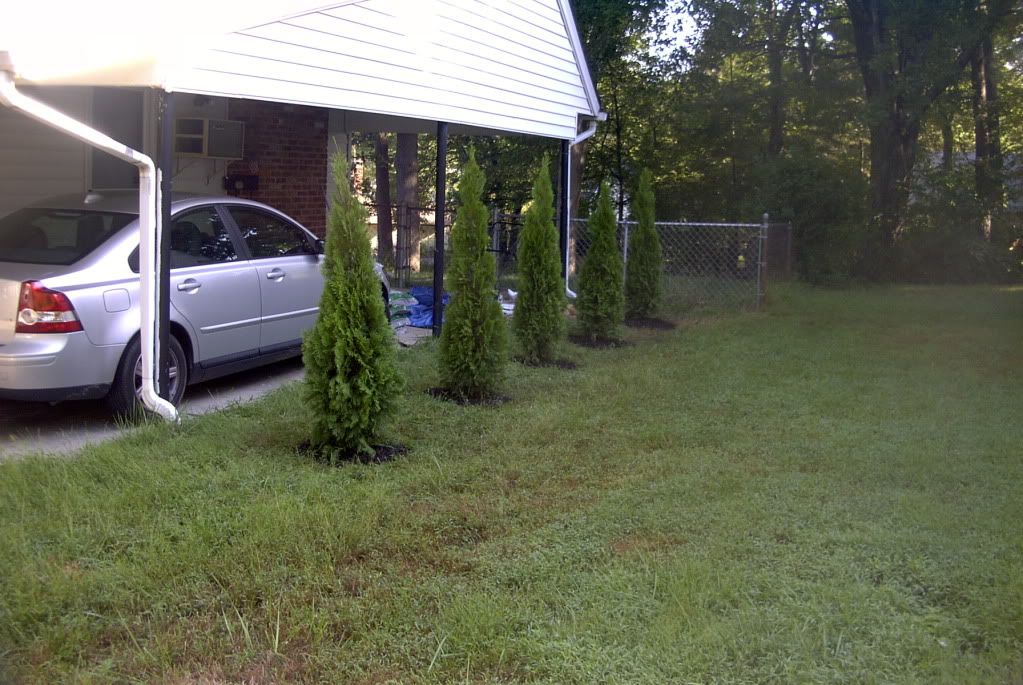 I still have to pinpoint what the two holly trees are that I want for the front... my whole design really is dependent on them properly filling in the space in the front of the house next to the bay window and balancing out with the 2nd on the far left of the house. With the holly trees figured out, the rest is flexible and should fall into place really. I bought some Blue Princess holly shrubs when I got the Arborvitae but I may take them back. I am worried that even though they say part sun/4-6 hours, that area might not give them enough sun to grow healthy and full. They need to fill about an 8-10 ft tall space or the design's balance wont work. I got them because they have nice berries and could work according to the tag, but I need to read some more on these before I commit to planting. Any advice on using the Blue Princess hollies as my two front hollies? I realize these would be more of a bush then a traditional tree, but that's fine with me. I can shape them somewhat...
09-13-10, 10:54 PM
Join Date: May 2010
Location: South Florida
Posts: 338
Upvotes: 0
Received 0 Upvotes on 0 Posts
The Arborvitae plantings look nice, and the open design minimizes security issues. Generally, I prefer not using tall and dense shrubbery to heavily screen around door ways or a carport/garage that makes visibility difficult and hard to detect a possible hidden intruder waiting for a family member to arrive home.
I see one potential problem w/ your selection of the 2, Blue
Princess
hollies when you state: 'because they have nice berries'. These are female plants and need a male pollinator plant if they are going to produce fruit (i.e., berries) yr. after yr. A Blue
Prince
would give you the pollinator. It has inconspicuous white flowers but offers little ornamental value from a distance; it will not have red berries. Whether having one of each is an issue for you, I don't know but thought it should be pointed out.
In horticultural terminology, dioecious refers to a plant population having separate male and female plants whereas monoecious is an individual plant having both male and female reproductive units. The Ilex family (i.e., genus) is largely dioecious (a few technical exceptions) so you'll run into this problem again if going w/ a different species. The Ilex family often cross pollinate among different species although it gets dicey knowing what different male species will pollinate w/ this particular female holly (a grower of these hollies would probably know but I'm not familiar w/ this particular species). If there is Blue Prince or another compatible male holly within about 250', you can safely assume that male will pollinate your Blue Princess hollies . . . the distance could be longer (e.g., maybe within a 1,000 or so ft.) but yrs. may occur when the female does not bear fruit because it was not pollinated. If wanting to proceed with your choice, take a glance at your neighbor's yards to see if there is a Blue Prince or other male holly not too far away. If it's a different holly species, see if you can ID it. The way I overcome this problem is if I'm doing grouping of plants, the male goes to the rear while the females are presented visually (kinda like pics of guys & gals). If working w/ a specimen for ornamental appeal like what you're trying to do, I'll plant a male elsewhere on my property for the purpose of screening an area where ornamental qualities are less important. You could also experiment by trying these 2, Blue Princess' as you might later plant a male if the females don't fruit .
Have you determined your ideal height for these hollies (untrimmed)? That might help you decide if the Blue Princess hollies are your best choice.
You might look through this link
Plants 4 a New Generation: Ilex
. It mainly was selected because it features many different hollies in your surrounding area. Unfortunately, it's not well organized by giving heights and widths, and zones. If you see something you like, you would need to search that name to collect additional info.