bananas at wrong time, what to do?
10-22-10, 05:01 PM
Join Date: Mar 2003
Location: NC, USA
Posts: 18,573
bananas at wrong time, what to do?
---
I have many dwarf cavendish bananas. One has sent out fruit at the worst possible time. What should I do? Two weeks ago I brought it inside and placed it in the back, darkest part of my equipment garage and stopped watering it but the pod continued to develop and it just popped out baby bananas.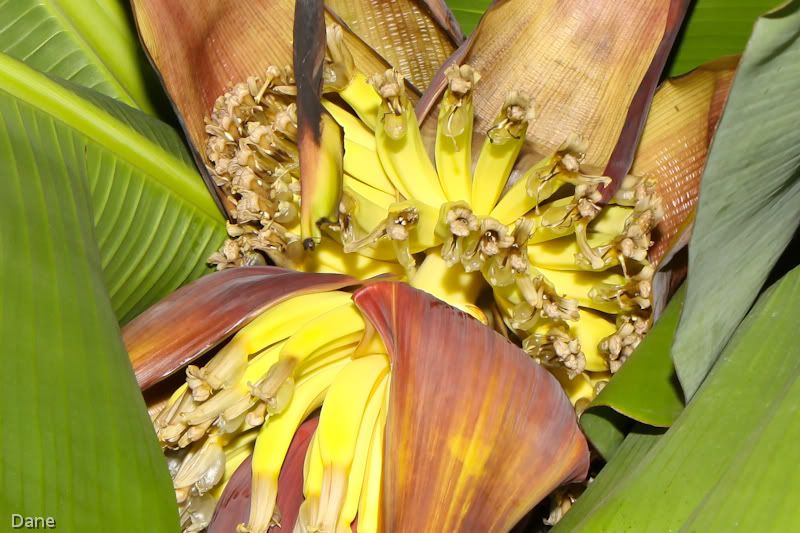 The garage will cool over winter, not enough to kill it but certainly not enough to develop fruit. I have no way to provide enough artificial light to grow fruit and my wife severely vetoed my idea of bringing it into the house and putting it where the dinning room table currently sits. Should I continue with forcing it into dormancy? I don't see another option.
Oh, and just so you know how unnatural a banana in North Carolina is, here is the plant in the garage. Probably where it will be for the next 4-5 months.
Sponsored Links
10-29-10, 04:06 PM
Join Date: Mar 2003
Location: NC, USA
Posts: 18,573
Well the pod continues to open and every couple days 6 or 8 new bananas appear. It is not showing any sign of going dormant so today I put it back outside. I'll drag that big thing in/out on days when we have favorable weather and hope I can get the bananas to develop. I'm a bit confused by this variety though. I've never seen bananas emerge yellow. I'm accustomed to seeing them green.
10-30-10, 05:08 PM
Wow, you're gutsy to have one on the eastern shore (right?) Your weather is probably more suited with the warmer winds off the ocean than we are inland and in the mountains. I've never seen one, so thanks for the lesson and good luck. My wife just started her "bring the plants in.....take the plants out" dance that she does in the spring and fall. Drives me crazy.
10-31-10, 05:52 AM
Join Date: Mar 2003
Location: NC, USA
Posts: 18,573
Unfortunately I'm well inland so there is no help from the ocean. I have four other bananas that I started from this plant that are small enough to keep inside during the winter. They will be huge by the time I put them out in the spring but they should be timed to fruit during the summer so it's not the end of the world if I can't get these to develop.
I counted yesterday and I think there are 84 bananas so far. The big purple pod at the bottom continues to get smaller as each new hand of bananas appear. I would not be surprised if I end up with 100 - 120 judging by the size of the pod that remains.
Posting Rules
You may not post new threads
You may not post replies
You may not post attachments
You may not edit your posts
---
HTML code is Off
---