japanese maple?
04-17-12, 09:15 PM
Join Date: Dec 2008
Location: Mass
Posts: 310
japanese maple?
---
We got a japanese elm that we planted early summer last year. It did really well. I water once a week deep.
This year we are just entering spring. The tree is starting to bloom but I am not sure if it is doing well or not. I have attached a photo. It seems as though the leaves that are blooming are dark maroon color but it almost looks like the leaves are drooping down and look a little wilted. Is this normal when they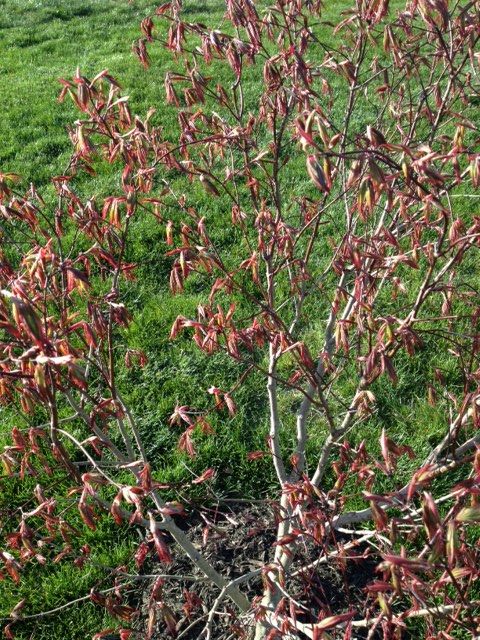 bloom in the spring?
Sponsored Links
04-18-12, 11:33 AM
Join Date: Nov 2008
Location: Maine
Posts: 10
Hi moreira85

I can relate an experience with the one Bloodgood Japanese Maple we have at our home (Maine).

On the first or 2nd spring ,the tree budded and turned to leaves just like yours. However soon all the leaves wilted and died. We were pretty depressed. Much to our delight the tree re-budded and produced a new set of wonderful crimson colored leaves... The tree has not repeated that worrisome event and seems healthy and happy now(5 years old).
The tree typically seems to bloom late . Little buds are just forming now /April 18

Good Luck
04-18-12, 12:18 PM
Join Date: Dec 2008
Location: Mass
Posts: 310
Thanks for response I hope this is the case w mine
04-18-12, 04:27 PM
Join Date: Dec 2008
Location: Mass
Posts: 310
I am in MA. Now that I look closer it appears that all the leaves are drooping ready to fall. It looks like there are new leaves rolled up ready to bloom I hope.
Posting Rules
You may not post new threads
You may not post replies
You may not post attachments
You may not edit your posts
---
HTML code is Off
---