Need help starting a large garden on rocky soil
11-21-13, 06:16 AM
Join Date: Nov 2013
Location: Usa
Posts: 3
Upvotes: 0
Received 0 Upvotes on 0 Posts
Need help starting a large garden on rocky soil
---
Hey everyone,
Im trying to get some advice on how to break new ground in rocky soil. I am planting a large garden (50x200) in the spring on new ground that has never been tilled or broken. We have a lot of rocks in the ground we are going to be using(and everywhere). I am trying to figure out what implements to use to prep the soil. Many have told me use a tiller with my tractor but everywhere i see says that i will be breaking tiller tines like crazy. Does anyone have some advice on what implements i could use to break and prepare the ground for gardening. I know i will need organic matter and have to pick out the rocks mostly by hand. This is far from my first garden. I just need the help with knowing what to break ground with and prep the soil. Thanks in advance
11-21-13, 07:01 AM
Join Date: Mar 2003
Location: NC, USA
Posts: 25,946
What type of equipment do you have available? You mentioned a tractor and tilling. If you time it correctly (when the ground is soft and moist) you should be able to us a tiller though it probably will not get as deep as you want.

With a garden that size I assume you are in the country and not in town. Do you have any farmers nearby? It would be easy to have them till up the area for you if they are working fields in the area. A subsoiler plow would good for getting deep and loosening the soil. You could then roto till or have the farmer come back and further work it with a disc plow.
11-21-13, 08:13 AM
Join Date: Mar 2005
Location: USA - N.E.Tn
Posts: 45,153
I'd also use a subsoiler to break up the ground. It will do a good job of breaking it up and it's not a piece of equipment that is easily torn up. Your tiller should work fine after the rocks are removed.
My property is pretty much all slate rock [including my garden] I don't own a plow or tiller but my subsoiler followed by a cultivator works good for me. After 20+ yrs the dirt in my garden is beginning to resemble soil
11-22-13, 05:20 AM
Cultivator
---
During my earlier days on the farm, we had a cultivator with spring-loaded feet. It was perfect for your application. Each foot was controlled by two very strong coil springs.
Here is a photo: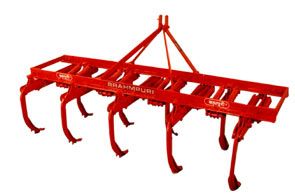 ---
Last edited by Wirepuller38; 11-22-13 at

06:11 AM

.
11-23-13, 11:03 PM
Join Date: Nov 2013
Location: Usa
Posts: 3
Upvotes: 0
Received 0 Upvotes on 0 Posts
i Hve a John deere 850 tractor that i use. 23hp 4wd r1 tires. I have the availability to pick up a 4' john deere pto driven tiller locally. the tiller seems like a good option for after the initial ground break ing and rock removal. i will look into the sub soiler and cultivators. yes i live in the country and there are other farmers in the area that i could use however this garden is only the beginning of turning 43 acres into a productive farm so i would like to get the equipment needed so i can use it for later also
11-24-13, 04:16 AM
Join Date: Mar 2005
Location: USA - N.E.Tn
Posts: 45,153
You can probably skip the cultivator for now although I'm sure you'll have use for one later. I bought a new small cultivator and new subsoiler because it was a lot cheaper than buying a used plow. The subsoiler will break up the ground so you can run your tiller after the rocks are removed. A subsoiler can run deeper than just using a plow.
11-24-13, 12:03 PM
Plow
---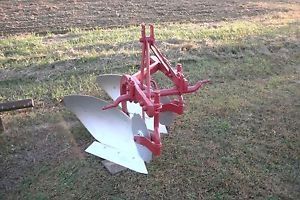 This plow will turn the soil and prepare for the tiller. With the land you have, I think it would be a good investment. Your tractor should be able to pull this double plow with 12 inch plow shares.
11-24-13, 09:22 PM
Join Date: Nov 2013
Location: Usa
Posts: 3
Upvotes: 0
Received 0 Upvotes on 0 Posts
correct me if i' m wrong but it seems that the plow would get torn up by the larger rocks. the average rock im finding is about melon sized. would this be used after a subsoiler or in place of it? thank you for all the help everyone!!!
11-25-13, 04:41 AM
Join Date: Mar 2005
Location: USA - N.E.Tn
Posts: 45,153
A subsoiler should be capable of running deeper than a plow, it's also built a lot heftier and IMO they're indestructible. I'd use the subsoiler first! While a plow is designed for plowing up the garden
a subsoiler is better suited for breaking up ground for the first time, especially when there are rocks involved.