Japanese Knotweed
06-02-15, 09:07 AM
Japanese Knotweed
---
I have these awful plants, Japanese Knotweed, growing behind my shed, and it's getting worse!
It's taking over, and no matter how much I pull, it keeps coming back.
Not sure how it got there because I didn't plant them. Does anyone know how to get rid of them?
06-02-15, 09:51 AM
Join Date: Jun 2002
Location: Northern Minnesota
Posts: 1,623
You don't like yours?
About the only way is to just keep mowing it down, maybe some Roundup will help. Very hard to kill. Maybe if you can mow them down to ground level then cover with black plastic might do it but it'll take a while.
Only way it can spread is through the roots, something about the flowers being only one sex and don't do anything. So, if you pull the roots
be careful
where you put them.
FYI, mine froze yesterday....ON JUNE FIRST!!
Here's a picture from many moons ago, I like it....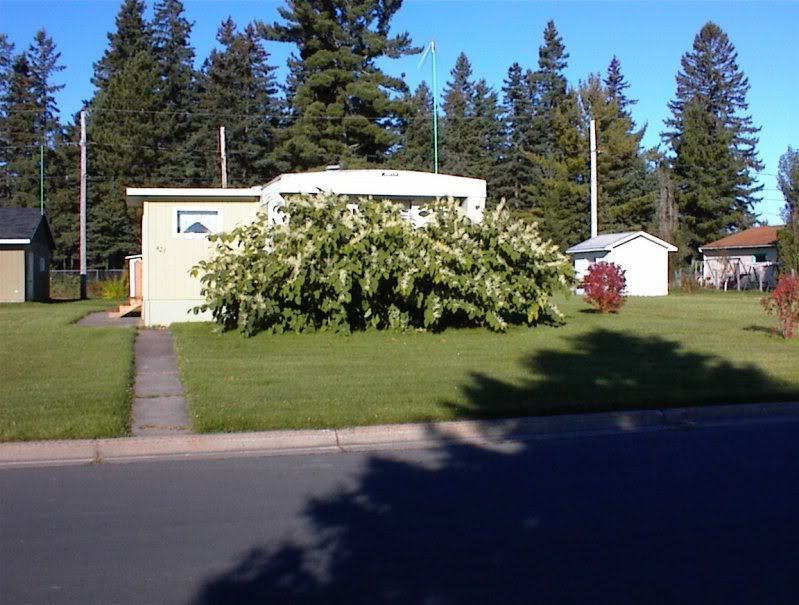 Good luck
06-02-15, 12:53 PM
Thanks!
I have some Round Up, so I'll try it. The problem is with the new shoots that keep coming up in the grass. I don't want to kill the grass. We do mow them down and in between, is when I pull. Seems for every one I pull, 3 come up!
When they grow big, those flowers seem to attract gnats, too.
It's cold here today (after being 92 on Sunday), but not freezing. Crazy weather lately.
06-02-15, 01:39 PM
Join Date: Mar 2003
Location: NC, USA
Posts: 25,960
I wonder if a broad leaf herbicide like Trimec would kill it.
06-02-15, 02:00 PM
We also have that invasive weed here in Vermont too. Originally from Japan, it was imported by the Brits and Dutch as an ornamental; but it got loose, and is now considered a weed in Europe too. No one knows how it came to our shores; but I certainly hope that it wasn't intentional.

I've had some success ridding my own property of it; but I caught it early. My approach required patience.

What I used is a systemic weed killer like Round-up or Weed-B-Gone, and waited until we had a string of dry days, so that the plant(s) were good and thirsty, and then I sprayed all of the foliage to give it a good long drink. Plants will absorb water and some fertilizers or herbicides through their leaves. I probably added a little bit of dishwashing liquid to the spray, so that the herbicide would tend to linger longer on the leaves. You mustn't do this if you're expecting rain.

These plants are stubborn, so after a couple days, I'd remove and burn the bulk of the plant that was above grade, and then watch for the weakened roots to send up new shoots . . . . and after the shoots got big enough, and the weather was appropriate, I repeated the above procedure. They're very resilient, you cannot turn your back !

Doing this sequence 3 - 5 times resulted in roots that seem to have lost all of their vitality, and I haven't seen new shoots in the subject area for a couple years now. But this weed (locally known as Japanese Bamboo and also Mexican Bamboo) is making major inroads along river beds north of me and east of me . . . . and nothing is being done by the authorities to get control of it. The Moose River in Eastern Vermont becomes almost invisible with both banks inundated with this invasive species.
06-02-15, 05:13 PM
Thanks Vermont, very informative!
I'll try that. I wish I had asked earlier while we were having a dry spell. It's been raining for 2 days and more to come. I'll wait till the next dry spell.
PD, since I have Round up and Weed B Gone already, I'll give that a try first.
Hmm, I was thinking about starting a cattle ranch, lol!
Problem is, they'd all be pets.
06-02-15, 05:40 PM
These plants are supposedly infertile (seedless) . . . . so they've been expanding their territory by roots and pieces (simplistic tissue culture) and being carried around, mostly by humans.

And I think I read somewhere that those stubborn roots can be as deep as three (3) meters . . . . that's like 10 feet !

So that makes that makes them somewhat drought resistant, and having the capacity to travel underground several feet to re-appear at a distance from where you may think you successfully eradicated them !
06-03-15, 04:51 AM
Join Date: Mar 2003
Location: NC, USA
Posts: 25,960
I've also had luck by cutting trees and immediately painting the stump with glyphosate herbicide (Roundup). The fresh cut quickly draws in the herbicide to kill the roots but the plant needs a certain size to make it practical. About the smallest I've tried are those are pencil diameter but it does work at killing the roots.
06-03-15, 07:32 AM
That sounds like a plan, PD. These things grow at a really, really fast rate.