Worms killing my lavender bushes?
Join Date: Jul 2017
Posts: 15
CAL
Worms killing my lavender bushes?
Hi,
I've tried going weeks between watering, and also watering every few days, but several lavender plants I have continue to die... When I dug down with my hand a little, the soil still felt cool so I'm guessing it's wet enough, but as I moved the soil, I also saw some dark red looking worms, pretty thin, definitely not Earth worms!

I had these in a peace lily I was growing in a pot. The plant used to be healthy but over time looked worse and worse. The soil level in the pot also dropped given some time, I knew something was going on. I pulled it out of the pot and the same red worms I saw in the soil with my lavender, I see in the pot! What the heck are they and how do I save my plants? I'm really concerned.

Thank you.
Sponsored Links
Join Date: Jul 2017
Posts: 15
CAL
I'll try to snap a pic next time, they are not earth worms though. I have those in another part of the yard, they are big and fat, these are thin.
The one's i've found are much smaller than the one I see in the picture here, but it's similar.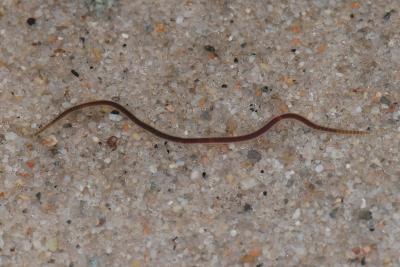 Join Date: Feb 2006
Posts: 6,149
TN
Worms
Night crawlers and earth worms are two different species.
Join Date: Jul 2017
Posts: 15
CAL
Anyone have thoughts on what to do? Haven't had a chance to dig around for one of these worms yet.
Join Date: Dec 2007
Posts: 20,546
AZ
Just wondering...were the plants in the ground in actual local soil or did you add amendments like garden soil or similar from the store? Obviously, the potted plant probably had potting soil?

Those are not really soils at all. By soil I mean dirt, like you'd dig up in the middle of your yard. They are nothing more than composted organic material, which, guess what? Red Wrigglers (earthworms) thrive on. They are what is used for composting/vermiposting.

Just do a simple search for lawn worm control. Good source I found was in the UK about controlling worms on croquet lawns and such. Even better was that a suggestion was to raise the acidity slightly. It might not be good for grass, but since you are in beds and pots, unlikely it would have much of a bad effect, depending on what the flowers like of course.

There are no legal pesticides for worms and the grub stuff won't help. Replace the pot soil after getting all the worms out (not like they crawled up the side) if you had it sitting on the ground use a saucer underneath, they could have come in through drain holes.
---
Vic
"I sometimes wonder how some people ever made it to adulthood..."
Join Date: Mar 2003
Posts: 16,308
NC
I know of no worms damage plants. All worms that live in the soil are beneficial as far as I know. Posting a picture of your worms (not something "similar" you found on the web) would be helpful. Also look closely at the roots for holes or other sign that something is boring into the roots. There are many caterpillars that bore into plant stems above ground.
Searching the web I dd find that there are larvae of beetles that look like worms that are harmful. Wireworms have segmented bodies and are fatter and not pointy at the end like true worms.
Join Date: Dec 2007
Posts: 20,546
AZ
Join Date: Mar 2007
Posts: 516
OR
They might be millipedes. Get a magnifying glass and look for hundreds of tiny legs. They might be munching on the hair like roots. Dig and take to a nursery. Send us a picture.
Join Date: Jul 2017
Posts: 15
CAL
Lavender still dying
So the plants looked like they were doing okay, they've recently started dying back again
I pulled one out and there were half a dozen of these worms below it, just like the other plants I've had die in the past. Not sure if they are the exact same worms, these look a little bigger, but I took a picture regardless.
I also took pictures of the plants, they seem to die one section at a time. Soil felt damp, I really have no idea what is causing this!
Hope these pictures help, thank you
Join Date: Mar 2003
Posts: 16,308
NC
Kiss each worm on the forehead and compliment them on the great job they have been doing. Then gently place them back on the ground and put some dirt over them so they can get back to work.
Join Date: Jul 2017
Posts: 15
CAL
Bump.
Any thoughts on what I may be doing wrong or how to change my process? Each plant has been receiving 1-2gallons of water once a week, soil has some sand in it so it's relatively quick draining.
Thanks!
Join Date: Jul 2017
Posts: 15
CAL
Any thoughts as to what could be causing this? What change should I make to my process if any?
Thanks!