Sick Magnolia Not Blooming
04-14-20, 08:23 PM
Sick Magnolia Not Blooming
---
I moved into a new house in North Jersey last year and I have a Magnolia Tree that developed green buds but did not bloom last year. It currently has small green buds and I am concerned it will not bloom again. I've used liquid fish fertilizer 2X in the last month to help but I am skeptical. I have some deer antler damage and some scaling on the trunk that are concerning as well. Should I continue with the fertilizer?
04-15-20, 07:38 AM
Join Date: Mar 2003
Location: NC, USA
Posts: 25,971
That is not a Southern Magnolia. What type do you have? It looks like it might be a Ann Magnolia?

If your tree is just now budding then you fertilized too early. If the tree is dormant for winter (not budding) then it doesn't need fertilizing. Luckily most fish fertilizers are pretty mild so fertilizing early shouldn't have hurt. I wouldn't apply any more until the tree is showing good active growth and leaving out strongly. If you notice the tips or edges of the leaves are brown that's a sign you could be over fertilizing.
04-15-20, 07:57 AM
Other trees here have already bloomed and it didn't bloom last year. Also the crusty covering appears to be a disease of sorts
04-15-20, 03:07 PM
Join Date: Mar 2003
Location: NC, USA
Posts: 25,971
From your photo I can see lichen on the trunk which is not a disease and does no harm to the tree. It's hard to tell from the photos but the scrapes have really left a mark and could cause trouble for a small tree and could stunt it enough to prevent flowering at least for this season. I've had several trees of different species killed by deer scraping.

I would give this tree a few more weeks then you'll have to decide if you want to work with it or replace it. If you keep it I would fence it in early October to keep the deer away. It may take a season or two for it to recover and be strong enough to bloom. Or, if the tree doesn't show vigorous growth by mid May I'd at least consider replacing it. Almost anything can be saved but it can take time and often it's just easier to rip it out and start over.
04-15-20, 07:35 PM
04-15-20, 08:47 PM
Join Date: Mar 2007
Location: Oregon
Posts: 838
Any one done work around the base of the tree......before or after you moved in ?
04-15-20, 08:51 PM
No. My landscapers don't touch it. I've used liquid fish fertilizer 1X last year and 2X this year trying to help it after I realized it did not bloom. It's possible the spreader throws some fertilizer near it but that's a few times a year.
04-16-20, 06:00 AM
Join Date: Mar 2003
Location: NC, USA
Posts: 25,971
There are numerous websites that talk about what nutrients' affect on plants are. Many liquid fish fertilizers are 5-1-1 which is great for grass in early spring when you want lots of deep green growth... but not so great for flowering.
I'll use a high nitrogen fertilizer when plants are younger as I'm focusing on getting some size as quickly as possible. Then when the plant is large enough I'll switch to using a fertilizer higher in phosphorous and potassium. It also works in the garden. Early in the season give tomatoes more nitrogen. Then once they are physically large enough to fruit switch to a fertilizer with a small first number and bigger second and third numbers to promote flowering and fruit production.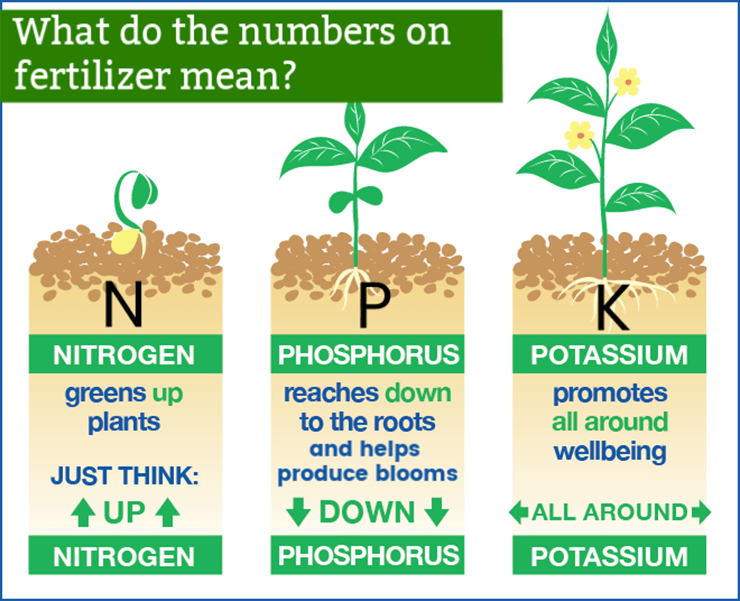 04-16-20, 11:45 AM
I am using
https://www.homedepot.com/p/Alaska-3...9247/100131259
which is a 5-1-1-1. My landscaper said it is not uncommon for those Magnolia to not bloom or bloom 1-2 per year. It DOES have green so it isn't dying but it caught me off guard as it should have bloomed already and didn't last year. I just started to apply fertilizer so I suppose it could be the damage from the deer. Should I just give it time to repair itself? What can I do? Fertilizer seemed logical and it has excellent reviews including trees so I am at a loss.
04-17-20, 05:32 AM
Join Date: Mar 2003
Location: NC, USA
Posts: 25,971
Fertilizing properly can help. But, using a high nitrogen fertilizer does not promote flowering.