O'keefe and Merritt left stove not lighting
11-06-11, 09:01 AM
O'keefe and Merritt left stove not lighting
---
We have an O'keefe and Merritt with two independent L/R stoves (see pics). Recently the left stove stopped lighting when the dial is turned on to any temperature. The right stove functions fine. The pilot light in both stoves is working fine. I into the top of the range I noticed the mechanism that gas goes through for the left side has a red button that is fully extended. When the button is pushed in all the way the stove will light fine- but it won't stay in on it's own without keeping it pressed in by hand. The corresponding mechanism on the right side seems to also have a red button that is not extended.
Any idea what these red buttons are intended for, and if the one on the left side might be related to the left stove not lighting (no gas flow?). We had a stove "repair" guy come by once to fix the same problem on the right side- and as I recall his explanation was the port hole where the gas comes out to feed the burner inside the oven was clogged with sulfur (or some other powdery deposit), and that just needed to be cleaned out.
I'm also attaching a picture of the left side burner (the pilot is ON, it's just hard to see with the flash from the camera).
Thanks for any ideas!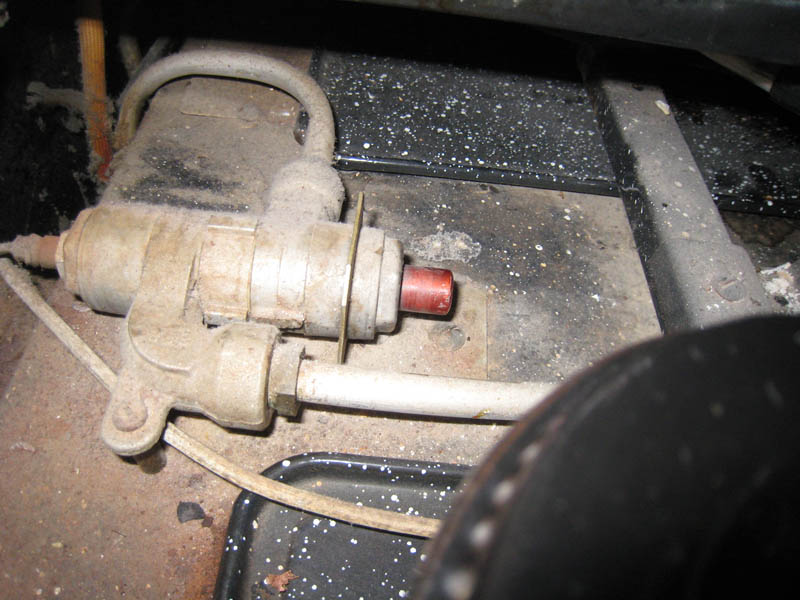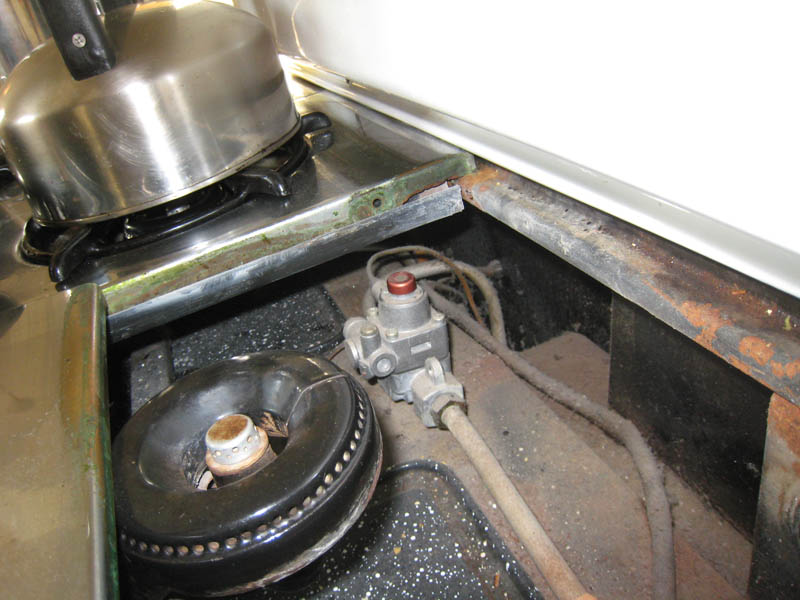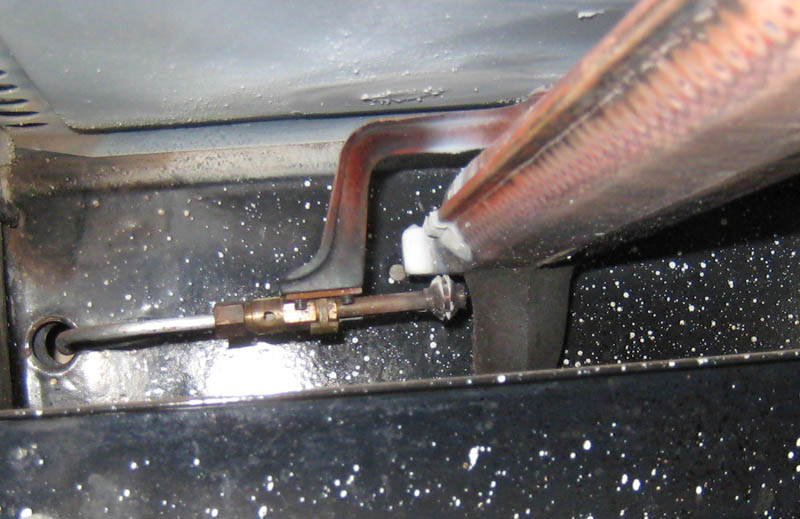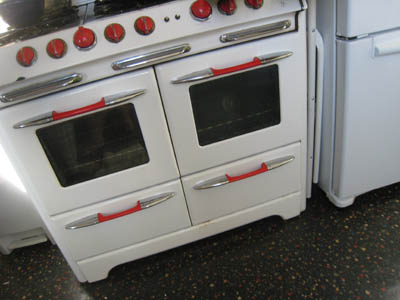 Sponsored Links
11-06-11, 07:14 PM
Those red buttons are to reset the safety so the gas can flow once the pilots are on, I suggest you call PG&E and they will clean the pilots and run you thru the operation. Also ask them to take readings aon the thermocouples and safeties.
11-07-11, 09:37 PM
Thanks for the suggestion to call PG&E and ask for help- I will try that. Is it customary for the utility company to just send someone out gratis to investigate a customer's non-working ("won't light") stove?
11-13-11, 08:53 AM
That looks like a very nice old range probably dating to the early 1950s! I like that vintage iron.

As MBK3 posted, the problem is usually a dirty pilot light and a resulting poor pilot flame causing the problem. If the utility wont clean them, it's usually a reasonable DIY job. You need to disassemble the pilot burner and pilot orifice and clean them of accumulated debris.
11-15-11, 06:17 PM
Yes, they will come out no charge and hopefully you will get a person who takes pride in their job and will clean the pilots and check the millivolt reads. I've worked on hundreds of those and it only becomes a problem when try and clean pilot by tapping it with a wrench and something lodges in the orifice. Then its "oh crap" got to pull it apart and clean and clean the orifice. And NICE pictures, really helps. Thanx
Posting Rules
You may not post new threads
You may not post replies
You may not post attachments
You may not edit your posts
---
HTML code is Off
---