Wacky Furnace
02-17-08, 09:17 AM
Wacky Furnace
---
Hello, my name is Steve and this is my first post. I have a forced air gas fired furnace in a 49 year old ranch style home (on a slab) single zone heating. I live in central New Jersey.
Furnace event time line
1- Thermostat calls for heat
2- Small externally mounted exhaust fan turns on
3- Main furnace blower turns on now
4- Gas valve switches on and pilot light fires the system up (Sometimes it takes 2 minutes for the gas valve to fire and sometimes it takes 15 seconds)
5- Thermostat set-point is met
6- Gas valve and exhaust fan stop together
7- Main blower remains on for 90 seconds and then shuts off. The cycle repeats.
Two Issues:
A- Many times on start-up (and sometimes in the middle of a heating cycle) the gas valve turns on & off several times before remaining constantly on. Not sure if this is the gas valve or the fan thermostat (sometimes called a fan/limit control switch)
B- I believe that the exhaust fan should remain on after the gas is shut off, but they both spot together.
Notes:
Fan/Limit control settings: 80 Off, 140 On, and 200 Limit
The system had a piezoelectric starter which I replaced with a standing pilot light and new gas valve, about 12 years ago.
The Heil Quaker furnace A/C unit is the second one since the home was built (no clue how old it is but it is at least 26 years old)
I have two 8 foot sliding glass windows that are Single pain that I need to replace.
Heat cycles on 5 times during a one hour test with the outside ambient temp of 38 degrees F. I am using a Honeywell CT3451 thermostat.
Thanks in advance!!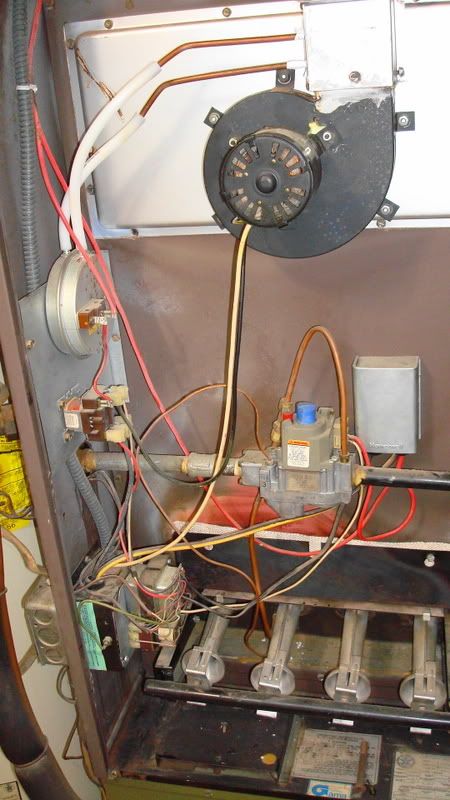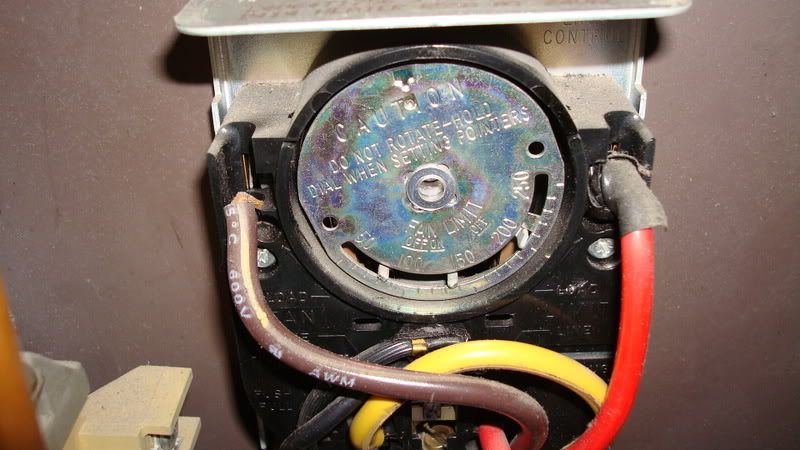 02-17-08, 01:16 PM
Join Date: Jan 2005
Location: Delaware, The First State
Posts: 14,401
Several Problems
---
I see several problems in the photos you posted.
The pilot line from the gas valve to the pilot burner should not be copper. Aluminum is what is supposed to be used.
Usually the tubing from the venter to the pressure switch are made of high temp silicone or rubber tubing. The exhaust gases could cause a problem with the copper & thus the pressure switch.
It looks like the exhaust fan is controled by a relay. Normally the relay has a fan off delay timer.
The gas piping should not be galvanized. The galvanizing can flake off & cause problems with the gas valve. The pipe should be black steel.
I suggest you contact a local Tempstar or Heil dealer to get the right controls for the exhaust venter & have him replace the copper & galvanized with the correct materials.
Your thermostat may have a cycle rate adjustment. If you have the booklet which came with the stat, you can refer to it or maybe download one from Honeywell's site.
The burner shutting down prematurely could be caused by the furnace reaching limit before the thermostat is satisfied. There are several causes for this, most of which are air flow related.
02-17-08, 05:23 PM
Ummm.. NOT a good thing on this style of furnace! I already see a sign of damage or soon to be damage with the standing pilot added to a system that should have spark ignitor.
On the t-stat, should be a dip switch or screws that you can set this to "hot water heat/hi-effecent". That will cut down on the cycle rate.
02-23-08, 05:59 AM
I finally found out why my gas valve cycles on/off during a heating call. It turned out to be the differential pressure switch (the pancake diagram device), for the induced draft fan. I jumped the switch and no more cycling. So I ordered the switch and hopefully it will arrive today.

I also replaced the lines for this from copper to stainless steel and then silicone tubing to the diff switch.

Thanks for the suggestions!
02-23-08, 03:32 PM
How long do you plan on keeping this furnace? As I said in my earlier post, this has been changed to a standing pilot, and the heat exchanger is going to fail soon since it was not made for standing pilot.. The heat marking on the wall showing that!

I would start saving up for a new furnace, and be sure get a CO dectector in the home!
02-23-08, 03:45 PM
Banned. Rule And/Or Policy Violation
Join Date: May 2007
Location: Wisconsin
Posts: 8,627
Received 0 Votes on 0 Posts
02-23-08, 03:50 PM
02-23-08, 08:13 PM
I got the diff pressure switch today from Granger. It now works great and the gas valve has not turned off during a heating call.
I did not think about the draft fan not pulling as hard as she should, but lucky it was not the issue.
No … there is no more flame roll-out. I cleaned the heat exchanger with a long brush and now the flame goes straight up and no dancing about!
I know the furnace is on its last leg. The manufacture date is 1980! If it wasn't for the college costs for my kids, then I would have replace this ole furnace
I took apart the old pressure switch. I did not see anything unusual about it like a hole in it.
This pic is the new stainless steel lines and Swagelok fittings for the draft flue, with the old diff pressure switch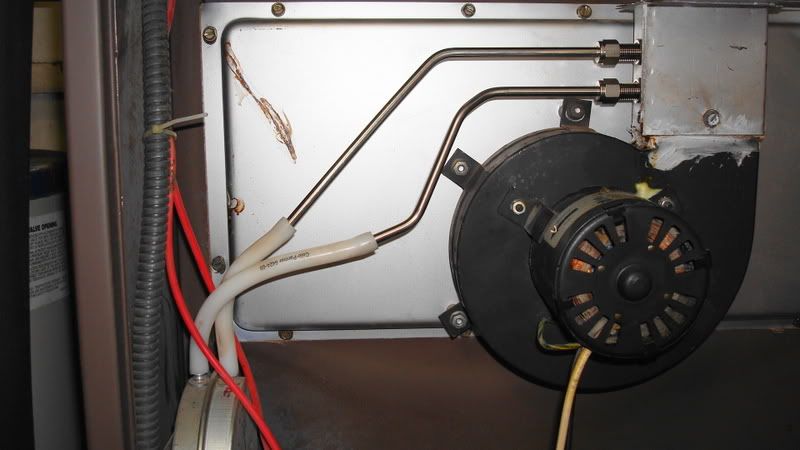 This is the new Diff pressure switch
And this is the old diff switch taken apart for inspection
02-23-08, 08:21 PM
After taking a second look at the rubber diaphragm, it appears to be wrinkled or stretched which is probably the cause for its malfunction? Maybe it does not push on the contacts to make the switch go from Normally Open to Closed.
02-24-08, 01:39 PM
Banned. Rule And/Or Policy Violation
Join Date: May 2007
Location: Wisconsin
Posts: 8,627
Received 0 Votes on 0 Posts
Of all the things I 've taken apart out of curiousity, I've never taken one of THESE apart. Thanks for the pics. If you had said we are now looking at the inside of the distributor to my BMW, I may have believed you.
Glad the new one happened to do the trick.