Flame Roll-out Switch Code on Carrier Furnace
11-01-09, 07:47 AM
Join Date: Nov 2009
Location: Colorado
Posts: 2
Upvotes: 0
Received 0 Upvotes on 0 Posts
Flame Roll-out Switch Code on Carrier Furnace
---
I have a Carrier 58 PAV Furnace that's been giving "3-3" LED Code periodically (3-4X per month), and the heater won't work. The system resets and works after a while (less than the 3hrs Carrier indicates for auto-reset in their manual).

Noteworthy-
-The thermostat (Carrier programmable thermostat) periodically loses power (display goes blank) for 1-3 minutes ONLY WHEN in HEAT MODE...never happens when using A/C.
-I turned the furnace off/on at the wall switch and it began working again....tried for the first time this AM.

Diagnostics-
-The air filter is new and almost all vents are open.
-The fan set typically set to "on" rather than "auto".

What other diagnostics are recommended?

Thanks in advance for help!
11-01-09, 08:10 AM
Join Date: Oct 2009
Location: Texas
Posts: 6,420
This can be a very serious problem. You should have your furnace professionally inspected.
Verify that the combustion air grill , that provides oxygen to your furnace isn't blocked.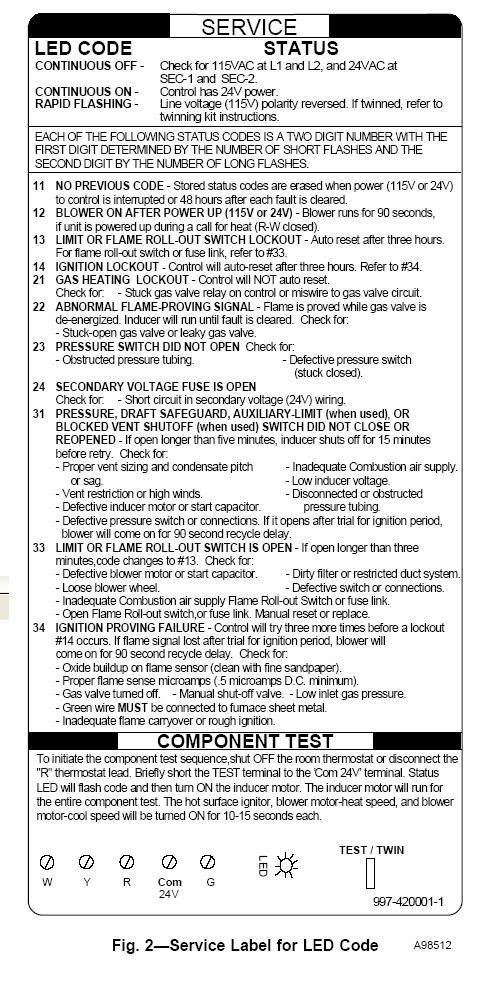 11-01-09, 08:21 AM
Join Date: Jul 2007
Location: Seattle, Wa
Posts: 4,469
Upvotes: 0
The circuit diagram is at
http://www.xpedio.carrier.com/idc/gr.../58p,r-1sm.pdf
This is probably the limit switch opening up and shutting the furnace off due to overheating.
It probably shuts off when the furnace has had a long run which allows it to overheat eventually.
You can probably replicate this by simply turning up the thermostat to 85 degrees or so and letting it run until it shuts off. I'd use an multimeter to verify that the limit switch is what's shutting off.
The furnace could be oversized for your house, the ductwork could be undersized, it may be shutting off because you don't have all the registers open, the burners could be overfired. Could be any of a lot of things.
This could cause the house to fail to stay at the set temperature during colder weather when longer furnace runs are required to maintain the temperature.
11-01-09, 09:44 AM
Join Date: Nov 2009
Location: Colorado
Posts: 2
Upvotes: 0
Received 0 Upvotes on 0 Posts
Thanks for quick replies.

-Where is the combustion grill? How can I check for blockage (is it visible, do I need to pull the grill to view, etc)?

-Could some closed return vents cause issues? I have blocked several return vents (the A/C unit is too small for the house and closing cold air returns on the top floor helps).

Thanks again!
11-01-09, 10:25 AM
Join Date: Jul 2007
Location: Seattle, Wa
Posts: 4,469
Upvotes: 0
The flame rollout switch(s) are manual reset, so that isn't them.


That makes it very likely that it's the li mit switch that is opening because of overheating. That should be checked to verify that as I suggested earlier.