Nordyne Furnace Fan Speed Setting
09-23-11, 03:05 PM
Nordyne Furnace Fan Speed Setting
---
I recently purchased a home with a new furance installed. The furnace capacity is too large for my 1200 sq ft home so I decided to set fan speed lower.
When I opened up the furance and I found a control panel that is rather cryptic. I don't understand the labeling. After some research, it appears i have a Nordyne gas furnace with a Frigdaire SmartLite control board.
In the control board, there are a total of three settings: Fan, Cool and Heat.
Can someone tell me what how to see fan speed as low as possible?
Thanks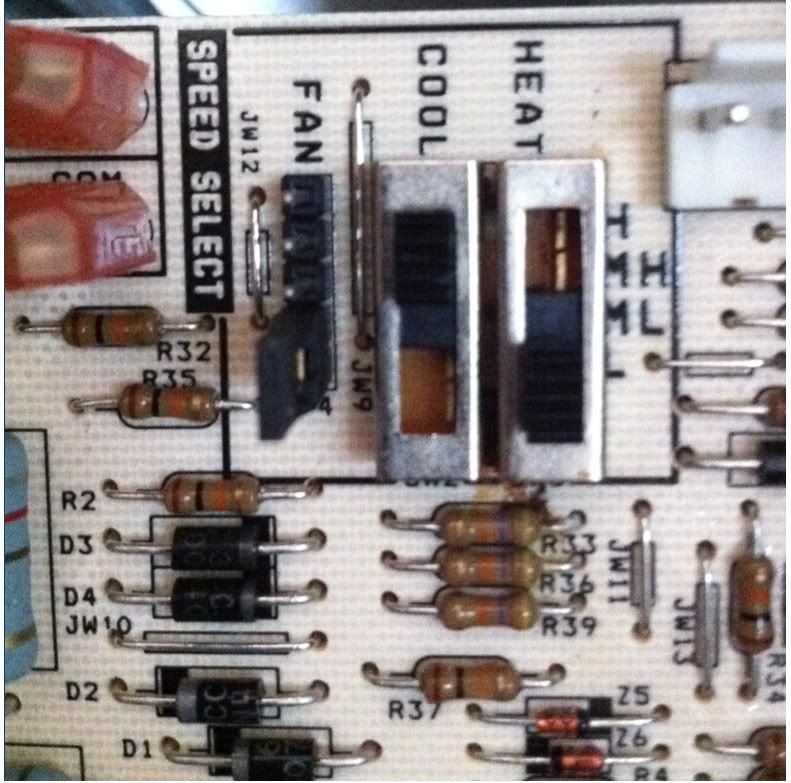 09-24-11, 06:32 PM
Join Date: Jan 2005
Location: Delaware, The First State
Posts: 14,381
It is extremely rare to find a furnace where the heating speed on the fan is set too high. Resetting the fan speed without measuring temp rise across the heat exchanger could result in damage to the furnace.
09-25-11, 07:41 AM
circuit board
---
sorry!upon rereading your message and looking at the upper pic,i see the fan speed.i havnt been lucky enough to have the option on my units.
where you see the number 4(under "fan"),is a push peg that can be changed to the other pegs.(little black rectangular thing).
i know it always sucks when they say(go to a profssional'), but the manufacture should be abled to easily tell you what pegs are which speeds.
pesonnally i would just try them but it woudnt be the first time i blew something up or caused a short(and alot of money)!!
good luck!!!joel