Carrier WeatherMaker Sx Blower motor runs steady
10-14-12, 06:25 AM
Join Date: Oct 2012
Location: Canada
Posts: 5
Upvotes: 0
Received 0 Upvotes on 0 Posts
Carrier WeatherMaker Sx Blower motor runs steady
---
Hi Everyone, I have an issue that no one seems to be able to correct, so I thought I would pick your brains.

The blower motor continously runs on my furnace, and yes the thermo is set to auto, and the temp is out of range calling for it to run.

I have replaced the board, still runs, I have pulled the "G" wire off, still runs.

The furnace will give heat when called for by the thermo.

So the furnace works fine in when it calls for heat, burners turn on, runs to the preset temp, and turn off, just that the blower never stops.

I have had 2 techs out and they are both stumped.

Any ideas?

Many thanks in advance
10-14-12, 07:33 AM
What is the full the model number and series?
The Carrier 58SX shows multiple models.
Does yours have an LED to display trouble codes?
Are we running high speed or low speed continuously?
Do you have a Y terminal in use on the new board?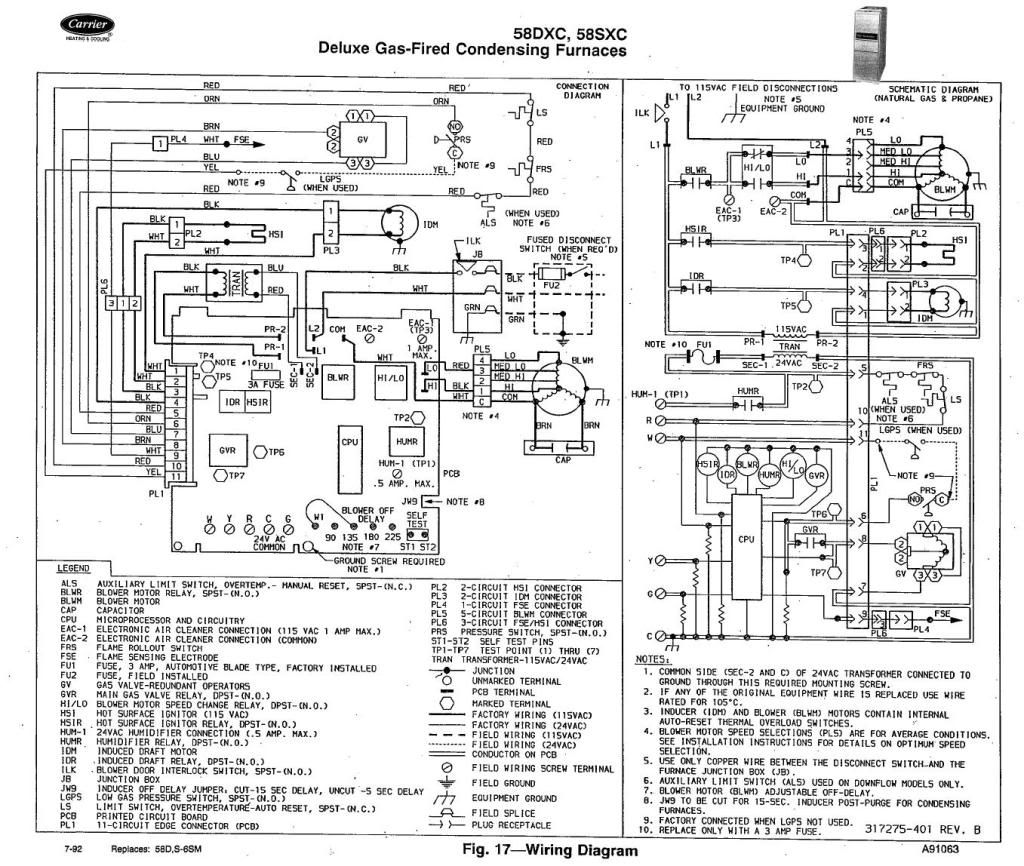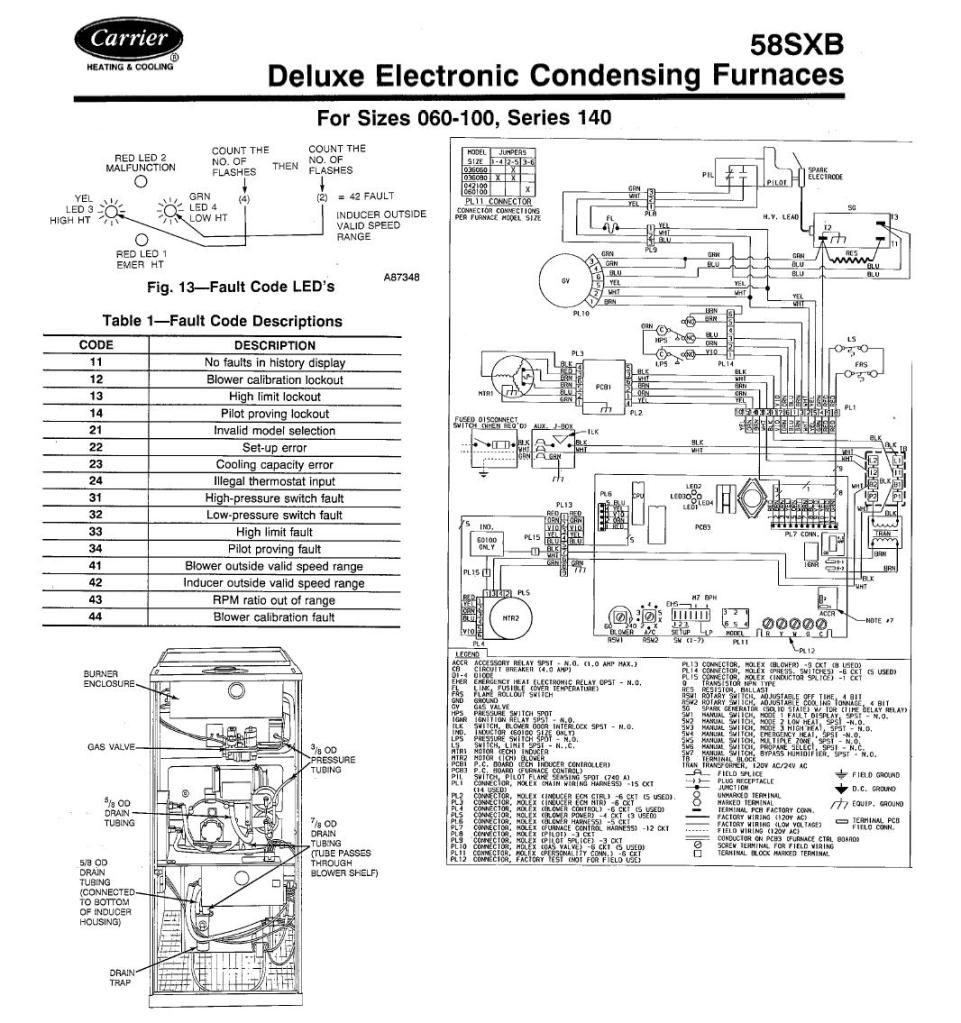 10-14-12, 08:25 AM
Join Date: Oct 2012
Location: Canada
Posts: 5
Upvotes: 0
Received 0 Upvotes on 0 Posts
Mine is the one listed in the first picture, and yes it does have a "Y"

No LED for error codes

58SX, I can get all the info off the unit if it helps

Model # is 58SX060-GG-1
---
Last edited by Hckynut; 10-14-12 at

08:29 AM

. Reason: added model #
10-14-12, 09:41 AM
Does the fan continue to run when you disconnect R?
10-14-12, 10:54 AM
Do you have the part number of your new board?
Was it an OEM or an ICM board?
10-14-12, 03:56 PM
Are any jumpers cut? .............................
2. If JW1 jumper is cut between R and GH terminals a constant
LO speed blower will occur without any thermostat inputs to
the control center. A GC or Y signal to the control center
WILL NOT bring on the HI speed blower for cooling
operation. JW1 jumper MUST NOT be cut on cooling
applications.
3. The humidifier H terminal is energized with LO and HI speed
blower operation. In cooling operation, the humidistat and
humidifier water supply must be turned off to ensure the
humidifier does not operate.
24-V CIRCUIT PROTECTION—An automotive type, 3-amp fuse
is provided to protect the transformer and thermostat from shorts in
the low-voltage circuitry. An open fuse will initiate a constant
blower. Refer to Fig. 2 for location on control center.
LO SPEED CONTINUOUS G BLOWER AND 90 SECOND HI
SPEED BLOWER OFF DELAY OPTION—Resistor (R18) on the
control center can be cut to achieve heating speed continuous
blower with a thermostat R-G call and a HI speed blower with 90
sec off delay with a thermostat R-Y call.
When this option is chosen, Y from the thermostat and the outdoor
unit MUST be connected to the control center Y terminal to get the
HI speed blower on an R-Y call. Refer to Fig. 2 for resistor
location and Table 1 for blower operation modes.
10-16-12, 10:10 PM
Does the edge pin connector on the circuit board appear corroded inside?
10-18-13, 09:56 AM
having the same issue this year with our blower motor
---
i have already replaced the board to the updated board HH84AA021 but the blower still runs steady does the other board also control this ? the board number is HH84AA019
01-02-15, 10:28 AM
another possibility
---
Here's another thing I thought of, just off the top...
You might also check your high-limit switch. Failure of that switch could also cause the fan to run whilst the heat would not operate.

All the best... ~J
09-07-15, 02:27 PM
JR has a good point, check for a tripped limit.