Burner but no fan
01-14-13, 08:22 PM
Join Date: Jan 2013
Location: usa
Posts: 2
Likes: 0
Received 0 Likes on 0 Posts
Burner but no fan
---
I have a carrier model 48SD and when I turn it on the burner starts fine but then the fan does not start. I have waited several minutes and it still does not run. If I turn it off and start all over again it will run just fine. It also will work fine for a long time and then for no reason it will call for heat and the fan will not start again. I am not sure what is wrong and hope someone can tell me what to repair, thanks.
01-14-13, 08:49 PM
You'll need to determine if it's a control board problem or a blower motor problem.

When the fan does not start......try putting the AUTO/FAN ON switch in FAN ON mode and see if fan works then. If it doesn't come on then you have a blower motor issue......possibly a defective starting capacitor.
01-16-13, 06:30 PM
Join Date: Jan 2013
Location: usa
Posts: 2
Likes: 0
Received 0 Likes on 0 Posts
I waited till the problem happened again the fan was not working so I turned the fan on and it started so I guess it is not the fan. Any other thoughts before I get a new board.
01-16-13, 06:57 PM
Most furnaces use a heat thermostat to turn the blower on. Yours does not. It's a timed function controlled by the control board. Based on the service schematic I would say it's a defective control board.


The board.....part # 325878-751 is pretty pricey.

I would wait for a confirmation from one of the HVAC guys.
01-16-13, 07:29 PM
http://www.docs.hvacpartners.com/idc...t/48sd-5si.pdf
I agree, it's a faulty control board.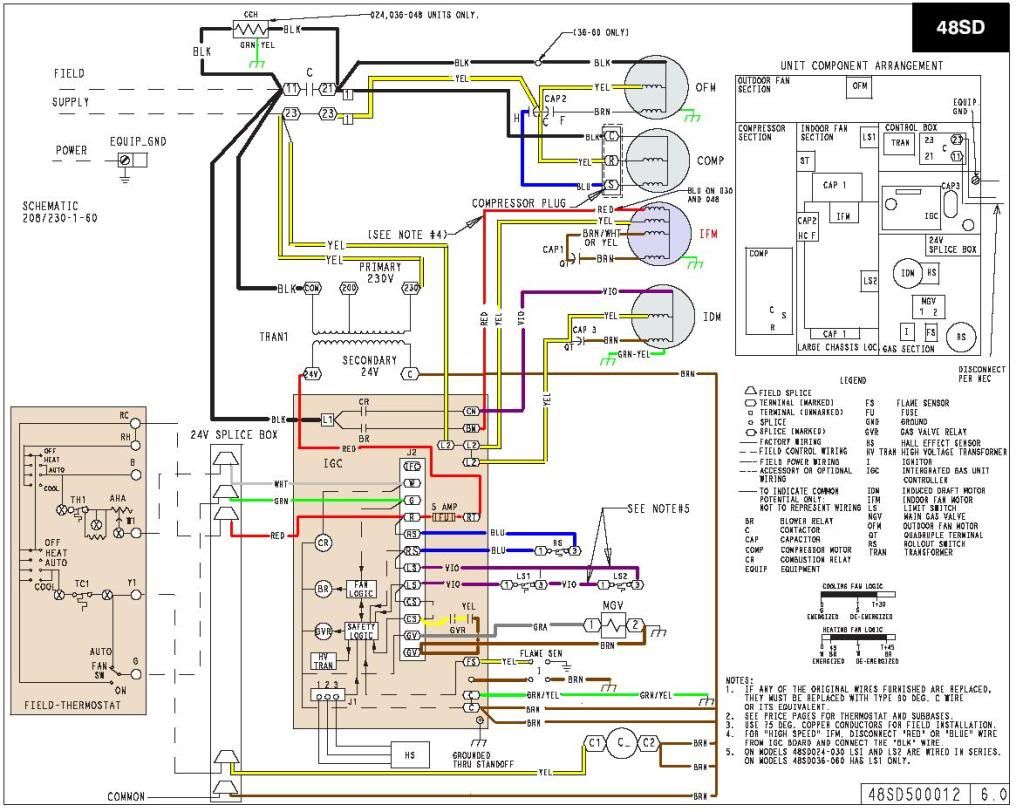 01-16-13, 07:39 PM
Wow.... cool colored schematic.
01-16-13, 07:47 PM
Thanks.

I'm surprised to see a direct drive multispeed motor in a Carrier gas unit use the same speed for heating and cooling.

I looked up the 48GS that this unit resembles and it is the same.
01-16-13, 07:59 PM
You are correct....same speed.....which is very unusual.