Furnace out of service
02-09-13, 06:55 AM
Join Date: Feb 2013
Location: United States
Posts: 4
Received 0 Votes on 0 Posts
Furnace out of service
---
Good morning!!
I have a relatively new house (2009) with a Bryant furnace. 2 nights ago I was awakened by the wife stating that there was a terrible smell in the house. She was right. It definitely smelled electrical. Coincidentally there happened to be a house fire a couple miles away at the same time so I wrote it off on that, air drifting this direction from the fire. Well, that certainly wasn't the problem. Yesterday when I got home from work I didn't notice the smell, but the furnace was making a long, ongoing humming noise and then after a period of time it would shut off. Upon further inspection, the red led light is blinking with the code 13: limit circuit lockout. Just a bit ago when the blower tried to kick on again once again there was a burning smell with the humming noise.
Instead of reading 150 different articles, each having a different problem/solution I thought I'd come here to ask directly for some advice.
There is two compartments, which you guys know I'm sure (I'm terribly ignorant about these types of things so sorry if it sounds like I don't know what I'm talking about... cuz I don't!
) ), there's a fan on top and on the bottom with a cover on it, there's the blower. The humming/buzzing is coming from the bottom/blower.
As a disclaimer, our filters were dirty however I think the old lady put the new ones in last night with zero improvement.
Any help or suggestions would be much appreciated!
Chris
Sponsored Links
02-09-13, 07:08 AM
At a guess, either the motor has burned out or the capacitor that helps the blower start turning has fried.

The Pro's will want to know the entire sequence of events from when it first calls for heat, until the error code occurs. You may have to power it down from the breaker panel with the thermostat off, wait a few minutes for it to reset, then turn the breaker on, and set the stat to heat and then observe what happens. 2 people for this...one watching, the other changing settings.

I would take the bottom cover off and do a visual inspection. The capacitor is normally a silver or black cylinder or oval "can" about the size of a small V-8 juice can. It will have 4 or 5 wires attached to it. Any swelling or leaking of smelly goo and it's shot.
02-09-13, 07:15 AM
Join Date: Feb 2013
Location: United States
Posts: 4
Received 0 Votes on 0 Posts
Thank you for the quick response! We'll be on errands all day but will report back with all needed information as soon as we can later tonight.
Again, thank you!
02-09-13, 07:27 AM
I agree with Gunguy, it is the motor or run cap.
Turn the fan to the on position to check operation, don't give it a heating demand if you suspect that the motor has failed.
If the motor spins freely with power removed it is probably the run cap.
Match the microfarad rating of the old 370VAC run capacitor.
This is a 5 uF (microfarad) example but I go through a lot of 10 microfarad run capacitors when checking Carrier furnaces with fall checkups.
I don't know how bad the smell is, but if is bad, you may need a motor and cap.
02-09-13, 06:19 PM
Join Date: Feb 2013
Location: United States
Posts: 4
Received 0 Votes on 0 Posts
Okay, this morning and earlier the furnace fan would attempt to run for a little while but now this is all I get:
furnace
I just uploaded that so it might take a couple minutes to propogate
I'd like to give you a chronological log, but now there isn't one. Hope that narrows it down!
02-09-13, 06:57 PM
I'd measure the cap, but my meter is over $100 more expensive then a capacitor so I recommend replacing that 10 microfarad 370VAC capacitor.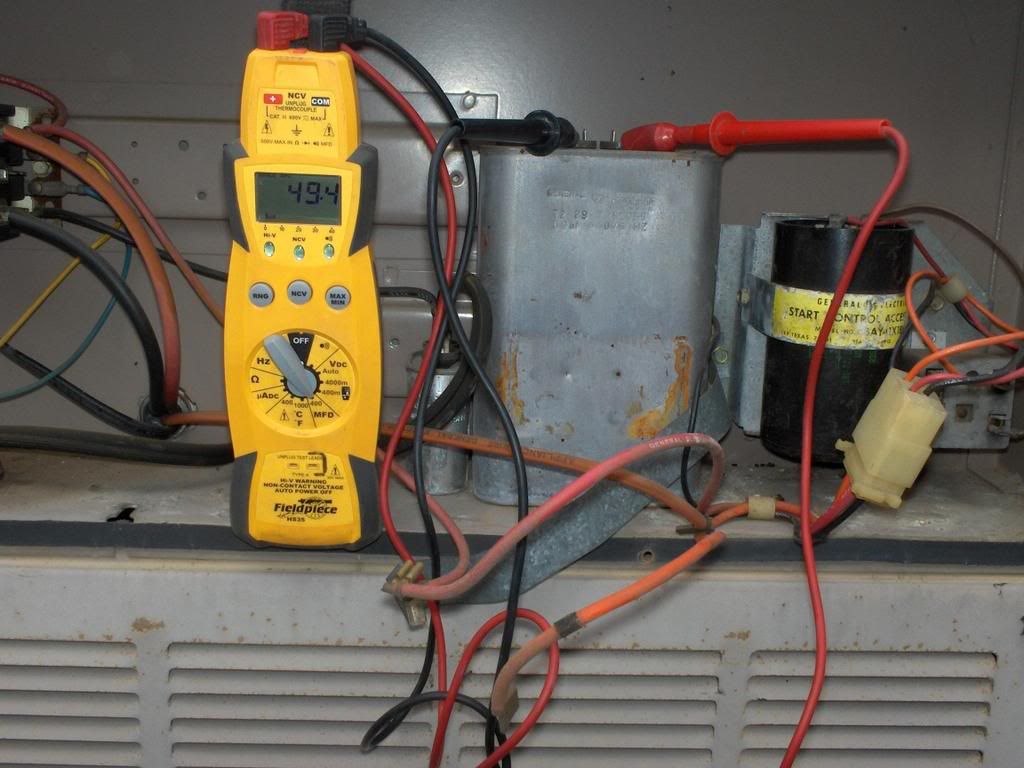 CAPACITOR MOTOR RUN AC METALLIZED 10UF 370VAC 5% OVAL .250 INCH 4 WAY QUICK CONNECT TERMINALS: Amazon.com: Industrial & Scientific
02-09-13, 07:12 PM
Join Date: Feb 2013
Location: United States
Posts: 4
Received 0 Votes on 0 Posts
Yeah, I've removed it and plan on replacing that first. I'll check to see if my father-in-law has a capacitance meter since all I have is a regular multimeter. Thank you Houston and Gunguy for your help. Let's hope I'm not back. The challenge is going to be trying to find one on a Sunday as I'm sure this isn't something that an Ace or Home Depot isn't going to have.
Thanks again guys. I appreciate your help!!
02-09-13, 07:17 PM
Posting Rules
You may not post new threads
You may not post replies
You may not post attachments
You may not edit your posts
---
HTML code is Off
---