Blower randomly doesn't start
04-13-13, 01:09 PM
Join Date: Dec 2007
Location: USA
Posts: 8
Received 0 Votes on 0 Posts
Blower randomly doesn't start
---
Tempstar 5000 Natural Gas Furnace.
NUG5125BHA1
Approx 20 yrs old
This random problem has been going on since I bought the home 6 years ago.
Every once in a while (2 or 3 times per furnace season) the blower doesn't kick on. The flame will ignite just fine and burn for a little bit then shut off without the blower ever turning on. When it happens, this usually goes on for several hours and then it just starts working properly again. I can't say for sure but I don't recall this ever happening in the middle of the day. It always seems to happen in the middle of the night-I will wake up to a house that is like 55 degrees and I start tinkering with it and eventually it gets going and works fine for months at a time. It seems as if it almost always happens at the beginning of the furnace season but it will also happen randomly at any time as it just did a couple of days ago.
5 years ago I replaced both the ignition module and the gas control valve and that didn't fix it.
After reading a thread about the same furnace with a completely different problem, I am starting to think it must be some sort of flame or temp sensor that is (randomly) failing to tell the blower to turn on after ignition.
As far as I can tell, this furnace doesn't have a "flame rod". I can see 2 sensors that appear to be temp sensors but neither seem to be in a position to detect flame. 1 is very small and sits on the sheet metal directly above the gas jets (visible in photo), the other is a little larger and in mounted to the wall of what I assume is the "combustion chamber" just below what I am assuming is an exhaust fan.
Is one of these sensors for turning on the blower?
Could replacing these be the simple solution?
Thing is, I won't know for a long time if the problem is fixed since it happens rarely.
Sponsored Links
04-13-13, 08:04 PM
Join Date: Oct 2009
Location: Texas
Posts: 7,418
http://icpindexing.toddsit.com/docum...4108200100.pdf
The older models used a camstat and the newer models use a circuit board to control fan operation...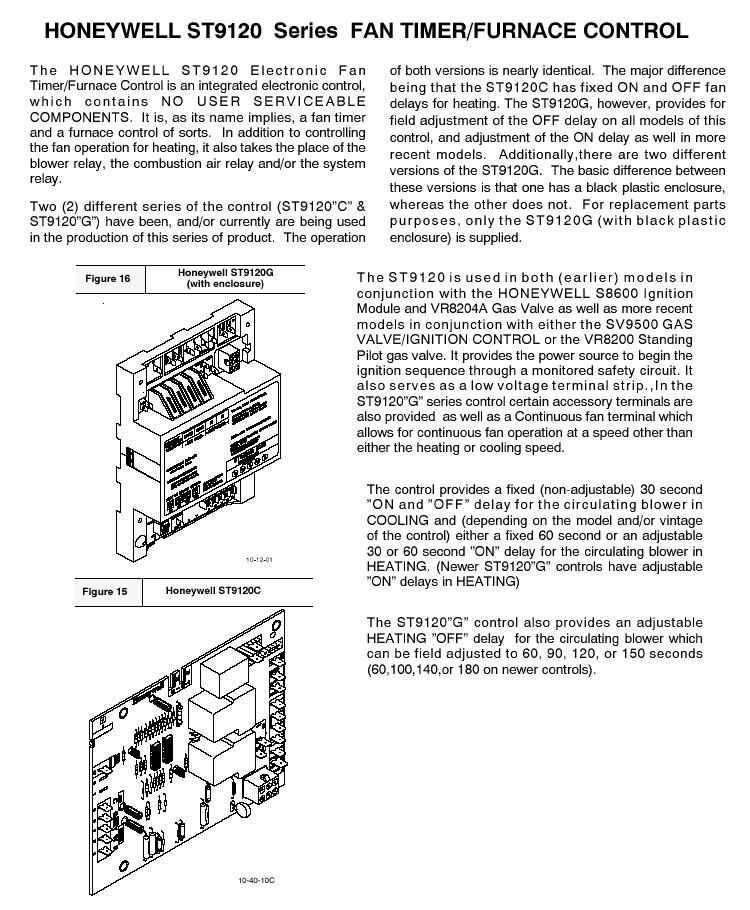 04-20-13, 10:37 AM
Join Date: Dec 2007
Location: USA
Posts: 8
Received 0 Votes on 0 Posts
thank you so much for your post and the link to the service manual. I didn't notice the email last week that someone replied to my post.
The problem just happened again last night and so this morning as I was tinkering I noticed some weird sparking inside the fan timer (mine is the Heatcraft model on the left of your picture) as the blower was trying to kick on and so concluded that this part must be the culprit.
A quick google search of the model number didn't return any websites selling this part.
Do I need to replace it with the Cam-Stat pictured on the right? Couldn't find that exact part on the web either. Seems Cam-Stat is now mnfctd by Supco as shown here:
http://www.supco.com/images/pdfs/CAM...ct%20Sheet.pdf
When I googled the model BC7070, I came up with this from A-1 Components:
A-1 Components, Corp. BC7070 Time Delay Blower Control at Controls Central
Will this $25 timer be a suitable replacement for my Heatcraft?
Posting Rules
You may not post new threads
You may not post replies
You may not post attachments
You may not edit your posts
---
HTML code is Off
---