Bryant Evolution proprietary thermostat wiring
05-01-13, 08:13 PM
Bryant Evolution proprietary thermostat wiring
---
I have a Bryant evolution 355MAV, with the evolution thermostat. It is wired using four wires, with letters A, B, C and D (proprietary scheme, I believe). I have purchased a NEST thermostat and would like to know if my thermostat wiring can be rewired (at the furnace) in order to use standard thermostat wiring (such as Y, W, R and G)? I other words is my 355MAV Capable of being run using a standard thermostat?

Thanks, Rob
05-01-13, 09:21 PM
http://www.docs.hvacpartners.com/idc...355m-40-14.pdf
The furnace will work with that stat but you will lose diagnostic capability.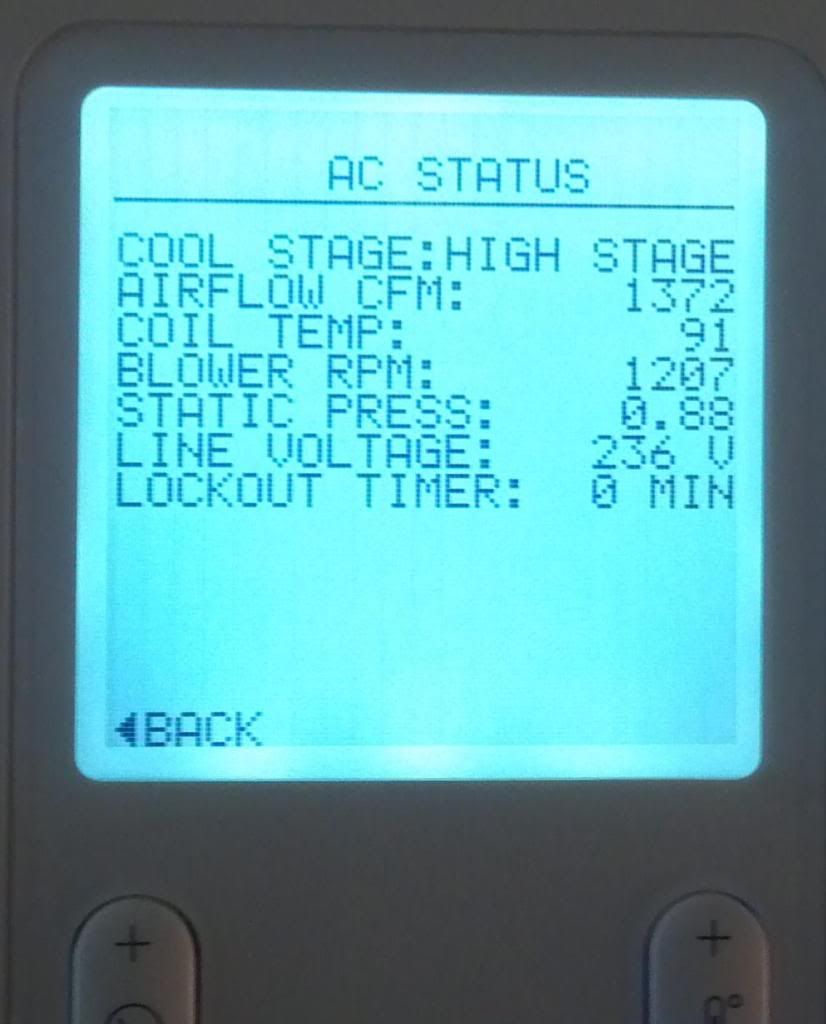 An Evolution wifi model is available.
What outdoor unit do you have?
---
Last edited by Houston204; 05-01-13 at

10:10 PM

.
05-01-13, 10:01 PM
I see what you mean by diag capabilities, I wasn't aware, that the stat of mine had those capabilities. I could certainly keep the old stat, and also the green connector that makes its connection at the furnace, and use them for diagnostics if needed. When i need diagnositcs, I could disconnect the NEST stat upstairs and just plug Evolution stat in right at the furnace if I wanted diagnostic. You think that would work?

In the furnace, the main junction block seems pretty obvious. It is labeled with G, W, Y/Y2, etc.. If I wanted to hook up the NEST unit, would I basically disconnect the four wires from the GREEN plug (labeled A B C D) and reconnect at G, W, Y and R at the main block? Then hook up at the New STAT?

Should I also plan to connect the C and W2 to the NEST Stat?

When you ask about my OUTSIDE UNIT, are you talking about the AC UNIT?

Thanks!! Rob
05-01-13, 10:09 PM
Some 2 speed AC models will not have standard terminals.

The last 10 system events will probably not be stored on a thermostat that is not installed when they occurred.

I think installing the nest thermostat is a mistake. I would not do it.

If you do install it, the nest stat does not operate as well with out common.
05-02-13, 05:20 AM
The outdoor unit (AC unit) is a 552AN048-F
Bryant Quantum Plus

Does that tell you anything?

***

The NEST that I have is an open box (now anyhow, sigh). So, I don't have much to lose to try it out for a couple months. If I turn it back around on eBay, it is worth pretty much the same now, or at the end of the summer.

And, I think that I can reverse anything in the wiring easily, and no new holes in the walls. So, I'm thinking about trying it out for a couple of months and see if it better manages our usage over the summer. If it doesn't, then it is just a "pretty shiny box to me" and I'll probably pull it out and go back.

Your thoughts on that? Any risks I'm not seeing?

BTW, I should be able to create a common from one of the spare wires in the bundle. I understand that about the nest running better w a common; maybe due to battery charging and wifi power requirements. Any ideas on the w2?

Thanks,
Rob
05-02-13, 12:42 PM
The nest is junk compared to what you have now.

You'll lose a lot of functionality if you replace the evolution stat, which can be used for controlling fan speeds, diagnostics, heat staging, and more.

If you want wifi functionality, contact the contractor who installed the furnace; bryant/carrier must have a wifi model out by now.
05-02-13, 01:53 PM
Join Date: Mar 2006
Location: Wet side of Washington state.
Posts: 16,321
I agree with the professionals, installing the Nest would be a significant downgrade. Don't do it.

Worst case scenario is that you COULD damage the circuit board of your system with a wrong connection.
05-02-13, 05:40 PM
Well, I won't be one to buck consensus. I guess that NEST will be going back on eBay after all. After Houston showed how to access the last 10 errors codes, that sold me on the power of this Bryant. Although, it is uglier than the nest. Sigh...
05-02-13, 05:46 PM
Having said that, two things...

1). Does anyone know the cost of the Bryant wifi unit. It looks like it is an add on that actually connects down at the furnace. So, I guess it is independent of the stat that I have. But, I cannot for my life find a price on the thing. And, I cannot tell if there is a yearly fee or something that is associated with the wifi unit. Anyone know the price of the hardware, and whether there is a yearly fee?

2). Now that I've learned to access my error codes in the evolution, I have a group of them to ask the pros about. I'll post that on another thread, but I'd appreciate any help from all..

Thanks guys for the guidance...
05-02-13, 07:05 PM
It is a different stat and does not have a yearly fee.
It is a touch screen that looks better than the original Evolution/Infinity stats.
We have one on the wall at the shop.
10-14-14, 10:30 AM
Hi Rob
I am in the same situation. I am trying to replace Bryant thermostat with Honeywell wifi and it seems pretty easy to do but can't figure out the terminal for common wire connection in the furnace circuit board. Did you figure this out? I would appreciate if you could give some inputs
Thanks
PR