Payne; Burners not staying lit (Ignition Proving Failure)
10-15-13, 06:06 PM
Join Date: Oct 2013
Location: USA
Posts: 22
Payne; Burners not staying lit (Ignition Proving Failure)
---
An older Payne Plus 80 High Efficiency Gas Furnace
Product:395CAV042091AEJA
Model:395CAV042091
Series:E
Serial: 3394A35292
Board: United Technologies Electronics Controls
Model:HK42FZ007
Problem: Burner flames won't stay lit
Starts out with code 12. (12: BLOWER ON AFTER POWER UP (115V or 24V) Blower runs for 90 seconds, if unit is powered up during a call for heat (R-W closed)
After the 90 seconds the Exhaust fan? kicks on then shortly after that the glow stick lights up. Gas valve clicks open and gas comes out and ignites the burners. After about 6 seconds when the glow plug is turning off the flames go out. After first failed light it goes to error 34 and attempts to relight as stated in error 34 below.
34. IGNITION PROVING FAILURE - Control will try three more times before a lockout #14 occurs. If flame signal is lost after trial for ignition period, blower will come on for 90 seconds recycle delay. Check for:
Oxide buildup on flame sensor
Proper flame sense microamps (.5 microamps D.C. minimum)
Gas valve turned off. Manual shut-off valve. - Low inlet gas pressure
Green wire MUST be connected to furnace sheet metal
Inadequate flame carryover or rough ignition.
Attempted corrections:
Sanded what I have to assume is the flame sensor.
3 min 30 sec Video from power on to 3 failed attempts:
Furnace ignition sequence - YouTube
Thanks to those looking and attempting to help.
Sponsored Links
10-15-13, 07:03 PM
The flame sensor is only part of the flame rectification circuit.
The board is measuring current to ground.
Your burner face appears to be rusty. Clean the crossover face with a small wire brush. Avoid the area around the ignitor, it is easily broken.
My pic shows a small wood handle brush but a 1/2 inch pipe cleaner wire brush works better since you can give it a slight bend.
You should also clean your ground connections. This pic shows 3 ground screws that I would loosen and brush behind.(with power removed )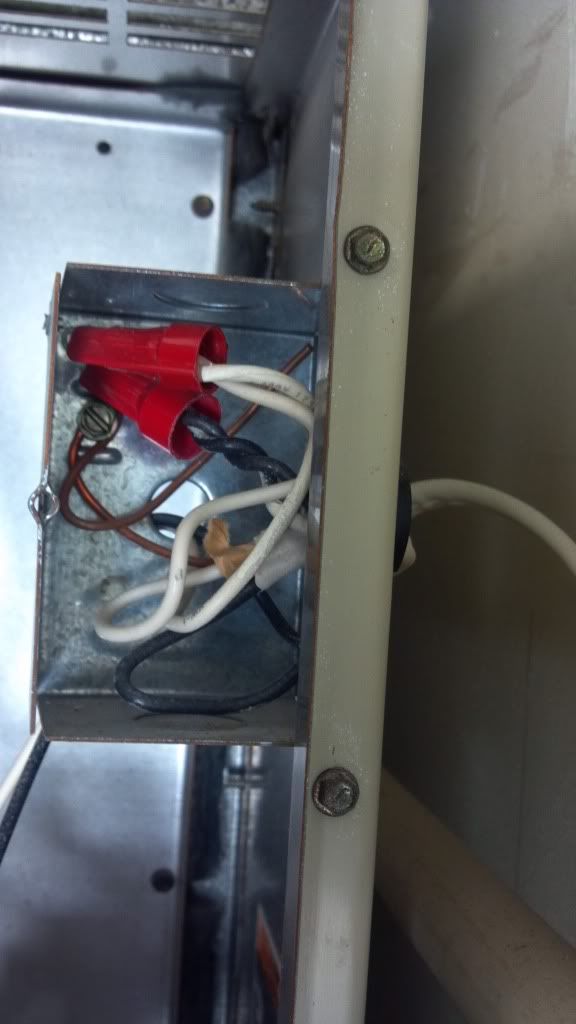 Some models have a small green wire from ground to your burners. This screw should also be loosened and cleaned (then retightened)
I have doubled my flame rectification reading by cleaning corroded ground connections.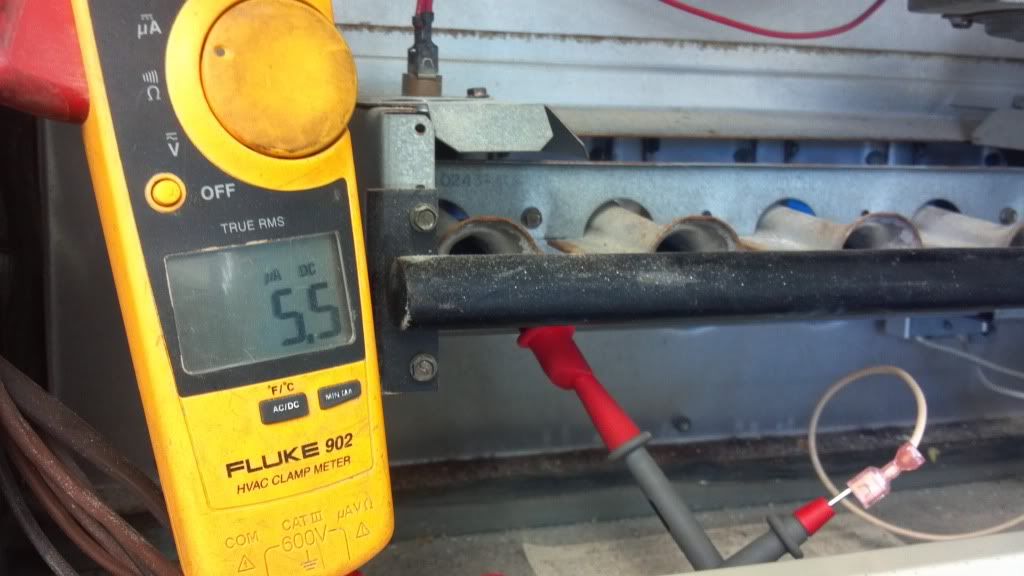 If your furnace has the edge pin connector to the circuit board those contacts may also be green and corroded.
10-18-13, 10:37 AM
Join Date: Oct 2013
Location: USA
Posts: 22
Did some wire brush cleaning. Cleaned ground wires/screws. Blew compressed are on everything cleaned all the dust. Removed all connecters inspected and reconnected. Also ordered a new flame sensor and results are still the same. Also moved ground wire from where it is pictures to the furnace sheet metal.
Took some more pictures.
FURNACE Photos by melissaS0440 | Photobucket
Ground wire coming in from breaker panel is wrapped around switch box screw and wire nutted to green ground wire. That green wire goes into another box inside the furnace with a crimp ring which is screwed to the second box inside the furnace.
Worked fine all of last year how it was/is. Nothings changed. Don't know that it has worked at all this year. Did have a baby-sitter switch the thermostat to heat, but I can't say that it ever actually worked.
Any testing to eliminate or narrow it down? Besides the ground wires/connections and new flame sensor does that just leave me with a likely board problem? Any testing to narrow or eliminate the problem? Other troubleshooting suggestions?
10-18-13, 11:14 AM
You may want to have someone check the gas pressure going to the furnace. It may not be high enough to sustain ignition. Another thing you can do is clean the burners to see if that helps. Here is a link to a document that has a flow chart to help troubleshoot your unit:
http://xpedio.carrier.com/idc/groups...it/sp04-63.pdf
---
Last edited by firedawgsatx; 10-18-13 at

11:45 AM

.
10-18-13, 11:46 AM
Join Date: Jul 2008
Location: Kansas
Posts: 317
Take a small wire or paper clip and clean the orifices coming out of the distributor while cleaning the burners also.
10-18-13, 08:53 PM
Join Date: Oct 2013
Location: USA
Posts: 22
Testing flame sensor
---
So I found someone who had a tester with micro amps and was testing the flame sensor, I'm just not sure what to make of this. This is with the new flame sensor I just ordered.
Is it good that it is getting readings at the .5 and higher microamps, or is it bad that its all over the place? If it is good test/reading, then looks like a new control center according to trouble shooting flow chart link earlier.
I did 4 tests 2 tests with ground where it has always been. 2 more tests with the ground moved. Kinda loud if your speakers are up, no need for sound on these though.
orig grnd 1 - YouTube
orig grnd 2 - YouTube
new grnd 1 - YouTube
new grnd 2 - YouTube
On the other suggestions, I did poke around in the orifices, and as far as cleaning the burners..I brushed them off with a brush, then used a wire brush on the edges/outside where I could, and used the air compressor to blow out the insides. Have not had gas pressure checked.
10-19-13, 08:55 AM
Join Date: Oct 2013
Location: USA
Posts: 22
Any input on my micro amp tests below? Is it expected to be bouncing around that much? Would like to get something ordered, nights are getting colder, days are not as warm.

I'm really leaning towards a new control center, but which one should I search for? There's some exact same, used, refurbished, and a couple new. Then quite a few different model numbers that "replace" the one I have.

One that's in now is Board: United Technologies Electronics Controls
Model:HK42FZ007
10-19-13, 09:22 AM
The reading will bounce around a little then usually settle around 2.87 uA DC.
I like to clean all the ground connections and shoot for 5 uA DC.

I once went behind another tech that had replaced the board to find that the metal plate that the board mounts to had a buildup of corrosion between it and the furnace body. I cleaned it and the furnace fired right up and gave me a good reading.

I'd be sure that this area is clean before replacing the board.

.5 uF DC is the minimum reading the board is looking for if it is an OEM board.
I have seen knock offs that require 4 times that to operate.

Does the flame sensor wire connect to the face of the board or the edge of the board?
I have seen the edge pin connectors draw return air into the connector causing a build up of dirt and corrosion between the connector and board. This occurred on the 1992 models to ~ 1994 models. They moved the connection point to correct this.
10-19-13, 09:36 AM
Join Date: Oct 2013
Location: USA
Posts: 22
10-19-13, 09:44 AM
That model does not have an edge pin connector.

Do you have 120VAC from L1 to ground?
10-19-13, 10:35 AM
Join Date: Oct 2013
Location: USA
Posts: 22
10-19-13, 10:41 AM
I'd replace the board.
I'm no fan of the ICM replacement boards.

I'd leave the old 3 amp fuse on the furnace. It's still good.
10-19-13, 10:55 AM
10-19-13, 03:14 PM
Join Date: Oct 2013
Location: USA
Posts: 22
Up and running
---
Appears the new board has me up and running! It was fun(lack of a better word) learning more about furnaces than just pilot lights and thermel couplers , not so much fun how long I sat infront of it especially when I had to be on my knees.

Talk about luck, thanks Houston204 for the board suggestion. I searched on e-bay and was surprised to find one of them showed location as the same city and state of where I live!! Sent a message to seller asking if there was local pickup as I happen to live in same city. About an hour later I got a call on my cell phone from the seller telling me where he was at!

End of the story is I picked it up, installed it while kids were taking a nap and it passed the test mode, and it fired up and stayed up. Only ran it for about 3 minutes as the cover doors were still off. Now to go put everything back together.

So a big thanks to those that took their time to offer help.

$14 for new flame sensor
$92 for control board replacement kit
Posting Rules
You may not post new threads
You may not post replies
You may not post attachments
You may not edit your posts
---
HTML code is Off
---