no heat from Trane XR90 7 years old
12-10-13, 07:36 AM
no heat from Trane XR90 7 years old
---
Hi, we have a Trane XR90 that currently is not blowing heat. the red light indicator is flashing 9 times which means it is the ignitor. So I researched the panel and found the HSI but I havent clearly found it on the furnace. I did open the metal box area and see where the flames from the gas would be, the flame sensor, and then a metal popsicle stick looking part that can be disconnected. Is that the ignitor? Please help single mom of 3 kids no heat and just bought christmas gifts so I have to fix this myself. Thank you.

I added a photo, the small circle you see is where the flame sensor is and the other part I was thinking is the ignitor. I can take another photo. I took that metal plate off. I did try removing the double wired part that goes right below that metal area, but when I pulled it out there is like a rubber coating over the inside part and I am unable to get it completely out of the space.

thanks for reading and hope you can help.
12-10-13, 05:12 PM
Join Date: Jan 2005
Location: Delaware, The First State
Posts: 12,667
A hint in finding the ignitor: Nearly all ignitor have wires going to them which look like they are covered with cloth.
12-10-13, 05:34 PM
Join Date: Oct 2009
Location: Texas
Posts: 6,420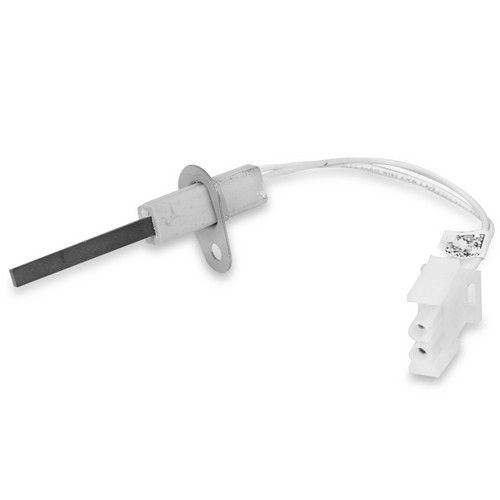 Have you tried resetting power to the furnace with a heating demand present to see if the ignitor glows through that sight glass?