Trying to understand furnace component...
05-26-14, 07:09 PM
Join Date: Nov 2013
Location: USA
Posts: 32
Trying to understand furnace component...
---
i wont pretend like i know what i'm talking about, i'm trying to learn as i go here. the part in this picture that is plugged into the outlet, what is it called and how does it work?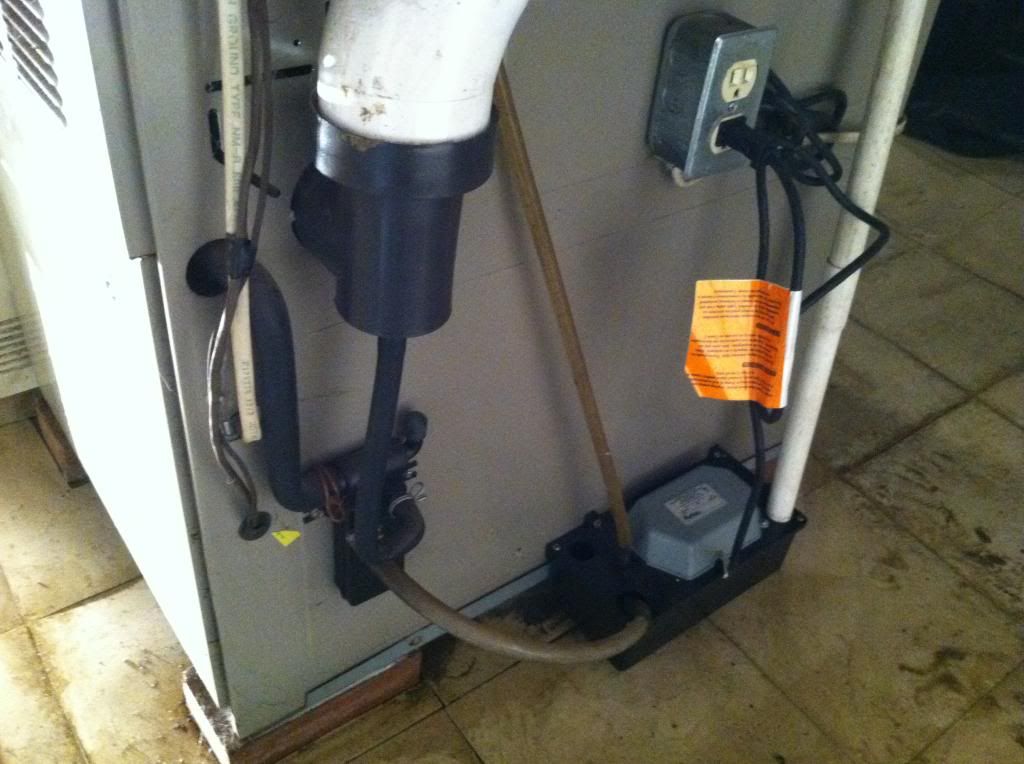 i remember during my home inspection (just bought the house in November) the inspector said this thing separates the moisture from the gas or something like that(correct?). then once this container fills, it gets pumped up the drain line and into pipe in the other room.
i'm suspecting this device doesnt work as it is supposed to anymore. on that side of my basement, there is a good deal of water, also under the furnace. there are not water lines are drain pipes on that side of the house, and it hasnt rained for 3 days so i'm not sure what else it could be. i remember this happened once over the winter too, i removed the clear tube and then stuck it back into the housing and it started pumping almost immediately as soon as i put it back in that housing.
in addition to what is this thing called and what exactly does it do.....how to check to see if it is indeed functioning the way it is supposed to?
Sponsored Links
05-26-14, 07:26 PM
Join Date: Oct 2002
Location: Hamilton County, Ohio
Posts: 4,296
It is a condensate pump. Since you apparently do not have a floor drain near the furnace, it collects the condensate and pumps it to a drain.

In the winter, a high efficiency furnace generates moisture which goes through the little black box with the hoses attached and then drains to the pump.

With A/C running, the cold coils wring the moisture from the air. This should also drain to the pump and then be pumped to a drain.

At this time of year, you are probably running the A/C. Water under the furnace means the drain on the A/C coil is probably plugged. Remove the clear hose that goes from the upper part of your furnace to the pump and use something to clear a probable clog. Once the condensate water is draining down from the coil to the pump, the pump should cycle as needed.
05-26-14, 08:04 PM
You may need to locate where the water is coming from. Sometimes the float switch fails/sticks on the pump and the reservoir overflows.
05-27-14, 08:07 AM
Join Date: Nov 2013
Location: USA
Posts: 32
thanks for the fast replies, i now have a pretty good idea of what i need to look for. i'll check for a clog first, if i cant visibly see anything then i'll run the a/c and wait to see what happens.
05-29-14, 02:43 PM
Join Date: Nov 2013
Location: USA
Posts: 32
I checked the clear tube, i saw no visible clogs
05-29-14, 03:23 PM
The white PVC pipe looks to be the condensate line. It should connect to the air handler just below the coil. It will right angle into the duct/drain pan and then drain into the pump.

A blockage at the right angle fitting or just inside the pan is a common problem.
05-30-14, 07:30 PM
Join Date: Nov 2013
Location: USA
Posts: 32
well, upon further inspection i think i found a few issues here. not sure if it shows up in this picture, but that pipe is just barely long enough to get inside that box. straight shot, no angle.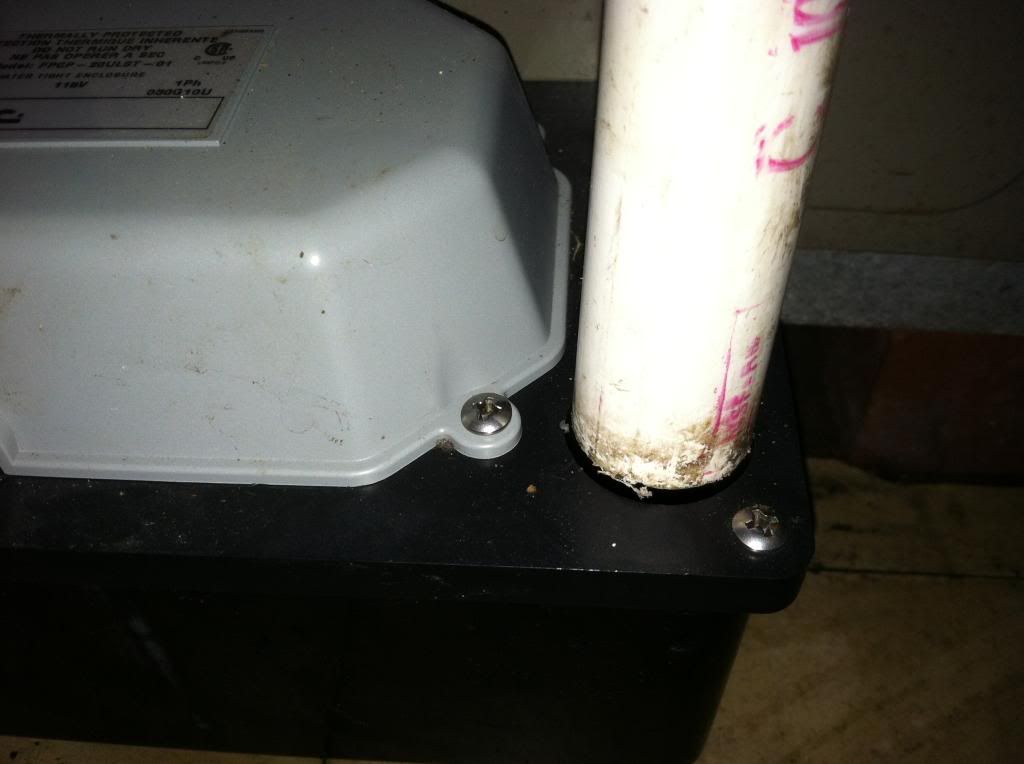 the box is sort of hanging off the side of my furnace too so that could make it sit awkwardly. and lastly, it is full of water right now. not sure how full these things are supposed to get before they drain.
what do you think my next step should be to try and remedy all of this? i could get a brick and push it under the drain box, that should keep it from hanging off the furnace and hopefully make that pipe fully drain into the box
05-30-14, 08:59 PM
You can put something under it to help it sit level. The condensate line from the A/C coil is just PVC pipe. Inexpensive and easy to work with. If you replaced that line.... leave some way to take it apart for cleaning.

Those condensate pumps all work a little different so it's hard to tell how full it is before it discharges. If you are questioning the operation of yours..... temporarily move that white line and pour water into the pump to see if it starts pumping. The float could be stuck. The pump could also be bound up with calcium.

Those pumps actually need to be cleaned routinely. You may want to take yours apart just to assess the inside condition.
06-01-14, 06:43 PM
Join Date: Nov 2013
Location: USA
Posts: 32
thanks for all of the help, it looks like the main problem was it sitting crooked. as soon as i leveled it out with a 2x4 underneath, it immediately started pumping. i also made sure the condensation pipe sat in where it is supposed to so that it wont be spilling everywehere
Posting Rules
You may not post new threads
You may not post replies
You may not post attachments
You may not edit your posts
---
HTML code is Off
---