Gas furnace won't stay lit
09-12-14, 09:52 AM
Join Date: Sep 2008
Location: Richmond,Va
Posts: 50
Upvotes: 0
Received 0 Upvotes on 0 Posts
Gas furnace won't stay lit
---
Central Virginia
Trilevel
Bryant 315AAV060110 Natural gas 2stage 80% furnace
Bryant 265ANA048 1stage Heat pump
Bryant T6-PRH thermostat all 6 years old

I put thermostat in emergency heat and set thermostat to 80 deg
1. draft inducer fan comes on and pressure switches close
2. Igniter glows
3. gas valve clicks and burners ignite
4. after 2 seconds from the time the valves clicks the flame shuts down
5. blower comes on for approx.90 seconds with code 12 flashing
6. blower stops and solid ON code light
7. Furnace tries to restart again (up to 8 times till I got tired of watching)
No code flashing 25volts at the W1 terminal
I have cleaned the flame sensor & checked it's ground
Can you suggest what to try next?
09-12-14, 03:43 PM
Based on your description, it sounds like a flame sensing issue but the controller board should indicate that fault condition.. When you cleaned the flame sensor did you use emery cloth or sandpaper to clean it and wipe it off with a paper towel or clean rag afterwards? It needs to be nice and shiny. That rod is stainless steel and over time deposits coat the rod causing it to not work properly. The rod heats up and rectifies current (usually around .2 to .6 micro-amps) back to the board to let it know flame is sensed and allow it to run. What is puzzling is that it didn't lock out after three attempts. There are a couple of other issues that might cause this such as a bad control board.
Here is a link to two documentsl with some valuable info:
http://dms.hvacpartners.com/docs/100.../01/sm04-7.pdf
http://dms.hvacpartners.com/docs/100...315a-70-13.pdf
If you are so inclined you could troubleshoot the flame sensing function using a multimeter that can measure micro-amps. The 12-wire plug that attaches to the control board should contain the white wire for the flame sensor.
---
Last edited by firedawgsatx; 09-12-14 at

05:13 PM

.
09-12-14, 04:41 PM
http://dms.hvacpartners.com/docs/100...315a-70-13.pdf
I agree with Firedawg, it sure sounds like a flame sensor issue.
Do you get any trouble codes if you move SW1-1 to the on position?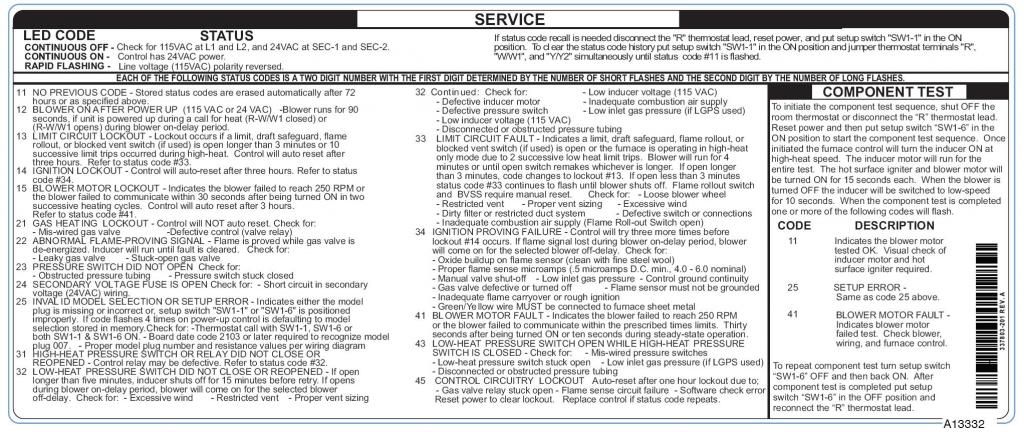 09-13-14, 01:23 PM
Join Date: Sep 2008
Location: Richmond,Va
Posts: 50
Upvotes: 0
Received 0 Upvotes on 0 Posts
Switching SW-1 to ON gives me the 12 code. I ordered a new flame sensor that should be here Monday. While using a flashlight to set the switch I noticed some green corrosion ( I think ) below a Potter/Brumfield item on the board. Think I should try to clean it off with alcohol?
09-14-14, 06:43 AM
The fact that you do not get an error code points to an input signal to the W terminal or a control board issue.
I'd place a jumper wire between R and W to test.
I'd still also measure flame rectification and the vacuum at the pressure switch.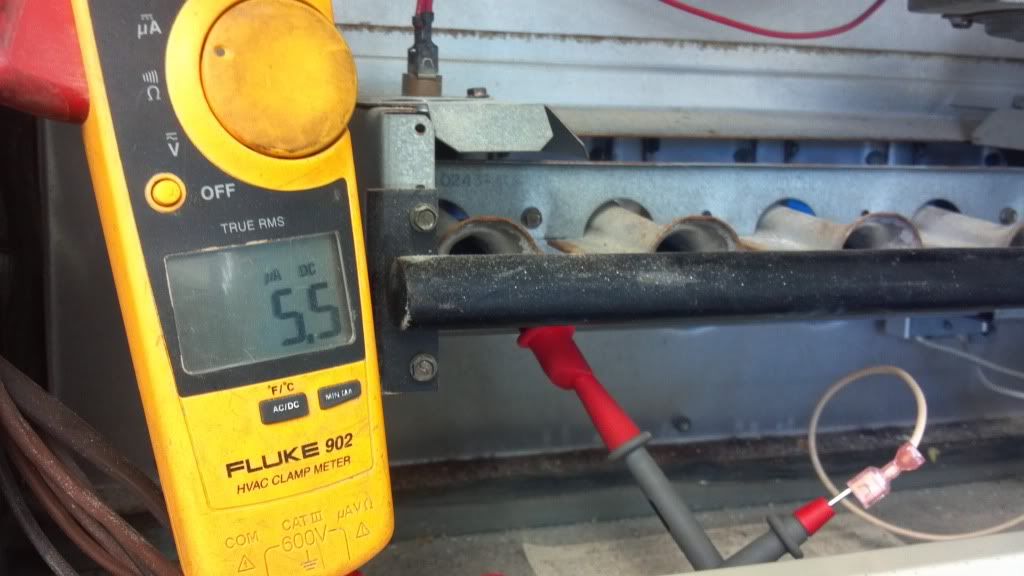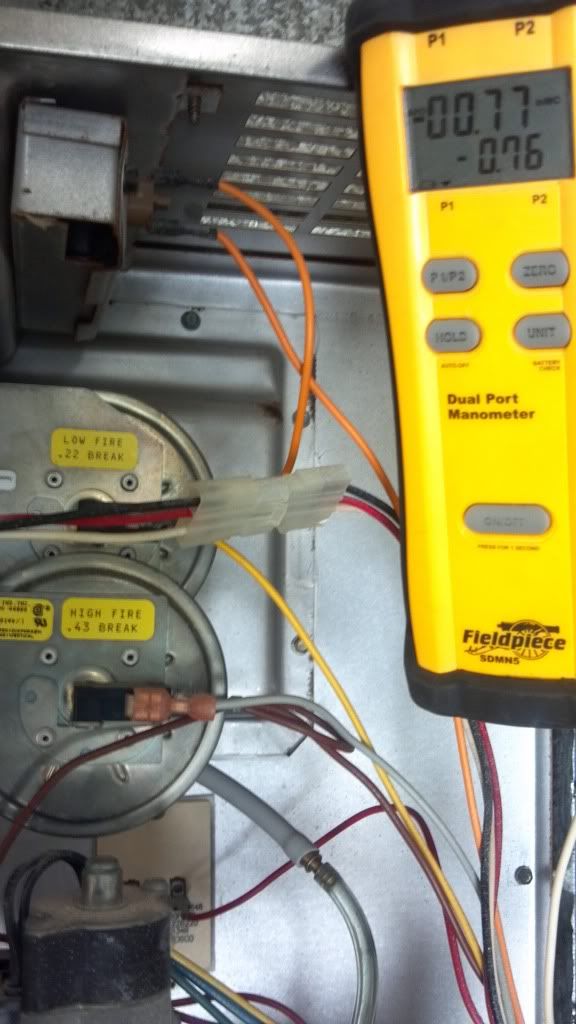 09-14-14, 08:42 AM
Join Date: Oct 2012
Location: Jersey
Posts: 63,081
Dual port manometer
I don't have one of them.
09-14-14, 09:21 AM
I recommend Dwyer or Testo. That Fieldpiece must be zeroed too often.
I now use a Dwyer with dual metal barbs.
09-19-14, 08:10 AM
Join Date: Sep 2008
Location: Richmond,Va
Posts: 50
Upvotes: 0
Received 0 Upvotes on 0 Posts
Replaced flame sensor - still doing the same thing
Checked pressure switches: open when at rest/closed while draft inducer was running.
Replaced control board $$$ ouch!
Everything working now.
Thanks guys, reading posts on this board gave me the confidence to try to fix it myself.
09-19-14, 09:41 AM
Glad you got it resolved. The info on this page will help me troubleshoot and hopefully resolve the issue I am having with a similar situation.
---
Last edited by diy_wannabe; 09-19-14 at

09:57 AM

.