Noobie need help with hvac..!!
11-18-14, 04:48 PM
Noobie need help with hvac..!!
---
Hi.. total noob here, don't know much about hvac but i have a Carrier unit in the backyard model 48ss, it a big square unit like 4'x4'.

Issue i have is that when trying to turn on the heat, i can hear the furnace blower working and smell a little gas, then also hear a click (could be wrong) but it doesn't fire up.

Read online that it could be the igniter, I will begin here, suspecting it is the culprit, but then I could be wrong.

I will open the cover tomorrow and take a look.. but would like to ask all of you wise knowledgeable folk what type of info I can provide to you so that you can assist me.. model #, board #, pix, etc.. ??
11-18-14, 05:13 PM
Join Date: Jan 2005
Location: Delaware, The First State
Posts: 12,667
Model number for sure. Pix, particularly of the burner area & a wider angle with the burner panel off, could also help.
11-19-14, 08:45 PM
Update.. Got it to work now..
I first look at the code, it gives me the inducer code (6), but this inducer blower was change few months ago, so know most likely not the issue.
I did a power reset and jump the t-stat at the panel and it works fine on this bypass, un-connect and reconnect a few time, then at one time it did the same as the original issue with inducer blower works but no flame (back to square one)..
BUT then it give me a code 2 (limit sensor), but not consistent on reset.. so it like the code 2 came up when it want to, but it did give me this code 2 few time, so determine this is the culprit.
Took it out and went to the hardware store and did an ohm test, nothing, no ohm reading. So bought a new one and install, now unit is working at auto set temp.. YEA..!!
This is what i replaced (pix show the old one), the limit sensor, in other word, it a temp sensor.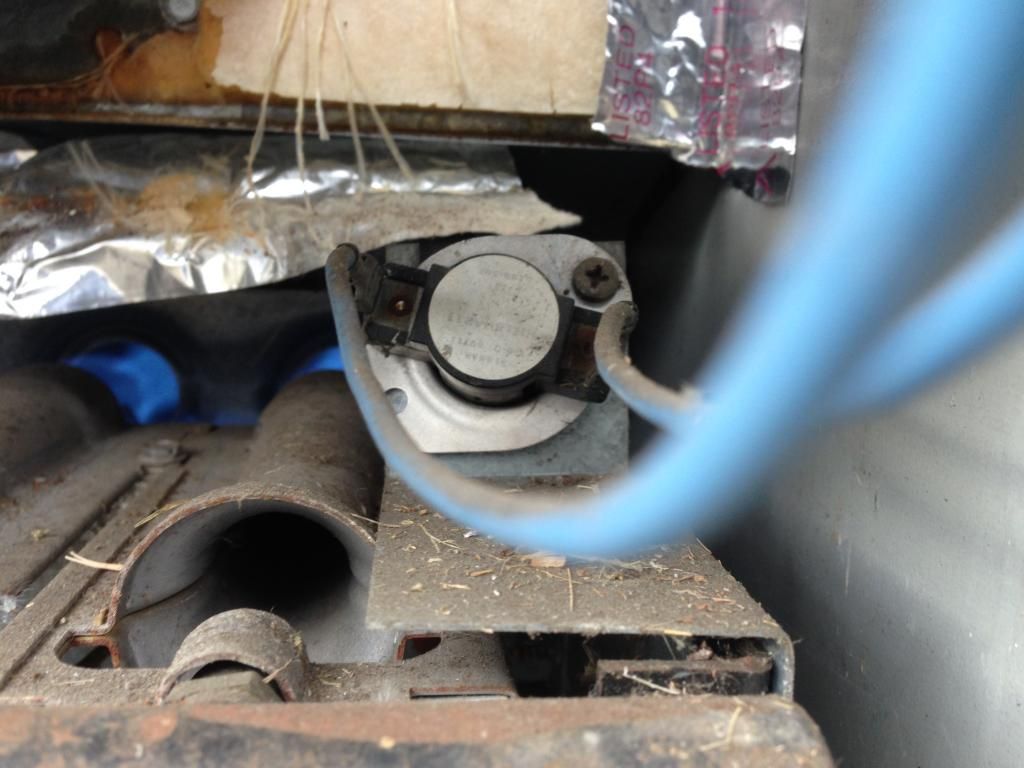 11-20-14, 05:30 PM
Join Date: Jan 2005
Location: Delaware, The First State
Posts: 12,667
Good job of troubleshooting. Once it worked by jumping at the low voltage connections at the furnace but wouldn't work with the stat, 99%+ people would have replaced the stat. Good Job.
01-03-15, 10:09 PM
I've learned lots after this issue, but now I'm back to the same issue again... system giving me code 6 (inducer switch fault), did a few reset and sometime works and sometime doesn't.. I unplug the inducer connector and the fan would just run but no ignition, this way at least i know the switch is function as it should.
But once it work it would run to the setting temp, it would turn off as it should BUT would not turn back on when temp is below the setting, many refer this as a lock out and not really sure where to go from here.
Did a search and found this thread:
http://www.doityourself.com/forum/ga...w-hours.html#b
Listed the same issue that i have, so I just order a replacement board and hope that will fix this issue.
Also saw some discoloring on the on the board around the capacitors area.
Will update once i replace the board and see if this will fix it.
01-04-15, 01:50 PM
Join Date: Jan 2005
Location: Delaware, The First State
Posts: 12,667
Looking forward to hearing how things work out.
01-06-15, 09:44 AM
Well, I reply with an update yesterday and today didn't see it on here.. so here it is again..
I changed the board and now working as normal, no lock out and cycle to set temperature.
pix of the new and old board with heat damage.. maybe it is the culprit after all.