Want to Clean Pilot and Electrode on Furnace
02-14-15, 10:47 AM
Want to Clean Pilot and Electrode on Furnace
---
Hi. I want to start by thanking all you wonderful people who help us DIYers. You have helped me immensely.
I have a 1983 Whirlpool furnace manufactured by Heil-Quaker #NUGI075AF01. It has an intermittent electronic pilot. The sequence is spark, pilot port in the gas valve opens, pilot flame makes, flame sensor verifies pilot flame then main gas port opens.
I have not been able to verify consistent spark, but to be fair the location of the spark has been out of sight. I do, however, sometimes get a pilot flame that burns out in 2-10 seconds. I am also getting 27 volts between the PV and MV/PV ports on my S86F module, which is close to the 24 volts specs.
So my next step is to clean the pilot port, the electrode, and the gas tube/pilot tube. The best result would be to remove it at the gas valve, I believe. It looks like it removes with a wrench, but I want to be certain how to remove and re-attach it. I would appreciate some help here. I would also be interested in hearing if it's necessary to test for a leak upon reconnection of the gas port...and if so what others have used to verify no leak. I've attached some pics of the apparatus and connections. Thanks so much!
02-14-15, 06:08 PM
For disconnecting the pilot tube from the gas valve I believe the fitting is 7/16". The threads are right hand (normal). When re-installing thread the fitting in by hand at least one full turn before using a wrench. The fitting is brass & the valve is aluminum. It's easy to strip threads on either side.

In picture 1 of post 15 in your other thread, it looks like there may be two screws coming down from the top holding the pilot assembly in place.
02-14-15, 07:38 PM
It almost looks like nothing is holding the pilot assembly in place.
I see the 2 threaded pilot mounting holes but no screws.

I hope that you are correct Grady. This would not be a very safe condition and a homeowner can easily cause a delayed ignition and small explosions if nothing is holding the pilot assembly in place.
02-14-15, 08:43 PM
02-15-15, 01:28 AM
Thanks so much for your concern about the mounting screws, guys. I appreciate you being cautious. The screws are missing because I started disassembling. I ran into a wall because the line has very little play, and it is still hard to access the parts that I want to clean.

Sorry to create a new thread, but with the help of Grady and Pete, I have progressed a long way since the original thread. Maybe I could have simply changed the title?

Thanks so much for more very useful info, Grady. I was talking earlier today with a guy from Canada who has worked extensively with the Heil-Quaker furnaces like mine. It sounds like there are still many operating in Canada. He tells me that 90% of the time there will be a leak upon reconnection of the line. Even if that percentage is actually way off, he does also add that if the leak exists, it becomes a job for a pro to resolve. He says that wouldn't be something for a doityourselfer. For this reason, he recommends that I clean what I can in the present location, and then go right to changing the S86F module and see what happens, since I can handle that easily. He recommends not touching the compression fitting at this juncture.

It does make sense to me. Do you think he's just being overly cautious, or does it sound like a good plan? These modules are all over the web for relatively cheap. Thanks so much...
02-15-15, 01:30 PM
If you are hesitant about removing the pilot due to concern of a possible leak, I would say your plan is a good course of action. The new thread was the way to go, in my opinion.

Replacing the inverted compression fittings is easy IF you have a tubing cutter, the pilot tubing, & fittings. I honestly don't know how available the tubing & fittings might be at a hardware store or home center. I always buy mine at an HVAC supply house since I know they have them.
02-15-15, 02:08 PM
A small tubing cutter is $7.60 at Home Depot.
I see tubing with 1 fitting but I cannot find a second fitting at HD or Amazon?
HDX Junior Tube Cutter-HDX003 - The Home Depot
http://www.amazon.com/Burner-Tubing-...luminum+tubing
But...
Reading the related thread, I think a new intermittent pilot module is the more likely solution.
It is too bad that it's location will not allow for easy testing.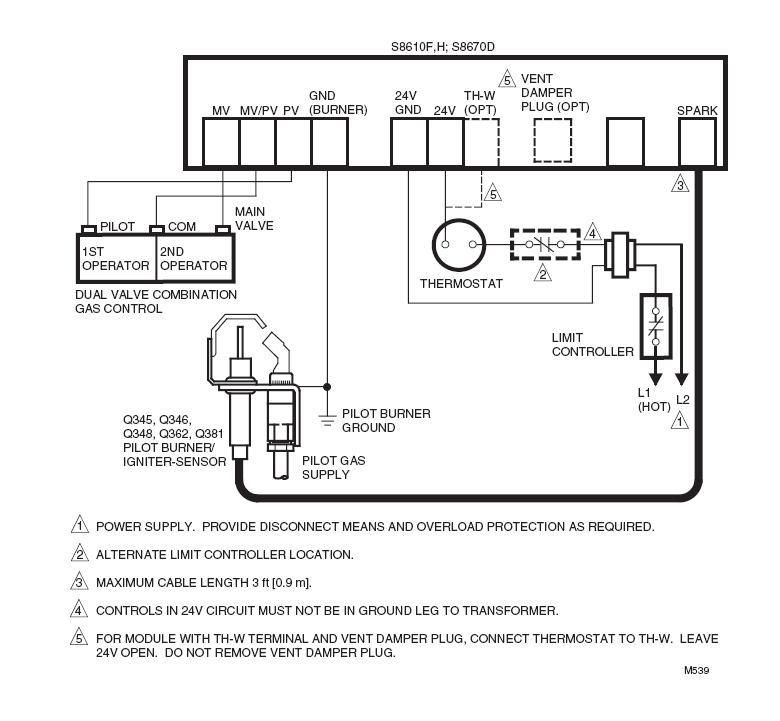 ---
Last edited by Houston204; 02-15-15 at

02:26 PM

.
02-15-15, 11:08 PM
You guys are terrific. Thanks, Grady, for telling me what I will need for that job, and that it's not difficult. And, thanks Houston204 for the the research and links.

So I attempted using a wire brush for cleaning to no avail. Couldn't get it in there. I was able to get an emery board on part of the electrode surface. I was able to rub the electrode completely with my fingers, and use my fingernails to get some abrasiveness on it. That's it. Not enough play, and not enough room. I reinstalled the assembly and flicked the switch on. It remains that it sparks only occasionally, and when the pilot comes on it quickly burns out. On one occasion, the burner came on before extinguishing.

It's time to change the S86F. I'm ordering it in the morning. I will update as soon as I've installed it.

Thanks so much...

Joe
02-20-15, 09:39 PM
---
THANK YOU all for your guidance throughout!

Grady, you were working with me throughout. Much appreciated. And thanks to Pete and Houston as well.

I found another S86F online very cheap, so I decided to give that a shot for the simplicity. Simple indeed. As soon as I removed the old module, I could hear a distinct rattle inside that wasn't present with the replacement module. I felt that was a sign that my issue was about to end.

Flicked the switch, CLEARLY heard a spark, and the furnace has been purring like a kitten for the past 5 hours. Non-stop. It had a lot of work to do! The old module was likely struggling for many years. I never heard the sparking like I do now. Only a "buzz". And the "buzz" was varied.

I realize that the replacement is used, and likely very old, but it seems to be in excellent shape. I am going to purchase a backup to store for future use, this way I may not have to be without central heating when it's single digits outside again!

Thanks again. You taught me so much. When this all started, I knew NOTHING about this furnace except how to change the filter.

Before we sign off, I want to ask about the burners/heat exchanger. Pete brought this up at the beginning of my original thread. The furnace is 32 years old. That doesn't scare me, quite honestly. My water heater is 28 years old. Most people would be about to buy their 4th! When it goes, it goes. But Pete mentioned that there is a safety concern with the burners/heat exchanger on old furnaces. While I had everything opened up, I decided to examine. I see no cracks at all. There's plenty of rust, of course. Will I get some kind of warning of a crack/unsafe condition? Maybe an odor or something?

Thanks again...

Joe
02-21-15, 03:42 PM
No, you won't have any kind of odor. Carbon Monoxide is colorless, odorless, & very sneaky. Many times people think they have a sinus cold or someother cause of headache &/or nausea or just plain feeling lousy. Then one morning they don't wake up. Get some CO detectors, please. Every home with any kind of fuel burning appliance should have them. End of Rant.

Joe, you are more than welcome & I'm glad we were able to help. Should anything else arise, we're here & will do our best to help.
02-22-15, 01:15 AM
More wonderful advice, guys. You know, Grady, we do sometimes wake up with headache or general "groggy" feeling. We always assume allergies, and we're fairly certain that it is. Dust and pollen get us every time. But the CO detectors will tell us if we're mistaken as to the cause. I'm fairly certain that I have purchased one already but have not yet installed it. I'll check this weekend.

Thanks again, guys. Happy to be warm, and happy to hear the furnace sparking with clarity and regularity!