Furnace blower motor squeals
01-29-16, 10:46 PM
Furnace blower motor squeals
---
Nordyne model CMH72-A serial 1D0788-00707 When the blower comes on it will squeal for about a minute then quite down and run normally then about a few seconds before it shuts down it will Squeal again and continue for a second or 2 after shut down. Would this be a bearing issue with the motor? I plain to take the blower out this weekend and try to dissemble the blower assembly and clean it and oil the motor and blow any dust out of the motor with compressed air. Will this help make the motor last until a replacement motor can be gotten. I'll post the motor info later. I don't think the blower is original as it over hangs by a inch in the front. It has no filter so Maybe it's just extra dirty. I'm going to try and attach either a cheap fiberglass filter or a pleated one and see if the furnace will still work since it was designed to run without a filter as there are no cold air returns This furnace which is installed in a wall gets it's air from the vents on the furnace cover.
Sponsored Links
01-30-16, 09:51 AM
Join Date: Oct 2012
Location: Northern NJ - USA
Posts: 57,126
The replacement motors aren't shown as being oil-able and yours, most likely, isn't either.

You may be able to partially disassemble the motor and oil it but that usually doesn't last long.
01-30-16, 10:44 AM
It's direct drive. Just want to get some more life out of the motor until a replacement motor can be had plus clean the wheel while I'm in there. the whole blower assembly appears to just slide forwards and out.
01-30-16, 12:56 PM
OK blower wheel was a bit stubborn coming off the motor shaft. used some penetrating oil and a small blow torch to heat the blower wheel a bit and it slide right off. The old motor is a A.O SMITH 322P289 1/6HP 1000RPM CCW ROTATION. Front of shaft I can see a silver metal ring that rotates with the shaft. I gave the front some oil but back is unnaccessible. I ordered a new motor though for under $100 it says long island development Model S1-7966-311P. Ill upload pics in a bit as I got to get them off my phone.
01-30-16, 04:46 PM
Pictures. You can see how dirty it was. I picked up a filter and will see if I can attach it to the door somehow with fishing line through the door vents. I oiled the front bearing with some penetrating oil and sprayed the rear bearing through the motor housing to at least get something on it for now. I did a test run after reassembling everything and it did not squeal but like said it won't last and the motor seamed a tad stiff without the blower wheel but started up without a load. A new motor has been ordered.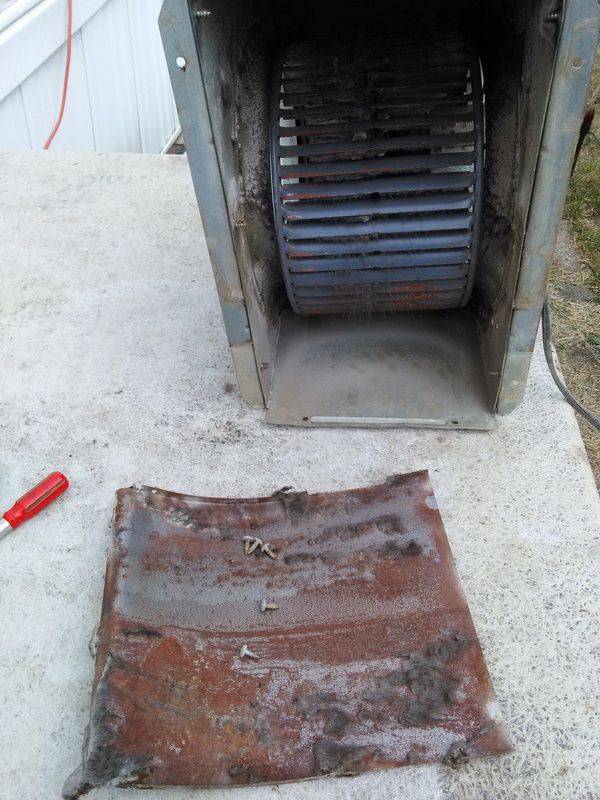 01-31-16, 08:04 PM
So far the old motor has been cooperating but I have noticed that now Instead of shutting off 2 minutes after the burner stops the blower will run for what seams like 10 minutes before it will shut down. What would be the cause of that. Dirty or faulty fan switch or Bad time delay relay?
Posting Rules
You may not post new threads
You may not post replies
You may not post attachments
You may not edit your posts
---
HTML code is Off
---