Aquastat hi lo setting not holding min setting?
10-28-16, 08:47 AM
Aquastat hi lo setting not holding min setting?
---
I have a newer digital Aquastat installed last year. SO I set it lower for the summer since it just needed to keep my 80 gallon Domestic water full.
Last year seemed to work fine and hold to a minimum of 160, and a high of 180.
But I reset it a couple of times this year and it seems to constantly dip down to 125 so it take awhile for the system to get up to working temps.?
Any help in what I may doing wrong?
thanks
10-31-16, 06:36 AM
its a hot water feeding convectors throughout the house (old ones, so they do not have individual aquastats like new ones)
The aquastat on the main system is a digital honeywell electronic aquastat. Model number is L7224/7248
11-01-16, 06:09 AM
""Whats the diff set for? Set it at 10. Hi 180 lo 140 or so."" Quoted LAWROSA
that seems as 40 gap??
I don't understand what your asking me to do ???
OP states the 20 degree spread 160 -180 gap of 20 as recommended.
11-01-16, 02:15 PM
The standard use to be and I still follow it was 20deg, between hi & lo temps. Today they seem to be setting them where ever they want, trying to run the boilers at low temps to save money and that's fine. They don't want the temps set any LESS than 20 deg. apart because it would cause short cycling of the burner which you don't want.
Getting back to your problem as lawrosa mentioned check your differential setting which is different from the difference between your hi & lo temps.
On your control as your scrolling through your settings you will see a HI setting and then a HI differential setting and then a LO setting and a LO differential. That should be set at 10. You may have adjusted that by mistake to 20 or so. If that's the case that would be subtractive from your LO setting so instead of coming on at 150 it would come on at 20 deg. lower than what your LO limit is set.
Check to see if is at 10. That should do it for you.
Hope this helps.
11-01-16, 02:21 PM
There are 3 setting in that aquastat,,

1. Hi. This is the hi limit. This should be set to 180f. During the winter season the boiler will work off this setting for heating the home.

2. Lo. This setting is for when the boiler burner will kick back on.

3. Diff. This setting in the aquastat does a few things. And during the summer your boiler will only work off the Lo setting above for domestic hot water purposes. ( has nothing to do with the temp difference between the hi and Lo.)

The differential or "diff" will set the temp below the lo that the boiler burner fires back up. This also controls the circulator time off, and during the winter this is important.

If you have the wrong diff setting and are taking a shower, and then a call for heat comes on, youll get a cold shower for example..

So in your new aquastat set the hi to 180 lo 140 or so, and diff as low as it will go which should be 10.
11-01-16, 02:26 PM
you will see a HI setting and then a HI differential setting and then a LO setting and a LO differential.
Usually the hi dont have a diff setting, but if it does set it to 10. The lo diff setting gets set to 10 also..
After you do this and test it out we can explain more detail of how it works.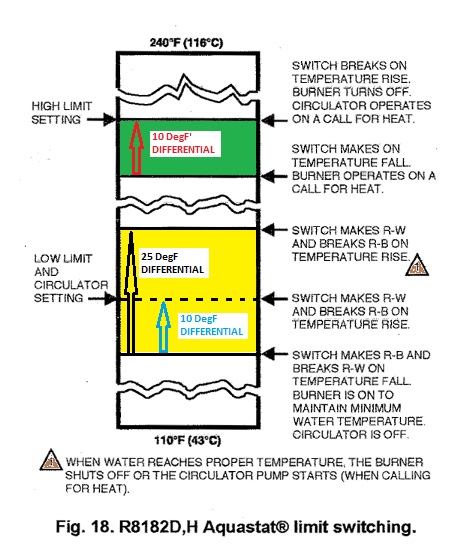 11-01-16, 02:27 PM