Repairing leaky cylinder regulator?
10-31-16, 11:34 PM
Repairing leaky cylinder regulator?
---
I just bought a cylinder regulator
[ATTACH=CONFIG]72674[/ATTACH]

tested at home found it inlet socket is leaking gas

can this be fix?

hard to find this type equipment around.
i bought this gear from the shop which was the last stock.
Sponsored Links
11-01-16, 01:08 AM
What gas is this being used with? Where exactly is it leaking? Is the O-ring damaged? Is it leaking at the threads where the tailpiece threads into the regulator body?
11-01-16, 01:56 AM
non-flameable gas

the inlet socket - when the gas come in from

i did something leaking testing, after slowly released gas from the tank into it, then turn off. i can see the pressure is slowly drifting down
then i pour some bubble water near the inlet connection, i can see bubbles forming up

i tried tighten, same.
11-02-16, 04:32 PM
This looks like a gauge off a welding cylinder.

I'd take it into a business that sells welding gasses and ask them to inspect it for defects. Probably just a bad gasket --- if not the fitting going into the welding cylinder can be unscrewed from the gauge and replaced for a few dollars.
11-02-16, 04:43 PM
Join Date: Oct 2012
Location: Northern NJ - USA
Posts: 59,679
Welcome to the forums.
By the pressures....it's an acetylene regulator.
It's very typical for the o ring to be damaged (circled in red) like the others mentioned.
11-03-16, 02:06 AM
i believe it's the rubber issue
the prev img is not accurate, i have posted another more alike to what i have purchased (2, they practically same)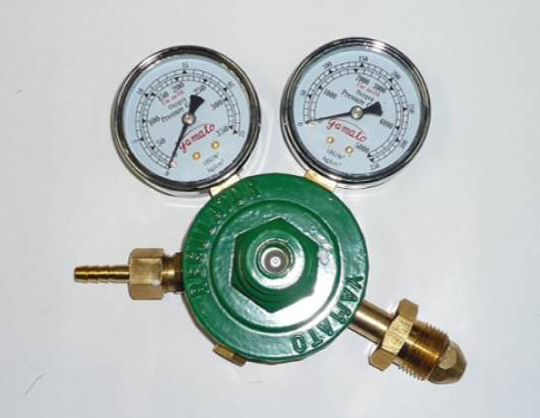 there is no placeholder to put on the o ring. i guess i gonna try gum the o ring onto it somehow.
11-03-16, 06:19 AM
Since you are not showing us pictures of your gauges and you have not told us what gas you are using we really can't help. Not all regulators use O rings to mate with the cylinder.
Posting Rules
You may not post new threads
You may not post replies
You may not post attachments
You may not edit your posts
---
HTML code is Off
---