Frustrating, Intermittent Code 14 on Carrier Furnace
01-14-17, 09:06 AM
Join Date: Jan 2017
Location: USA
Posts: 7
Upvotes: 0
Received 0 Upvotes on 0 Posts
Frustrating, Intermittent Code 14 on Carrier Furnace
---
I have a Carrier furnace model 59TPA080E171116, about 3 years old. It works 80% of the time. The other 20% it gives a code 14 IGNITION LOCKOUT. It seems to stop working mostly when I'm at work in the morning and I get a phone call from my wife. When I get to it in the evening it is working. I've gone through the manual's troubleshooting trouble guide and haven't been able to resolve the problem. I've verified
-green/yellow wire is connected to furnace sheet metal
-flame sensor is not grounded
-igniter glows orange/white
-24 V (measured 26V) received across the gas valve. The guide doesn't say to replace the gas valve, but I've thought about it.
-Regarding the flame sensor, first I sanded it with light sand paper. When that did not fix the problem, I bought and installed a new flame sensor, exact OEM part. I have not measured the current through the flame sensor, but didn't think that could be the problem since it is a brand new flame sensor.

If I follow the troubleshooting guide, the next step is to replace the control board, but I don't want to spend $300 if I don't have to.

Also, this fall I discovered my 2-year-old was putting landscape rock down the exhaust pipe. I cleared out all those rocks and added a 90 degree elbow and added a foot long pipe pointing straight down so my son cannot physically put a rock in that pipe. I am wondering if that extra foot of pipe pointing down is enough to cause a problem.
See an Ol
01-14-17, 09:19 AM
I doubt the extra pipe is causing the problem. If you had an exhaust restriction you would most likely get an inducer or pressure switch related code.

It would sure help if you could see this happen so you know exactly which step of the ignition process is failing. Measuring the flame sensor current would be helpful as well. That would be worth doing before replacing the gas valve or flame sensor.

It wouldn't hurt to examine the relevant connections to the control board for loose or corroded connections, ditto the gas valve, ignitor, and flame sensor.
01-14-17, 10:05 AM
Join Date: Oct 2012
Location: Jersey
Posts: 62,035
You need to see what is happening. A code 14 means a fault has occurred three times and the furnace is locked out for an hour or until reset.

Depending on the length of your exhaust... that 90 could make a difference in back pressure.

The #1 problem is the pressure switch failing to register the proper pressure.
01-14-17, 10:12 AM
Join Date: Jan 2017
Location: USA
Posts: 7
Upvotes: 0
Received 0 Upvotes on 0 Posts
OK, current to flame sensor measured 6 to 7 micro amps. I tried to run the furnace in both low and hi mode (it is a two stage furnace with a two stage thermostat, at least that is my understanding) by setting the temp both 1 degrees and 10 degrees higher than the current temperature. Both cases measured 6 to 7 micro amps. My meter doesn't give a decimal for a micro amp.

I checked all the connections for the control board. No corrosion. Nothing stood out as not connected. I did notice the brown cable to the gas valve was a bit loose. I gently pinched it with pliers and then reconnected it and now it is very snug. The whole, little board for the gas valve did seem to be kind of loose, but I don't know what is normal. I also noticed one of the wires from the thermostat was connected to the control board in such a way that the non-stripped part of the wire was inserted under the screw, so I pulled it out so the screw is only holding copper down and not the wire casing.

Like you said, I need to see the thing not working. I'd appreciate any other tips you have, but for now I'll just keep an eye on it this weekend and try to catch it in the act and will understand if you don't have any more advice until I can observe it not working. This morning when I turned up the heat it through a code 34 (my understanding is three code 34's lead to a code 14) but then it started working and hasn't stopped working fine all day. Maybe I'll have to be ready to watch it tomorrow morning.
01-14-17, 10:17 AM
Join Date: Oct 2012
Location: Jersey
Posts: 62,035
6-7 microamps is a correct measurement.
01-14-17, 10:49 AM
Join Date: Jan 2017
Location: USA
Posts: 7
Upvotes: 0
Received 0 Upvotes on 0 Posts
I'm not sure how to check the pressure switch. I'll have to do some research.

I've thought about how this problem is most common in the morning. We turn our thermostat way down at night. I'm wondering if there is a part that doesn't function as well after it has been off for a couple hours. I'm wondering if the ignition part could be failing and not able to light the gas when the ignition part is completely cold. Are there any other parts that could fit this pattern?
01-15-17, 05:20 AM
Join Date: Jan 2017
Location: USA
Posts: 7
Upvotes: 0
Received 0 Upvotes on 0 Posts
I noticed I never could get the fault when I had the cover off while testing the system. But I discovered the fault comes sometimes when I put the cover to the furnace on. So I started thinking the issue was pressure related. I opened up the intake and exhaust pipes and cleaned out some lint. I also cut off the 90 degree elbow and 1 foot extension I put on the intake and exhaust pipes. Now the furnace seems to be running fine. If it starts having trouble again, I'll look into the pressure switch. The thing that was maddening about this is the furnace threw code 34 and code 14, and the furnace manual doesn't say anything about ventilation or pressure for those faults. I also read that the new high-efficiency furnaces like mine are sensitive to ventilation issues, and that adding a 3" 90 degree elbow is the equivalent of 5' of straight pipe, so in all my addition to keep my kid from putting rocks in the exhaust and intake added the equivalent of 12' of straight pipe, so it makes sense this could affect the ventilation system.
01-15-17, 10:07 AM
Join Date: Oct 2009
Location: Texas
Posts: 6,418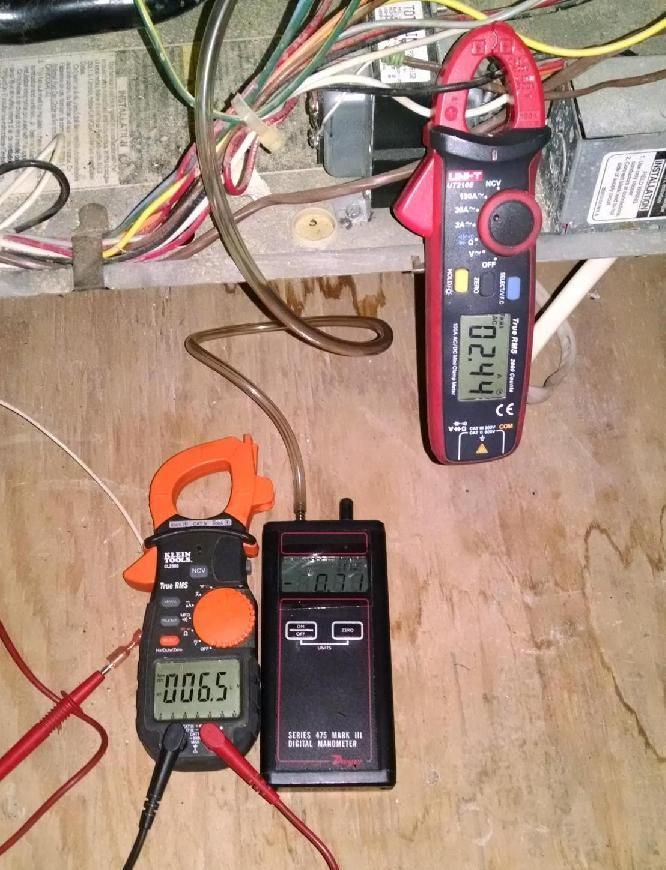 You would need a manometer, a barbed Tee fitting and a piece of tubing to Tee your meter into the tubing between the pressure switches.
I have seen a combustion air intake restriction cause an ignition failure error code with a 90% Carrier furnace this winter. It sounds like you have already diagnosed the issue.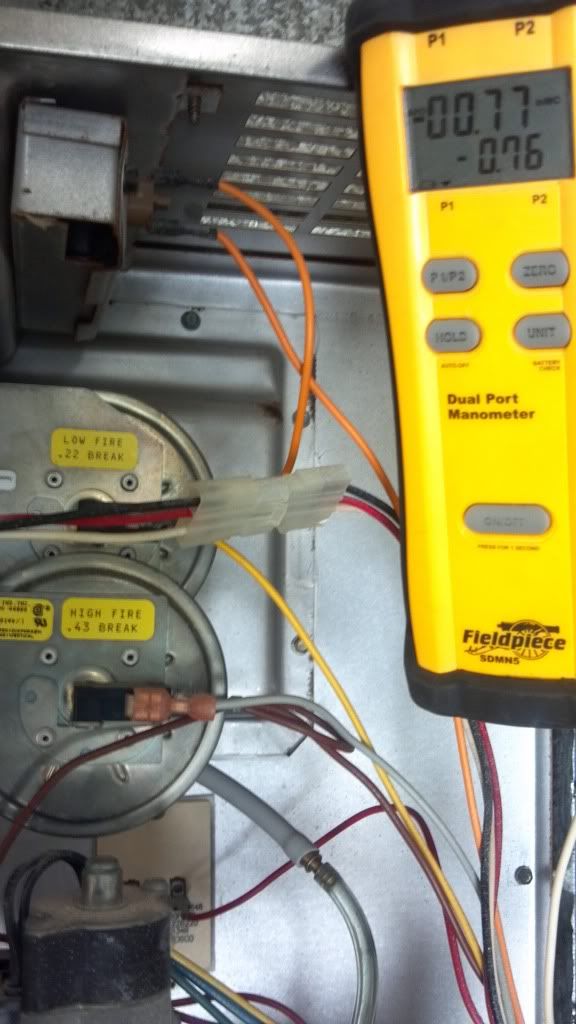 01-15-17, 12:20 PM
Join Date: Oct 2012
Location: Jersey
Posts: 62,035
You mentioned and I discussed the extra 90 outside. If you still need something to keep the "stuff" out of the pipe..... try a 45 instead. Less resistance to air flow.