Carrier heater blowing cold air
11-28-18, 06:04 AM
Join Date: Nov 2018
Location: USA
Posts: 5
Received 0 Votes on 0 Posts
Carrier heater blowing cold air
---
I have a Carrier upflow furnace Model 58PAV090-16114 that stopped heating. The blower runs but burners do not ignite. After turning the thermostat off for a few minutes i turned it back on to heat and the main blower came on immediately which is not normal. Thermostat is set to 70 degrees but reading 67. I don't hear the draft inducer blower kicking in either. This unit does not have a pilot light or thermocouple so that rules that out.

I normally do all of my own repairs so if someone can let me know what I can check and/or replace myself that could be the cause and a pecking order to do so it would be greatly appreciated.

I've recently had a financial setback so anything that you guys can tell me would be great. A professional will have to be a last resort if at all.
Sponsored Links
11-28-18, 06:56 AM
Join Date: Nov 2018
Location: USA
Posts: 5
Received 0 Votes on 0 Posts
Not sure. I discovered this problem before I left for work. Actually I wasn't aware of the board having a readout. Can you tell me more about that?
11-28-18, 07:46 AM
11-28-18, 08:12 AM
Join Date: Nov 2018
Location: USA
Posts: 5
Received 0 Votes on 0 Posts
Ok thank you. Would you have a good starting point? Limit switches? flame sensor? igniter?
11-28-18, 08:40 AM
Start from the beginning. Verify you have a continuous call for heating. If so start going through the safety circuit.
Do NOT replace parts until after you've found the problem. If you do you'll be out the cost of the parts and still have a broken furnace.
11-28-18, 10:15 AM
Start by jumpering R and W at the board to rule out the thermostat and wiring.
Blower running and no heating could be a stuck open high limit if the venter isn't running. With the power on, you can check voltage drop across the limit. Set meter to ac volts, looking for 0v if closed and around 24v if open.
They look like this: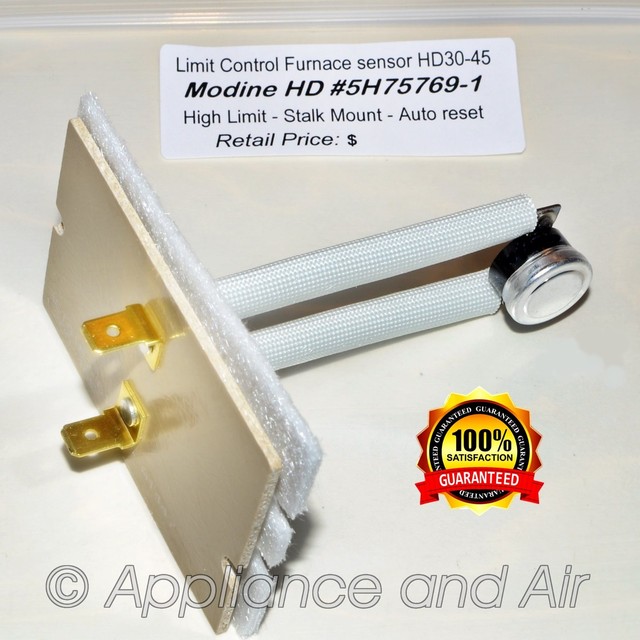 11-28-18, 12:18 PM
Join Date: Nov 2018
Location: USA
Posts: 5
Received 0 Votes on 0 Posts
Appears the batteries in thermostat were weak. Replaced them and it's working for now. I read that the batteries could be too weak to kick the heater but still strong enough for the digital readout to work. Sounded funny to me but it was the cheapest route. Hope it's not just a coincidence. Thanks for the help guys.
Posting Rules
You may not post new threads
You may not post replies
You may not post attachments
You may not edit your posts
---
HTML code is Off
---