Coleman Evcon Gas furnace, pilot but no blower/heat
11-04-19, 08:23 PM
Coleman Evcon Gas furnace, pilot but no blower/heat
---
Hi,

My Coleman Evcon furnace (manufactured home) lights the pilot but he blower never kicks on. It will stay that way for as long as I let it. I am guessing that the flame sensor is triggering otherwise the gas would shut back off. If I turn off the gas at the valve, with the pilot lit, I do hear a click to "turn of" the gas supply after no flame is detected. The Robertshaw control module was replaced about 7 years ago so it could be bad but I hate to drop $100 if that isn't it. It is the HS780 34NR-306A control module.

Any thoughts on why the blower isn't turning on? Should the burner kick on high at some point?

Thanks.

-Steve
Sponsored Links
11-04-19, 08:38 PM
Join Date: Oct 2012
Location: Northern NJ - USA
Posts: 59,717
The pilot lights first. Then the main burner lights. Then the blower runs.
If the main burner isn't lighting...... there is a problem with the pilot system.
11-05-19, 03:22 PM
Yeah, the main burner main burner never fires up. I will do some more investigating in that area. Figures that the temps are dropping and we are expecting snow on Thursday. I am in the Chicago area.

Thanks.

-Steve
11-05-19, 05:42 PM
Just looked up your module, it is for straight hot surface ignition, no pilot.

What you're referring to as the pilot is probably the hot surface igniter.

There's no flame sensor, the hsi is used as the sensor instead.

You have to see if it's apply power to the main valve after the warmup period. Monitor the valve for 24v ac.
11-08-19, 06:28 PM
My model does have a flame sensor... it looks like this picture:
https://www.mobilehomerepair.com/wp-...r-ignition.jpg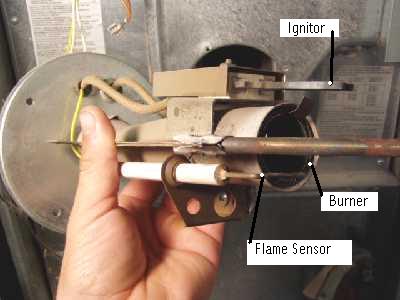 When the furnace turns on the combustion air blower comes on to purge the combustion chamber. Then the ignitor heats up and the gas gets turned on. The burner ignites with a minor/weak flame that covers the flame sensor. That is all that happens. It stays in that state for quite a while. I have given up on it before it does anything else. It feels like I waited an eternity but it was probably about 3-5 minutes. I shut the unit off and go back to searching for possible solutions.
I did replace the control unit.
-Steve
11-08-19, 09:10 PM
You could have a plugged orifice or a fuel pressure issue. the fan on old units is activated by a fan/limit switch and if the furnace isn't heating up sufficiently, it won't trigger the fan.

If you're on propane, could be tank needs to be refilled or upstream regulator is faulty.

that's a very odd looking burner, must be special for a mobile home furnace or something.
11-09-19, 07:17 AM
It is a natural gas furnace. I plan to test the temperature/limit switch first, then determine if there is a regulator/fuel pressure problem. The blower does run when in fan only mode so there are only a few things it can be at this point.

Thanks.

-Steve
11-09-19, 10:20 AM
When the flame is small, it's a gas flow issue.

You'll need a manometer to check the incoming and manifold pressure and it's not very diy friendly, there's a risk of explosion. (i wouldn't attempt it) You can buy one on amazon pretty cheap if you decide to go ahead and watch some videos of it being done.

Pressure ratings should be on the furnace rating plate.

This setup has no pilot so the only flame can be from the main burner.
Posting Rules
You may not post new threads
You may not post replies
You may not post attachments
You may not edit your posts
---
HTML code is Off
---