Is this a correct heater installation?
10-22-20, 09:22 AM
Join Date: Jul 2007
Location: ohio usa
Posts: 151
Received 0 Votes on 0 Posts
Is this a correct heater installation?
---
I've raised this issue with the contractor who installed the furnace for us, but everything I see and read indicates this isn't quite right. He's saying the drip leg shown in the pictures is sufficient while everything I've read states a sediment trap should be installed downstream from the shutoff and as near the appliance as practical. Here is the install:
Sponsored Links
10-22-20, 09:26 AM
I agree with you. But what does local codes call for?
You might call the gas company and ask them what they recommend.
Edit: found this on the internet..."
A
drip leg
can be installed anywhere at the low point in the
piping
system, if there is moisture in the
gas
to allow for the removal of the condensation. The outlet of the meter is one such
location
. Sediment traps are usually installed very close to the water heater or furnace valve."

Is the drip leg at the low point? If it is then he is OK.

this is the typical install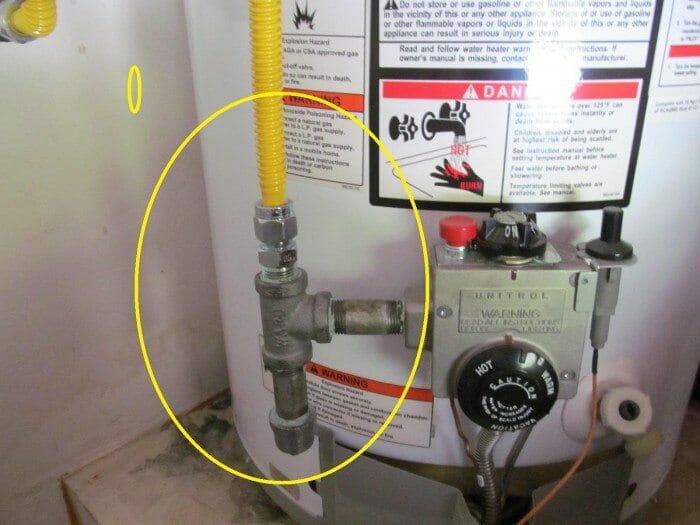 10-22-20, 09:40 AM
Join Date: Jul 2007
Location: ohio usa
Posts: 151
Received 0 Votes on 0 Posts
Thanks for the reply, but the drip leg shown is 12' up in the ceiling certainly not at any low point.

I'm reluctant to get the local gas company involved for several reasons, hard to explain. I'm not sure I could get a technician from the local to respond.
10-22-20, 10:00 AM
Show your plumber this post and see what he has to say.

However, I doubt it makes much difference. The chances of a problem is slim to none. The flow of gas is fast enough that any particulates or moisture will most likely bypass the drip leg anyways. And the gas from your supplier is very well dried and clean. I worry more about pipe debris from flaking being brought into the system.

My opinion, don't worry about it.
10-22-20, 10:10 AM
Join Date: Jul 2007
Location: ohio usa
Posts: 151
Received 0 Votes on 0 Posts
Thanks Norm but my communication with this guy is just annoying. He is the master of double speak and not answering the simplest of questions. I've just asked him to respond yes or no if there should be a sediment trap located next to the heater downstream from the shutoff. He skirts the question, gives replies that have nothing to do with the question and it's just annoying. I should probably let it go as you suggest.
10-22-20, 05:45 PM
Join Date: Oct 2012
Location: Northern NJ - USA
Posts: 59,845
From the 2019 Ohio fuel gas codes.............

G2419.4 Where a sediment trap is not incorporated as part of the appliance, a sediment trap shall be installed downstream of the appliance shutoff valve as close to the inlet of the appliance as practical. The sediment trap shall be either a tee fitting having a capped nipple of any length installed vertically in the bottom most opening of the tee or other device approved as an effective sediment trap. Illuminating appliances, ranges, clothes dryers, decorative vented appliances for installation in vented fireplaces, gas fireplaces and outdoor grills need not be so equipped.

That existing drip leg is borderline protection from debris getting into the gas valve/regulator.
I would request a properly installed sediment trap be installed.

You could almost call that "S" in the flexible line as a trap.

Posting Rules
You may not post new threads
You may not post replies
You may not post attachments
You may not edit your posts
---
HTML code is Off
---